How this Site Can Help You:
We have each earned well over 1,000,000 rewards points from our credit card signup bonuses that we've taken and turned into luxury trips to destinations including Bermuda, Japan, New York City and Disney World, so we know this works.
This site exists because we wanted to pool our knowledge to provide you a simple yet comprehensive step-by-step way to cut through the complexity, focus on travel programs that are both easy to earn and redeem and help plan a strategy that works for your family.  Join our FREE Travel Miles 101 course today:
Meet The Ones Behind it All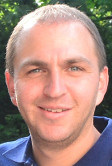 Brad Barrett is a CPA whose travel rewards exploits have been written about in the New York Times, Life Hacker and The Huffington Post.
He previously launched a successful travel rewards coaching service through his site RichmondSavers.com that has helped hundreds of deal seekers book luxury vacations using miles and points.
His passion is helping families afford 'dream vacations' through the smart use of credit card bonuses and rewards points.
Alexi Zemsky is a cardiologist in Portland, Oregon and was featured prominently on Mr. Money Mustache's article on travel rewards.
He is an expert in credit card rewards and has earned millions of miles just in the past 3 years.