You may have heard a lot of different opinions about yesterday's American Airlines AAdvantage program announcement. Opinions are wide-reaching – from 'not a big deal' to 'the end of AAdvantage program as we know it'.
But, the impact of these changes is wholly dependent on what type of traveler you are. Today I'm going to focus on what the announcement means to mileage collectors like those in the Travel Miles 101 community, who are generally not chasing top-tier elite status and instead focus on saving money on a few vacations each year.
First of all, yesterday's American Airlines changes are not another award chart devaluation like we saw in March 2016. So, your banked award miles are safe! Thank goodness too, as my wife and I have banked nearly 1,000,000 AAdvantage miles over the last 1.5 years through a combination of credit card sign-ups and paid flights.
The changes announced yesterday are mainly focused in two areas:
Earning elite status – and some minor changes to elite status benefits
Earning award miles from paid flights
Since most of us simply "earn and burn" American Airlines miles from credit card sign-ups/spending, most of us do not have American Airlines elite status or many paid flights. So, most of these changes are irrelevant.
However, you might actually see some incidental improvements.
Why This is Good News for Many in the Travel Miles 101 Community:
Credit card sign-up bonuses are more valuable than ever: I've seen people comment they are going to shred their AA credit credits due to this change. Don't do this! Now that it's harder to earn award miles from flying, earning award miles through credit cards are going to be the easiest way of earning AA miles. If you are a general American Airlines member (who will now earn just 5 miles per dollar spent on airfare), you would have to spend over $10,000 on flights to get the 50,000 AA miles you can get (at the time of publication) just from signing up for the Citi® / AAdvantage® Platinum Select® MasterCard® (for more info on this card, see our review).
Fewer people on the plane OR lower fares: By making it less rewarding to fly, the demand for American Airlines flights should decrease. This should either mean more empty seats – or cheaper fares to fill them. There will at least be less crazy folks like me on the plane:

8/1/2016 marks the end of one type of "mileage running" on AA: flying simply for the sake of earning award miles.
1/1/2017 should see a reduction in the other form of "mileage running" on AA: flying for the sake of earning elite-qualifying miles.

Better economy award availability (eventually): Most travelers are going to be earning fewer AA miles from flying thanks to these changes. The travelers who benefit from these changes (consultants and those paying for first/business class) are probably more likely to redeem their miles for first/business class award seats anyways. So, this hopefully will mean better economy award availability. But, this might take some time before there's a noticeable difference.
Who These Changes Hurt: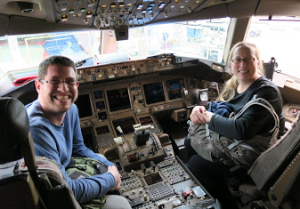 Katie and me, and travelers like us. If you had enjoyed booking cheap international flights on American Airlines and earning a ton of award miles from flying, you are going to be hurt by these changes too.
Effective for flights departing on or after August 1, your award mileage earnings from paid flights will be based on: (1) how much you spent on the ticket and (2) your elite status. Without getting to far into the details, you will earn between 5 (general members) to 11 (top-tier members) award miles per dollar spent – excluding taxes.
A perfect example of the impact of this change is our recent flights to Kuala Lumpur, Malaysia. For the $547 ticket, my wife's mileage earnings would be drastically different depending on when she traveled:
Before Change
After Change
Award miles
40,904
<4,400
Progress Toward
Top Elite Status
20+% of
miles needed
~4.5% of
required spending
What Should You Do
Your AA miles are safe (for now), so don't rush to redeem your banked miles. Make sure you are getting a good value before redeeming them, as they are harder to earn than before.
For paid flights after August 1st, American/Delta/United are all going to have very similar award mileage earnings, so there's no advantage to booking one over the others when it comes to earning award miles. Pick the best itinerary, on-board product, and operational performance. Generally Delta will be the best, followed by United and then American.
If you already have booked cheap American Airlines paid flights departing after August 1, consider crediting these flights to Alaska to earn miles based on the distance you travel rather than the cheap price you paid.
If you haven't taken the Travel Miles 101 course yet, sign-up to learn more about how you can generate lots of American Airlines miles through credit card spending.
Travel Miles 101 has partnered with CardRatings for our coverage of credit card products. Travel Miles 101 and CardRatings may receive a commission from card issuers.