As a follow-up to our article on How To Book American Airlines Flights With British Airways Avios Miles using British Airways Avios miles for 'sweet spot' redemptions, here's a step-by-step tutorial on how to book Alaska Airlines flights with British Airways Avios.
As we mentioned in the American Airlines article, the British Airways award chart is based on distance, so for short, direct flights on British Airways and their partners throughout the world you can save a lot of miles over the "standard" award charts that most airlines use.
Here's a simple step-by-step guide to booking Alaska Airlines flights with BA miles:
How to book Alaska Airlines flights using British Airways Avios
The first thing I recommend doing is finding the Alaska Airlines flights available at your local airport. My airport doesn't have any Alaska Airlines flights, so I decided to use Seattle as an example and I googled, "Seattle Airport Wiki."
When I scrolled down to the "Airlines and Destinations" section you find on every airport Wikipedia page, here are the Alaska Airlines options from Seattle: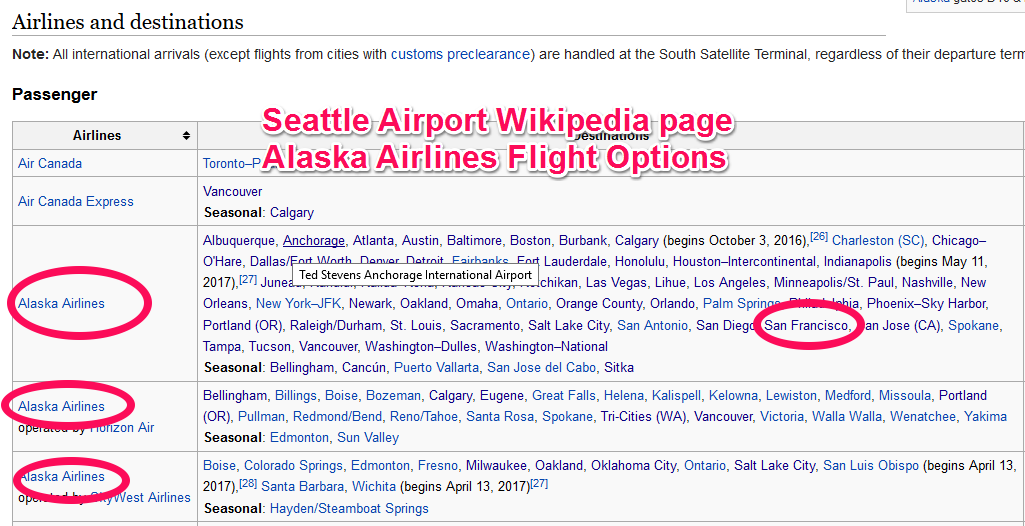 In this example we're going to search for a flight from Seattle, WA (SEA airport code) to San Francisco (SFO airport code) but as you can see there are an incredible number of Alaska Airlines flights from Seattle, so this sweet spot would be especially valuable to someone living nearby.
Starting the Search for Alaska Airlines Award Availability
While we will book the flights with British Airways miles, I would recommend you start your search for Alaska Airlines award seats on AA.com (American Airlines), as it is an easy site to navigate and Alaska Airlines flight availability shows up on AA.com.
Alaska Airlines flights are not searchable through the BritishAirways.com website, so that is not an option.
On the homepage itself, we just enter our flight details: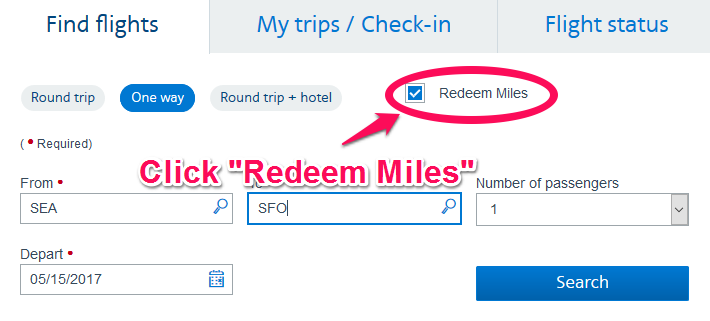 After you click "Search" you'll be brought to this page:

In order to use Avios for American Airlines flights, you have to find "MileSAAver" award seats. I strongly suggest economy seats since business and first class seats are usually prohibitively expensive using Avios.
You also want to make sure you select "Non-stop only" in the drop-down box on the left side of the screen.
It looks like there are MileSAAver Economy seats every day this week, but in general I suggest you expand the calendar by clicking "show full calendar."
British Airways prices each segment of an award flight separately, so we generally only find value in short, direct flights.
Now we click through to confirm all the flight details and to be certain it is an Alaska Airlines flight;  we also have to note the date, time and flight number as we'll need this to book our flight.
Something interesting happened on this search though: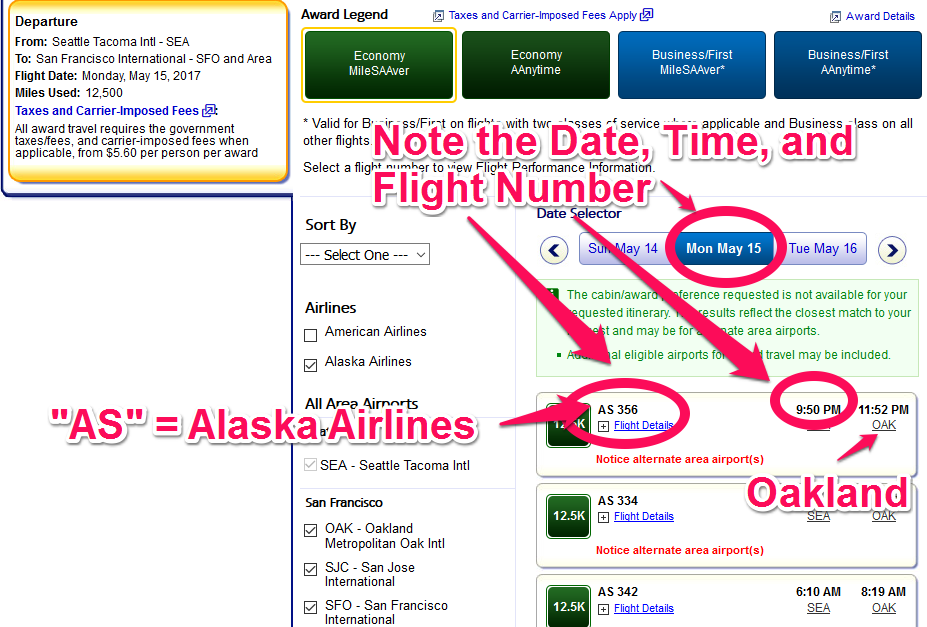 On May 15th there are only MileSAAver Economy seats from Seattle to Oakland and not to SFO. Interestingly enough, if we click on May 16th we do find the MileSAAver Economy seats from SEA-SFO: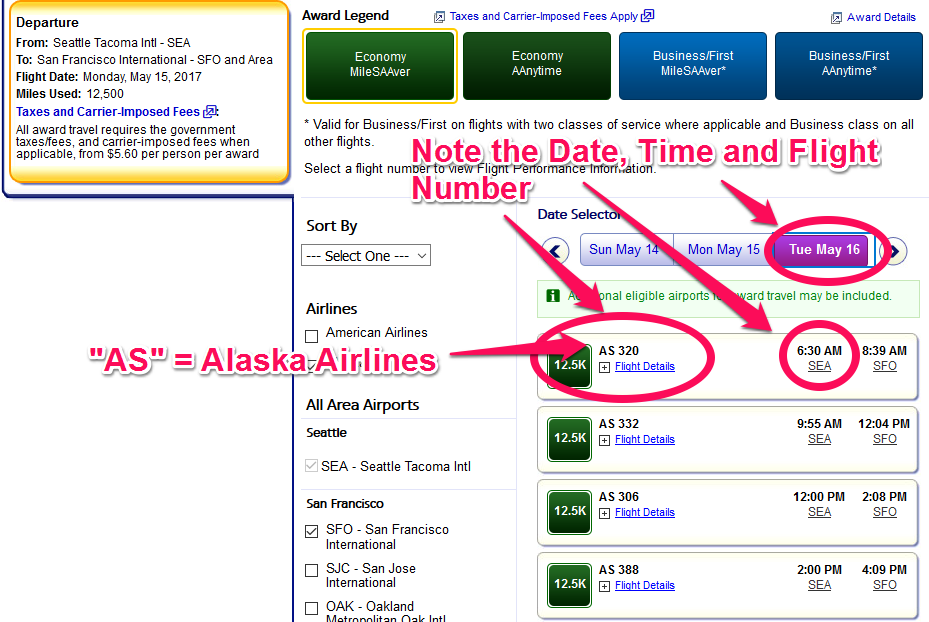 Once you make up your mind on the flights you want to book you'll want to note the date, time and flight number of the Alaska Airlines flight you found at the MileSAAver Economy level.
Alaska Airlines flights cannot be booked online at BritishAirways.com so you will need to call the BA Executive Club customer service number to book this flight.
The number to call in the US is: 1-800-452-1201
When you call you'll need to provide your Executive Club account number plus the flight number, date and time of the Alaska Airlines flights you want to book.
Important Note:  In case they try to charge you a fee to book it over the phone you should kindly ask the BA representative to waive the phone booking fee since you cannot book Alaska Airlines flights online at BA's site.
British Airways Award Chart Based on Distance
The below chart shows you the standard British Airways award chart and the required Avios in Economy, which is based on 'distance in air miles':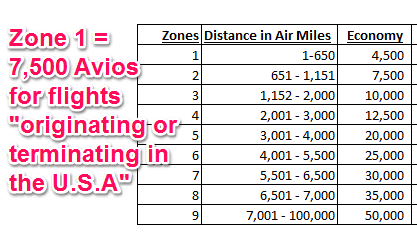 As noted, there are special rules for flights "originating or terminating within the United States of America." Instead of being 4,500 Avios for the Zone 1 flights, these flights into or out of the US now cost 7,500 Avios each way.
According to the Great Circle Mapper the flight from SEA-SFO is only 679 miles in distance and fits into Zone 2 on the BA award chart for a cost of 7,500 Avios for the one-way flight.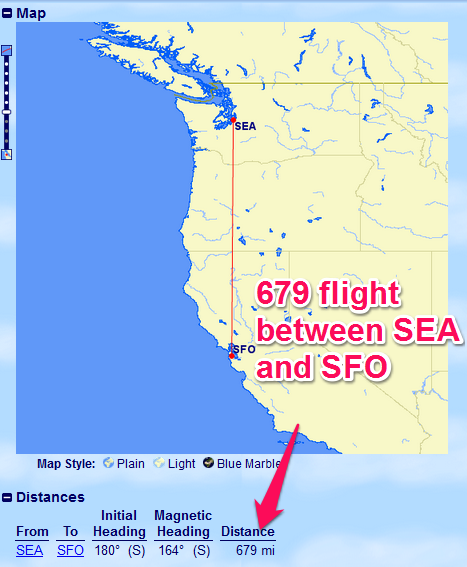 Compare 7,500 Avios with the earlier screenshot from AA.com that showed 12,500 American Airlines miles required for this exact same flight and you'll see why we like British Airways for their 'sweet spot' possibilities!
A Final Note
We hope you enjoyed this step-by-step tutorial on how to book Alaska Airlines flights using British Airways miles. If you have any questions, be sure to ask them in the comments below.
Note that you will only pay the normal $5.60 tax for each one-way flight using BA Avios in the United States on an Alaska Airlines operated flight, so coupled with the distance-based award chart this is a really good use of British Airways miles.
Travel Miles 101 has partnered with CardRatings for our coverage of credit card products. Travel Miles 101 and CardRatings may receive a commission from card issuers.