So if you booked your flights to Mexico City with miles like I did, you're going to need a place to stay.  There are many award stay options in Mexico's capital that range from super swanky, to basic and clean.
Which option provides the best value for you? How do you even value the different hotel currencies?
Let's dive into point valuations and what is available for a trip this summer to Mexico City and we'll find out.
Value of points
There is a ton of information regarding traveling with points & miles that it can be pretty overwhelming when you're just starting out.  One topic that one should learn is how to roughly value your points & miles.  Having a good idea of what each kind of currency is worth is key to knowing whether you're getting a good deal or not.
Think of points & miles as poker chips.  Would you cash in a $50 poker chip for a candy bar?  No, of course not!  Why?  It's because you know what a $50 poker chip is worth, and that spending one on a candy bar is NOT a good deal.  The same concept applies to points/miles.
The Points Guy publishes a month report on what points/miles are worth, although these values vary from person to person, based on their needs and goals.  Consider them as a baseline.  When calculating out cents per point, take the (cash total divided by number of points required).  For example, if a room costs $150 cash, or 10,000 points, you'd calculate it this way:
($150 / 10,000) = 1.5 cents per point
Then compare that to what you value points/miles at to see if you're getting your "points" worth.  Let's take a look at a few different hotel loyalty programs available in Mexico City.
Starwood Preferred Guest
If you are a Starwood loyalist, or would like to leverage your Gold or Platinum status with them, there is a lot to choose from.  They have a great selection from Four Points to St. Regis.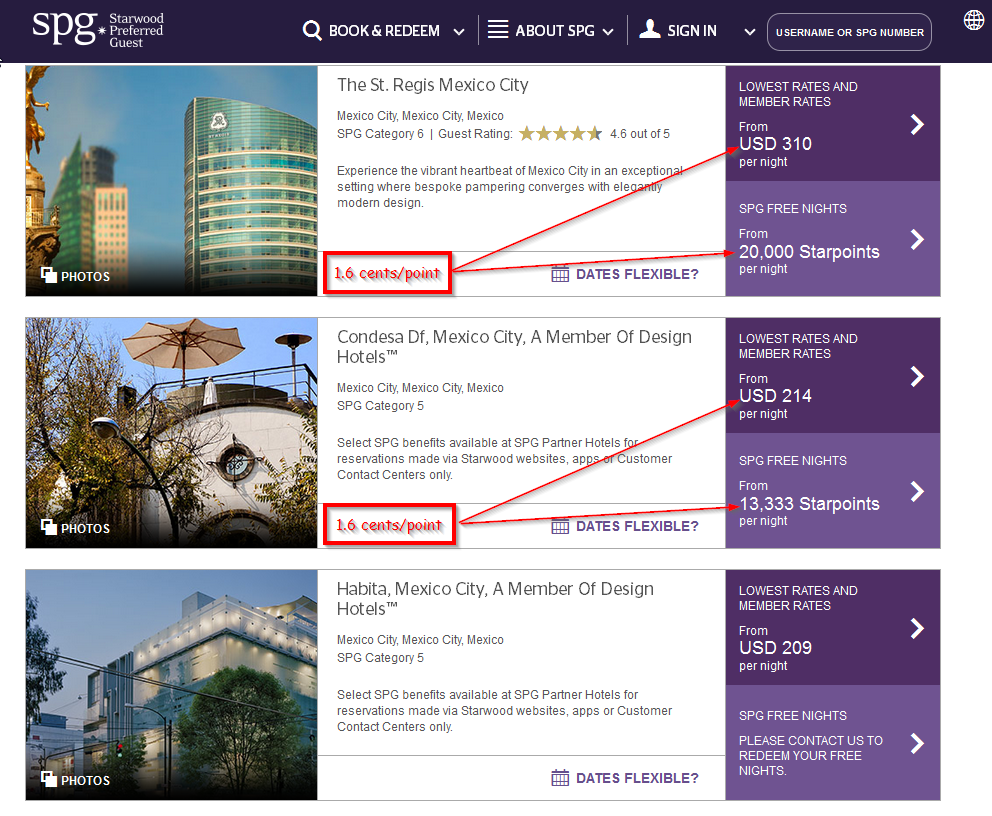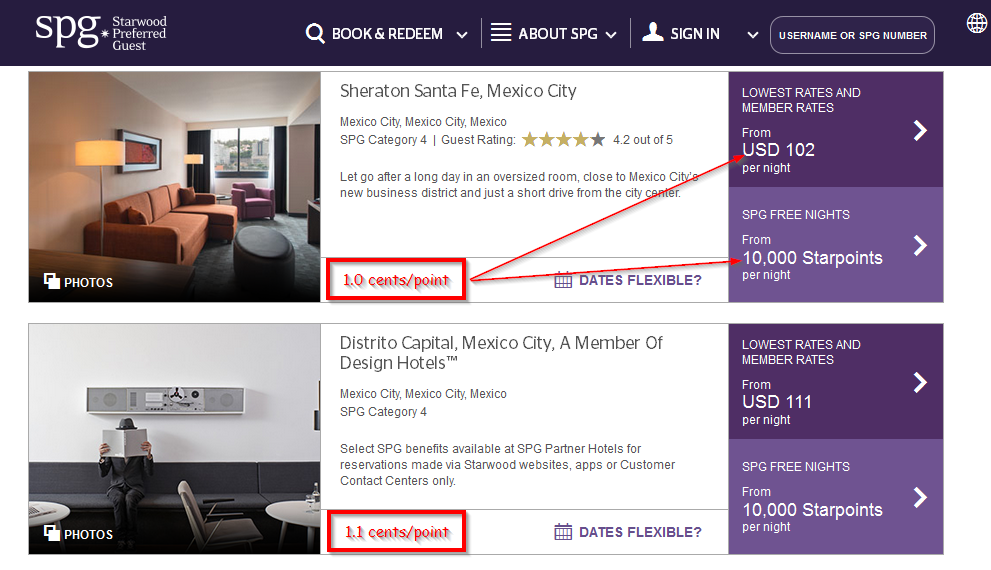 By checking out what is available, it seems like the Four Points in Colonia Roma is the best deal at 2.4 cents/point.  Considering how difficult it is to earn Starpoints, and how valuable they are, I wouldn't use Starpoints for any of these options other than the Four Points in Colonia Roma.
Hyatt
Options are limited if you're wanting to stay at a Hyatt, but there is a Hyatt Regency and it is in a nice area of Mexico City.
A value of 1.2 cents per point seems a little low for me.  I think I could get much better value if saving my Hyatt points (and really my Chase Ultimate Rewards points since I would likely transfer them to Hyatt) elsewhere.
Marriott
If you prefer to stay at Marriott locations, then you have quite the selection as well.  This is a good example of when you may want to pay cash as opposed to burning points.
All of these Marriott options seem to require too many points for an award stay.  If choosing to stay at a Marriott in this example, I would pay cash instead of using points.  If you're sitting on a huge balance of Marriott points, you could also consider transferring them to SPG.  Just make sure that it makes sense for you to transfer before redeeming your points.
Hilton
Like Marriott, Hilton's worldwide footprint is very extensive.  Chances are high that you'll find a Hilton in the place you're visiting.  Here are some examples of what you could find in Mexico City.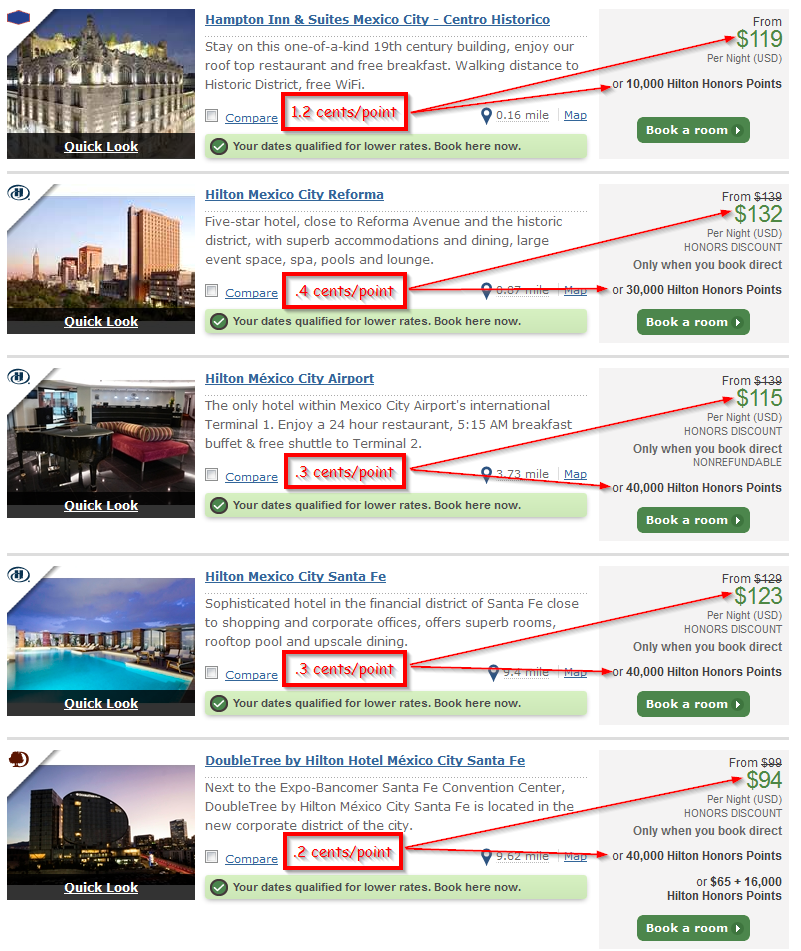 As far as points redemptions go, the clear winner for Hilton in this scenario is the Hampton Inn & Suites in Centro Historico.  Many points/miles enthusiasts value Hilton points at .5 cents per point.  With the Hampton Inn, you're getting over twice that in value.  The good reviews and the location of this hotel definitely make it a contender.
My Hotel Choice
In these examples, I would pick either the Four Points Sheraton in Colonia Roma, valued at 2.4 cents/point, or the Hampton Inn & Suites in Centro Historico, valued at 1.2 cents/point.  Both are located in desirable parts of Mexico City and have good reviews.  For me, I am going to go with the Hilton property.  I value Starpoints too much to spend them at 2.4 cents/point.  I would rather use them to transfer to airline programs for award flights.
The Hampton Inn is located in Centro Historico, which is rich with history, beautiful architecture and an amazing food scene.  A huge plus is that it's an easy metro ride from there to Estadio Azteca to catch the game.
Conclusion
Remember to get a good idea of what your points/miles are worth before spending them.  There are several resources available to help give you an idea of what they are worth, but ultimately you should decide how much each currency is worth to you.  Once you have determined how much points/miles are worth to you, do your research when looking for hotel stays and flights so that you can get the best bang for your point.
Travel Miles 101 has partnered with CardRatings for our coverage of credit card products. Travel Miles 101 and CardRatings may receive a commission from card issuers.