Steps To Search Award Availability On AA
The first step is to go to the American Airlines website.
When you're on the AA home page, scroll down to the middle of the page and enter your search criteria.  When I search for award space, I always search "one way".  Also, remember to check the "redeem miles" box so you can see the award availability, otherwise cash prices will be displayed.  When all search criteria has been entered, click "search"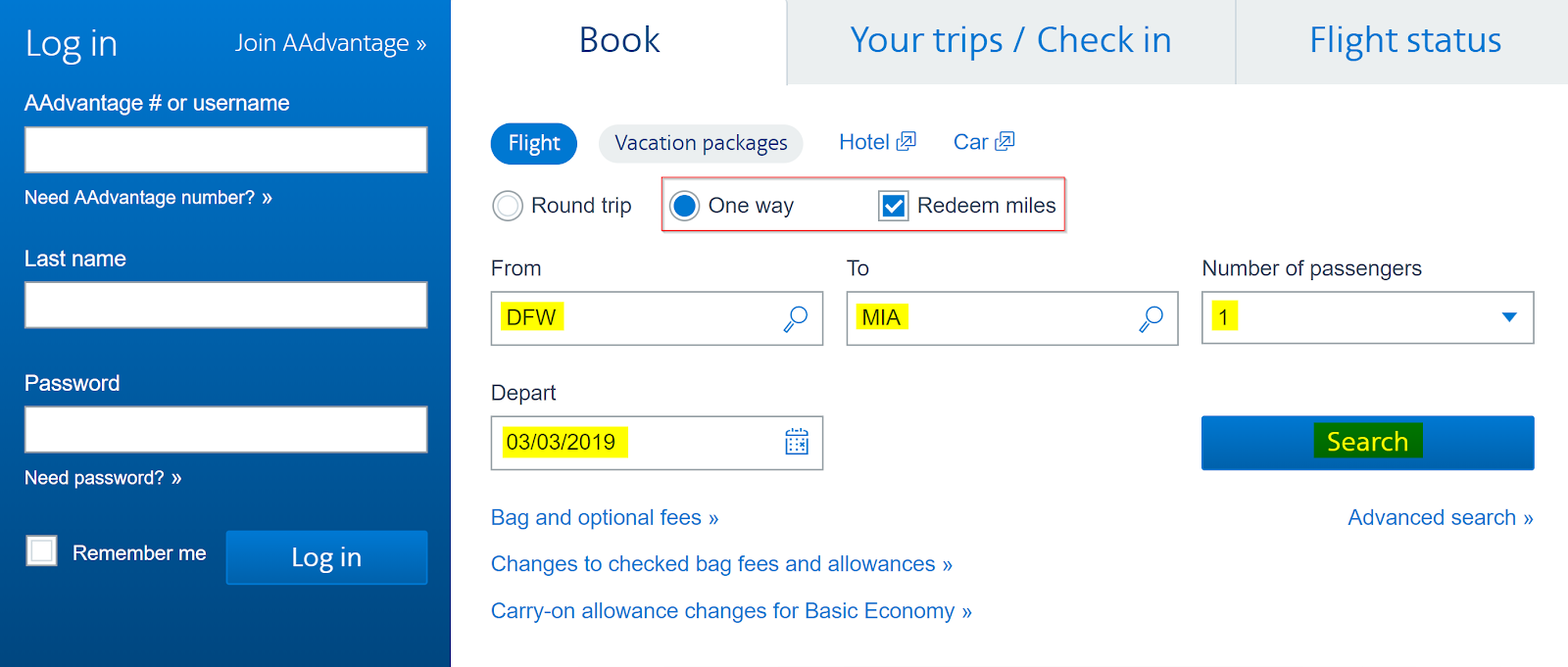 Then the award calendar will show up for days around the date you selected in the previous screen.  If "economy web specials" are available, click on that to see what days are available. These are discounted saver awards that could help you save even more miles!  As you can see in the example below, there are several days available where you could fly from Dallas to Miami during spring break for only 7K AA miles one way!
If there are no "Economy Web Specials", click on the "Economy MileSAAver" option.  These are the typical saver award availability options. The days that show 12.5K are the options available at the saver level.
Next, select your desired date and click "Continue"
Here you'll see the actual flights available.  In this example you'll notice that the available option isn't ideal.  Not only is there a connection, there's also an overnight stay in Charlotte.
 Don't worry though, if you recall from a previous screen showing the award calendar, there were other days available at the saver level.  To check flights on other days, use the "date selector" to check the desired date. In this example, we'll check Monday March 11th.
Here you'll see that there are much better options the following day.  There are a few direct flight options. It pays to be flexible!
Select your desired flight.  At this point you'll be required to log in to proceed with the booking.  If you are ready to book, go ahead and log in and follow the prompts to complete your booking.
This is the total price for the award.  Again, keep in mind that this is the price for the saver award.  If you do happen to find an Economy Web Special, and you are able to travel on those dates, your award flight could be even cheaper!
Conclusion
This was a summary on how to search for award space on American Airlines.  The example shown was for a Dallas to Miami search. When you search for your award booking, select your desired routes and dates.  Keep in mind that award calendars open up around 11 months in advance, in case you're the type to plan ahead. Another thing to remember is that the American Airlines website is a good place to search for other One World Alliance partners as well.  You'd follow the exact same steps for your desired route to see if there is any award space that interests you.