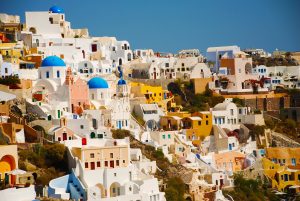 This coming summer, we're going to Istanbul, Athens and Santorini.  The hotel bookings are about 90% complete.
I say 90% because we have some reservations in Santorini that were reserved on Booking.com, but we may change our minds and book elsewhere if we find something more enticing.
Where to stay in Istanbul
With our flight plans squared away, now we needed to look into where we would be staying.  As mentioned in the previous post, we would be using a stopover in Istanbul before flying to Athens.  We planned to stay one night in Istanbul in order to take a couple of tours, to enjoy the food and see what the city has to offer.  We decided to stay at the Hampton by Hilton Istanbul Atakoy at a points rate of 5K points per night.  Paid rates are at around $61/night, bringing this award stay value to 1.2 cents per point.  Many value Hilton points at .5 cents per point, so this is a pretty good redemption. They offer complimentary breakfast as well.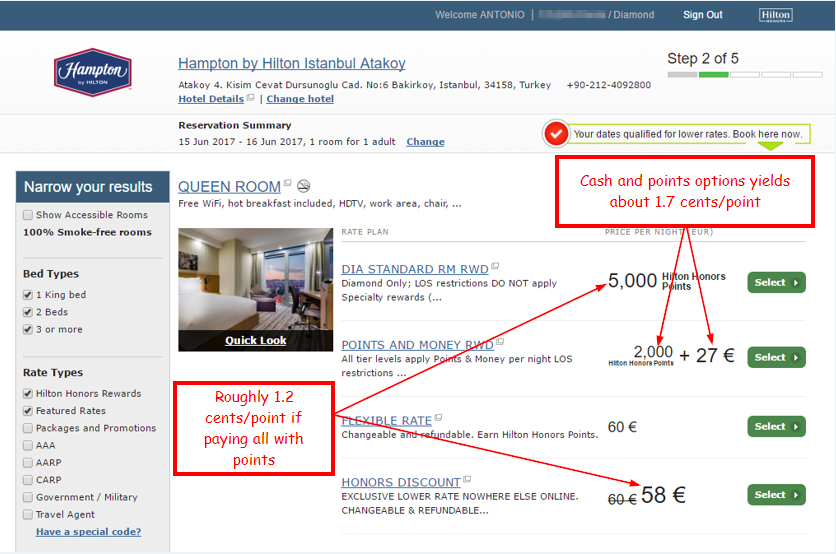 The better points value would have been the "points and money" option.  The way I calculated this is by taking the 58 Euro cash rate minus the 27 Euro cash rate in the "points and money option".  This means that 31 Euros are being covered by 2,000 points.  Those 31 Euros equal to about $33.  The $33 divided by the 2,000 points equal to about 1.7 cents per point.  The math would look like this:
58 Euros – 27 Euros = 31 Euros ($33) that are covered by points
$33 / 2,000 points = 1.7 cents per point
Where to stay in Athens Part 1
Next was our 2 stays in Athens.  I say 2 stays because we will only be staying one night when flying in from Istanbul, before heading out to Santorini.  On the way back from Santorini, we will stay a few nights in Athens to explore the city.
For our one night in Athens en route to Santorini, we opted to stay at the Holiday Inn Athens Airport.  We would be arriving to Athens late in the evening from Istanbul, so we wanted to stay close to the airport, since our flight the following morning to Santorini will be at 5am.  A night here would run us around $139/night, or 20K IHG points per night.  This redemption would come out to around .7 cents per point, which was a fair deal as many would value IHG points at around .5 cents per point.  I decided to burn some points for this night.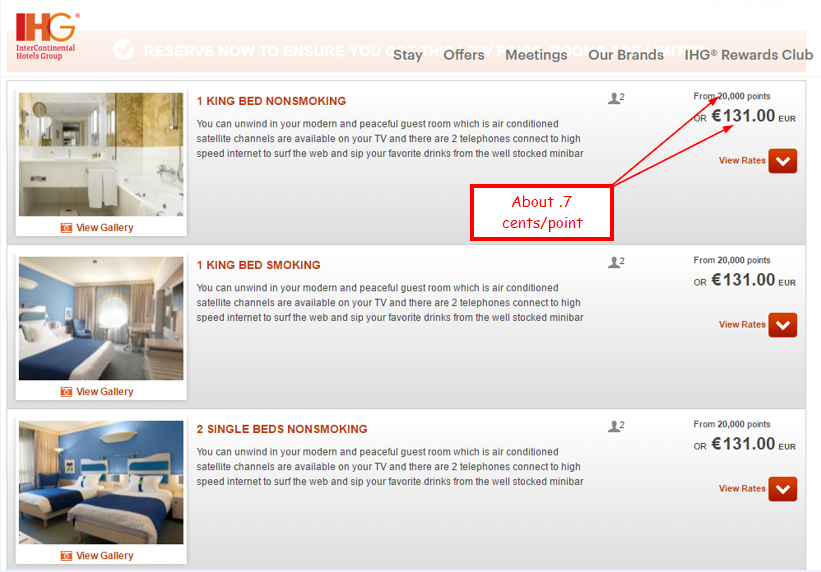 Where to stay in Athens Part 2
For our 4 night stay in Athens on the way back from Santorini, we decided to stay at the Intercontinental Athens.  Paid rates for a standard room are around $182/night, or 30K IHG points per night.  This redemption would come out to around .6 cents per point, which isn't as good as I would like, but it does beat paying any cash out of pocket.  We used  points for this stay as well.
This hotel has good reviews and is close to the Acropolis.  Maybe my IHG Platinum status will get us an upgrade to an Acropolis view room?  Hey, I could dream right?!  It is also close to both a train station and a bus station which is great for us to get around.
What about Santorini???
We currently have reservations at Onar Villas.  It seems like a nice place to stay, and it has great reviews, but there's just something that is not convincing me that that's the right place.  Spending $300/night at a hotel is a bit much for me.  We usually do not spend much time at the hotel, since we're always out doing things, so spending a lot on hotels doesn't make much sense for us, although there have been exceptions.
SPG has a couple of properties in Santorini, like the Vedema which is around $354/night, or 20K Starpoints per night.  That comes out to about 1.8 cents per point, which seems on the low side when valuing Starpoints.  The other SPG option is the Mistique, which is around $880/night.  The website didn't publish how many Starpoints it would be per night, but with this hotel being an SPG Category 7, I'm afraid to ask!!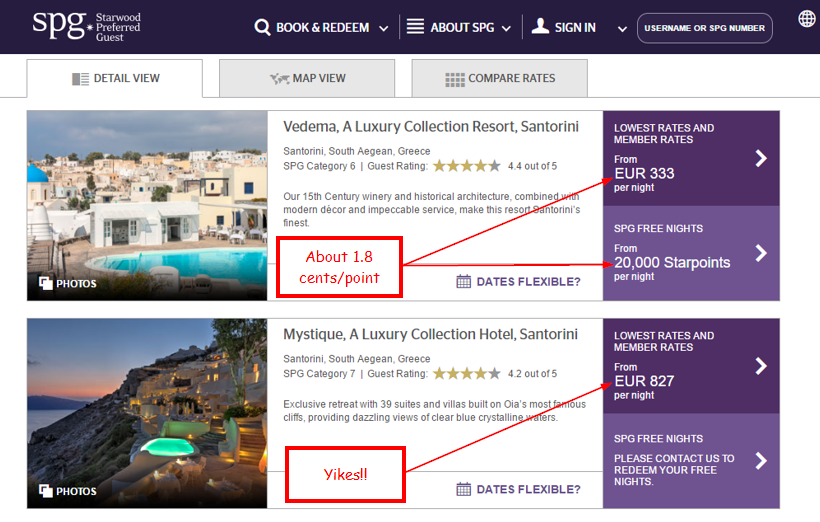 IHG, Hilton or Marriott do not seem to have any properties in Santorini, which limits my point spending opportunities.  I may look at what options we have through Airbnb.  Ideally I would like to stay on the cliffs in Fira, but not spend an arm and a leg.  Do you guys have any suggestions?
Conclusion
Diversification is very important in the miles/points world.  Having many points in one currency could severely limit your options regarding award flights or award stays.  It's smart to have options in different currencies to allow you more flexibility when planning your trip.  If you're able to save transferable rewards points, that increases your future options even more.
How do you plan to use your different miles/points currencies in the future?
Travel Miles 101 has partnered with CardRatings for our coverage of credit card products. Travel Miles 101 and CardRatings may receive a commission from card issuers.