If you've gone through our free Travel Miles 101 course you know that we love using British Airways Avios miles for 'sweet spot' redemptions!
The British Airways award chart is based on distance, so for short, direct flights on British Airways and their partners throughout the world (most notably American Airlines and Alaska Airlines in North America) you can save a lot of miles over the "standard" award charts that most airlines use.
But the problem is that most people don't have a clue how to search for these flights and actually use their Avios for partner flights!
Here's a simple step-by-step guide:
How to book American Airlines flights using British Airways Avios
The first thing I recommend doing is finding the American Airlines flights available at your local airport.  I live in Richmond, VA so I started out by Googling, "Richmond, VA Airport Wiki."
When I scroll down to the "Airlines and Destinations" section you find on every airport Wikipedia page, here's what I see:
In this example we're going to search for a flight from Richmond, VA (RIC airport code) to Chicago, IL (ORD airport code) but as you can see there are six total cities that have direct flights from Richmond on American Airlines, so I do have some options for future trips.
Starting the Search for American Airlines Award Availability
While we are using British Airways miles and will have to book the flights through BritishAirways.com with our BA miles, I would highly suggest you start your search for American flights on AA.com itself.
Simple reason: AA.com is much easier to find award availability as BA's site forces you to wade through it day-by-day which is really annoying and cumbersome.
On the homepage itself, we just enter our flight details: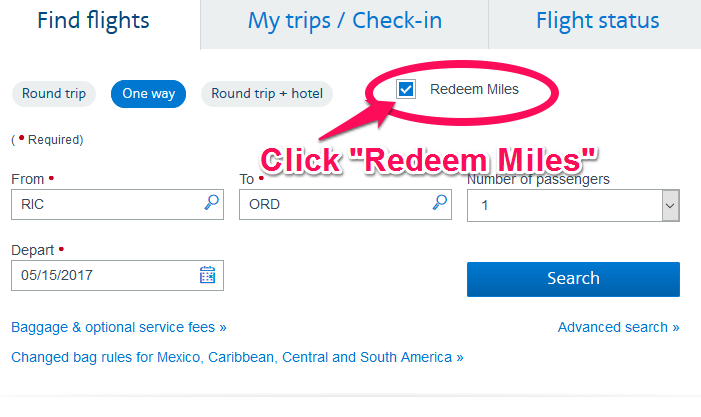 After you click "Search" you'll be brought to this page:
I suggest you expand the calendar to show the full calendar month, and in this search we notice there are no seats on 5/15 which was our original search date.  There are seats on 5/20 which will work for this illustration.
In order to use Avios for American Airlines flights, you have to find "MileSAAver" award seats.  I strongly suggest economy seats since business and first class seats are usually prohibitively expensive using Avios.
You also want to make sure you select "Non-stop only" in the drop-down box on the left side of the screen.
British Airways prices each segment of an award flight separately, so we generally only find value in short, direct flights.
Now we confirm it is in fact an American Airlines flight (depending on the route you select, partner flights can show up in the results on AA.com) and we note the date, time and flight number: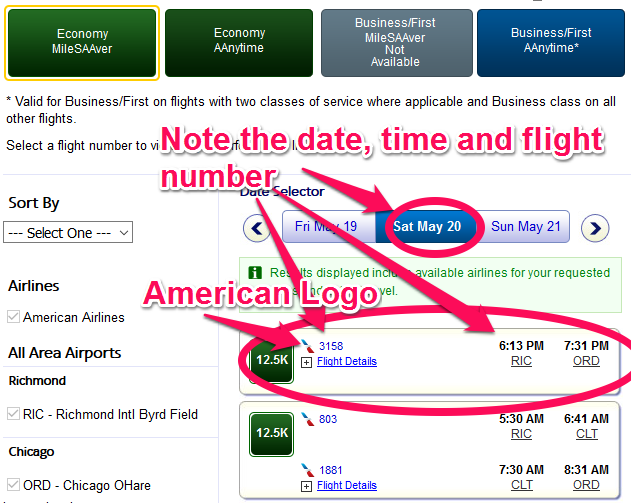 Okay, now that we've found MileSAAver award availability on an American Airlines airplane from RIC-ORD we are sure we can use Avios to book, so now we head to BritishAirways.com to complete the booking: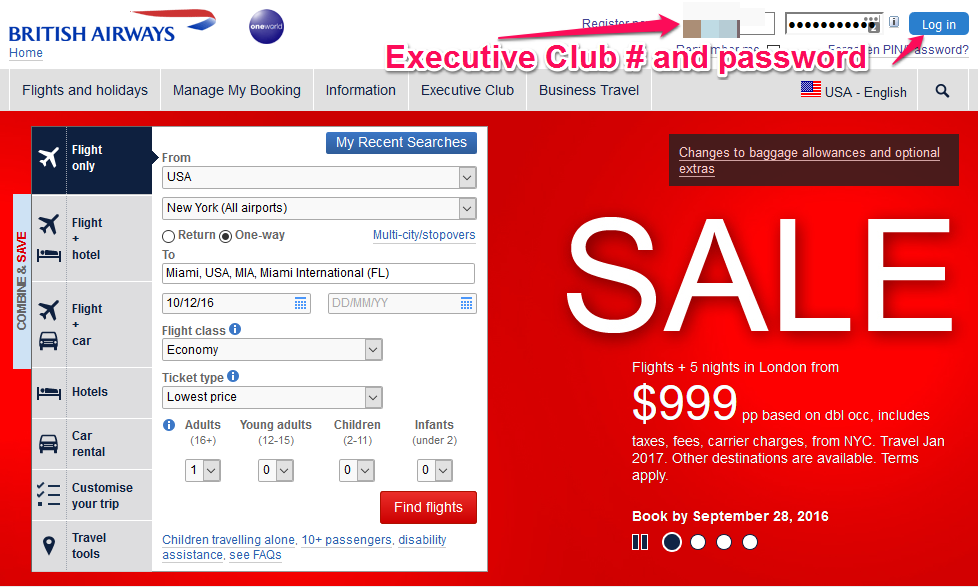 Enter your Executive Club number and password on the top right and when you click "log in" you'll be brought to your main Executive Club homepage:
The key part here is that you want to enter your flight details into the "Book with Avios or money" section on the left hand side.  Here's our flight date and destinations that we already have marked down from AA.com:

Once we click "Find flights" we are brought to this page where we're expecting to see award seats for AA flight 3158 on May 20, 2017: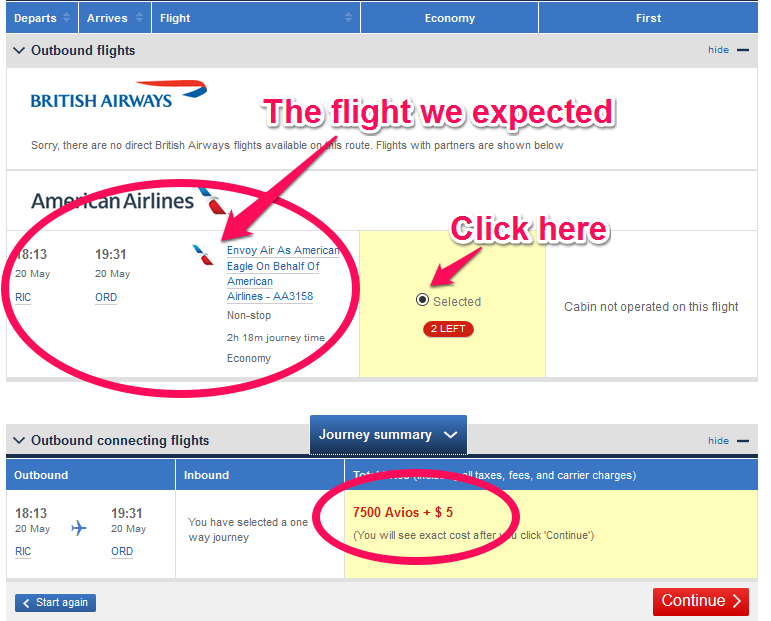 Nice!  As expected, flight 3158 is available to use Avios points.  They even mention the number of available award seats; in this case it is only 2 on that flight, so if we wanted to book this, we'd have to make up our mind pretty quickly.
Once you click the "select" button, the bottom of that screen populates with the Avios and dollars requirements and as you can see it is 7,500 Avios plus $5 (actually $5.60).
British Airways Award Chart Based on Distance
The below chart shows you the standard British Airways award chart and the required Avios in Economy, which is based on 'distance in air miles':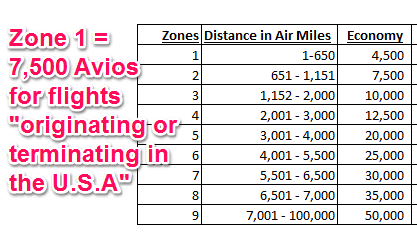 As noted, there are special rules for flights "originating or terminating within the United States of America."  Instead of being 4,500 Avios for the Zone 1 flights, these flights into or out of the US now cost 7,500 Avios each way.
According to the Great Circle Mapper the flight from RIC-ORD is only 642 miles in distance and fits into Zone 1 on the BA award chart, but since it originates in the US this flight is actually 7,500 Avios.
Compare 7,500 Avios with the earlier screenshot from AA.com that showed 12,500 American Airlines miles required for this exact same flight and you'll see why we like British Airways for their 'sweet spot' possibilities!
A Final Note
We hope you enjoyed this step-by-step tutorial on how to book American Airlines flights using British Airways miles.  If you have any questions, be sure to ask them in the comments below.
And before I close this up, I just wanted to make one last point:  You DO NOT want to use BA miles to fly on American Airlines airplanes to/from Europe.  You will be hit with massive "fuel surcharges" which BA tacks onto their own British Airways flights and most partner flights (with the except of Aer Lingus and Air Berlin).
As you can see above, you will only pay the normal $5.60 tax to the US government for this one-way flight using BA Avios in the United States on an American Airlines operated flight, so this is a really good use of British Airways miles.
Travel Miles 101 has partnered with CardRatings for our coverage of credit card products. Travel Miles 101 and CardRatings may receive a commission from card issuers.