Essential Info: This strategy is only good through 3/31/2017.  After that, these transfers won't count towards the Companion Pass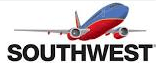 The Starwood and Marriott merger has presented us with some great opportunities and this rates as the biggest one:
You can now use a combination of Starwood and Marriott points to earn the ultra-valuable Southwest Companion Pass!
Essential Details: Using Marriott & Starwood Points for the Southwest Companion Pass
Marriott offers "Hotel + Air Package 3" which for 270,000 Marriott points earns you:
120,000 Southwest Rapid Rewards points
7 nights at any Category 1-5 Marriott hotel (must be consecutive nights.  You can upgrade to higher categories for more Marriott points)
Automatic qualification for the Southwest Companion Pass!
That means you'll have 120,000 Southwest miles which are worth roughly $1,800 of free flights plus the Companion Pass will essentially double that value to $3,600!  Then you'll have seven free Marriott nights that are likely worth in excess of $1,000.  Putting the total value of this package at an astounding $4,600+.
To earn for the Companion Pass you need to earn 110,000 qualifying points in one calendar year.  While there are instances where partner transfers don't count towards the Companion Pass (Chase Ultimate Rewards comes to mind), these transfers from Marriott do count towards the Companion Pass!
Since you're earning 120,000 Southwest miles, that already puts you over the 110k necessary for the Companion Pass, so you will automatically qualify.
Here's the section from Marriott's Hotel + Air Package page showing you the points you need: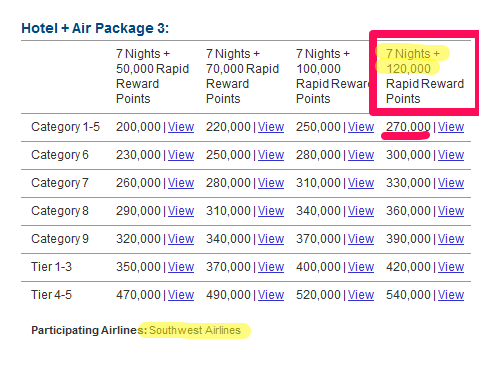 As you can see, if you did want to upgrade your Marriott nights to a higher category, you can pay an additional 30,000 points for each step up in the chart.
How to Accumulate 270,000 Marriott Points
From the Marriott personal and business credit cards.  At the time of publication, each of these cards is offering an 80,000 point bonus
Starwood Preferred Guest points now transfer at a rate of 1:3, so one SPG points gets you three Marriott points.  You can read our one-minute guide to linking your SPG and Marriott accounts here.  At the time of publication, you can earn a 25,000 point bonus on both the Starwood personal and business credit cards.  These bonuses really equal 75,000 Marriott points due to the 1:3 transfer rate.
Chase Ultimate Rewards points (from Chase Sapphire Reserve, Chase Sapphire Preferred and Chase Ink Business Preferred) transfer 1:1 to Marriott.  We highly value Chase UR points, so we don't recommend this transfer unless you're in a pinch and just need a few thousand additional points to reach the 270k threshold.
Considering the current card bonuses, you'll need three of these card bonuses plus some points earned through regular spending to reach the 270,000 total points needed.
While this isn't as ideal as the "normal" method of opening two of the Southwest credit cards when they have 50,000 point bonuses, this can be a great workaround for two reasons:
Not only are you getting 120,000 Southwest miles to use, plus the Companion Pass, but you're also getting

seven free Marriott nights

!  At the right Category 5 property (see the list here), this can be a really nice additional perk that's certainly worth roughly $1,000 in value.
If you don't have the ability to open new Chase credit cards (like the Southwest cards) due to their "5/24 rule," the Starwood Amex cards help you avoid that entirely.
Best Timing to Earn the Companion Pass
Without question the best time to redeem your 270,000 Marriott points for this package is in early January.  That is because the Companion Pass is valid from when you earn 110,000 Companion Pass qualifying points through the end of the next calendar year.
By earning the Companion Pass in early January, you will have it for nearly a full 24 months!
Word of caution:  We are publishing this article on October 19, 2016 and as of today this transfer 100% counts towards the Companion Pass.  There is always the chance that Southwest will at some point in the future change its policy to not count these points from Marriott as valid Companion Pass qualifying points.  So while you are taking a slight chance waiting until January, we think the upside potential of having the Companion Pass for nearly 24 months as opposed to only 14 months is worth that risk.
Travel Miles 101 has partnered with CardRatings for our coverage of credit card products. Travel Miles 101 and CardRatings may receive a commission from card issuers.