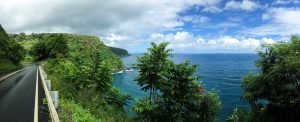 ***UPDATE*** Currently it seems as if you're able to book flights priced at 27,500 miles on Air France one way for 25,000 Korean Air miles round trip.
Hello everyone!  There has been a lot of discussion recently about the Korean Air sweet spot to Hawaii which allows you to fly round-trip on Delta planes for only 25,000 Korean Air miles(!) and I wanted to post this update:
Many folks have been successful with booking their trips using the Delta website to find award space, then booking their flights on the Korean Air website.  However some have had troubles as evidently the Korean Air website is not showing the same "Saver" availability as what shows on the Delta website.
Thankfully there's an easy workaround to finding the accurate availability that will work with Korean Air miles!
You can search for Delta award space on the user-friendly Air France website to find out what Saver availability is available to this one partner and then go to Korean Air's less user-friendly site and plug in that flight information to actually book the flights.
Searching on Air France
While searching for a round trip flight from Atlanta to Honolulu for a friend of mine, I made some screenshots of the award space on Air France and then follow through to show the final price for these same flights on the Korean Air site.
Keep in mind that when you're searching for award space on Air France, search one-way and choose the dates costing 15,000 miles for that one-way.  This is the "Saver" availability that will show up on Korean Air's site and will allow us to book a 25,000 mile round-trip flight to Hawaii with Korean Air miles.
Here is what I found initially before booking my friend's flights.
Outbound Award Space from ATL > HNL
Inbound Award Space from HNL > ATL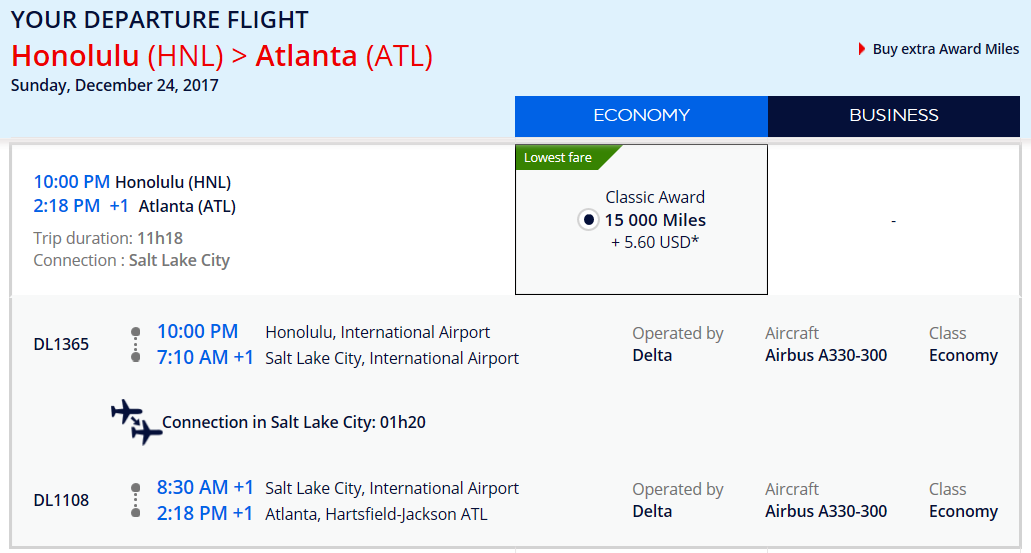 So as mentioned in the first article, once you have found your desired flights, make note of the flight information, such as dates, flight numbers, times, etc.  This way you could match up your flight information with what the Korean Air search results.
Searching on Korean Air
Next I searched on the Korean Air website.  Remember that you must log in to do an award booking.  Once you've logged in, you need to select SkyTeam Award.  I entered in the flight dates shown above and voila!  Here are the search results.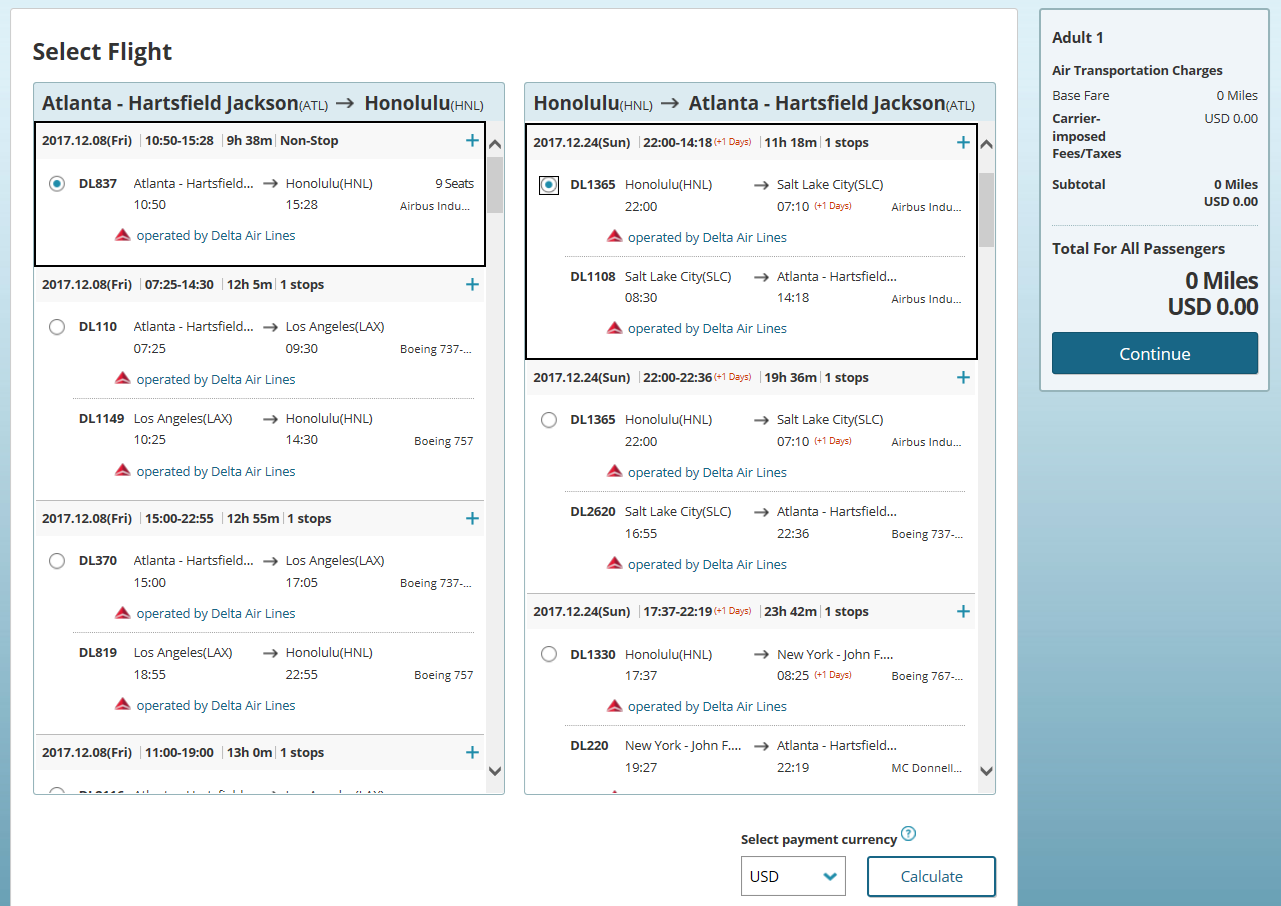 Once I selected the flights that I had searched for, I clicked "Calculate" and the site calculates the total miles.
Notice that the total miles for the flight is 25,000 miles round trip, plus $11.20 in fees.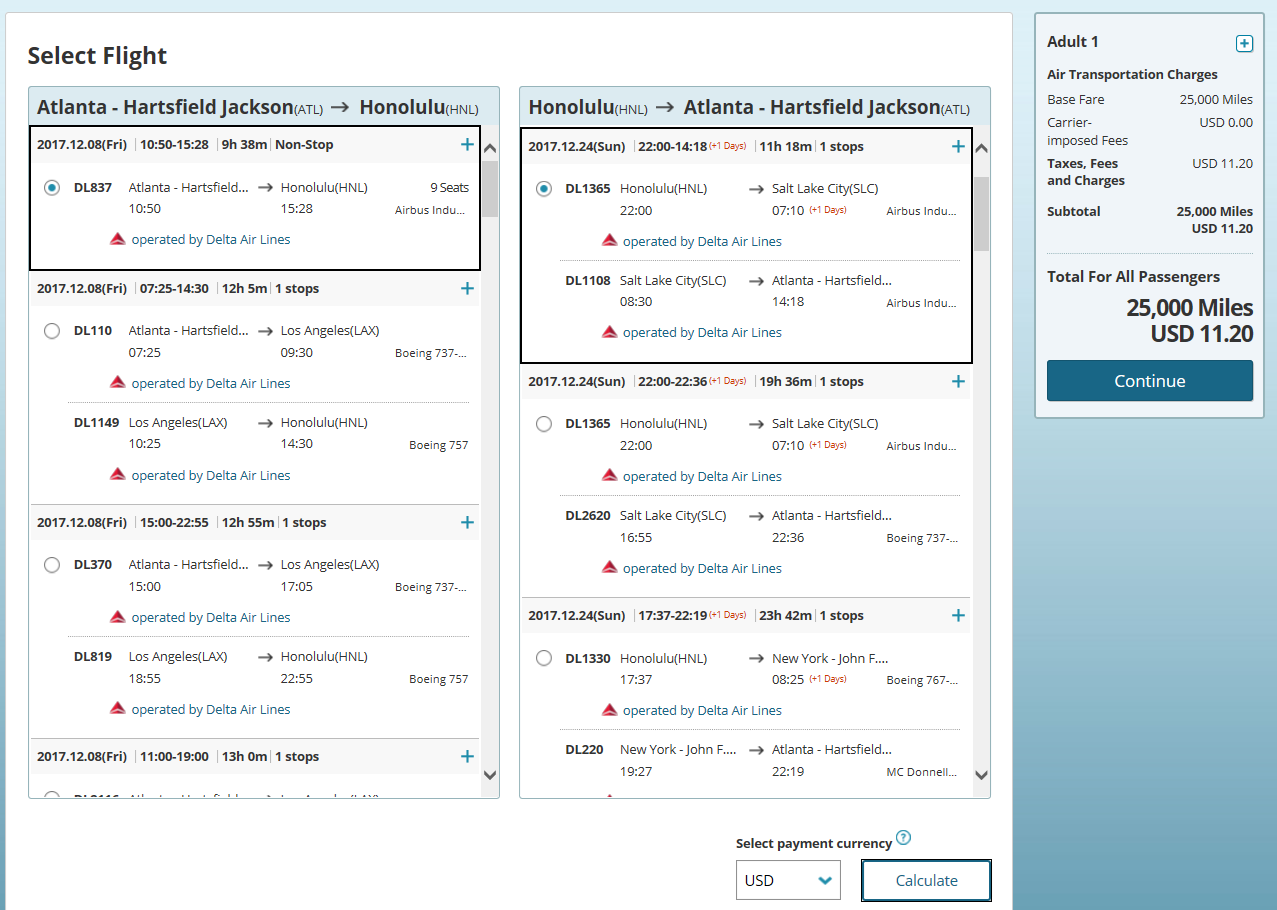 From this point, click "continue" to finish your booking.  Hooray!  You're on your way to Hawaii!
For what it's worth, I searched both the Air France site and the Korean Air site on Internet Explorer.  My browser of choice is Firefox, however I've run into issues on certain sites when using Firefox.  I suppose you could try any browser when searching for award space and trying to book your flights on Korean Air, however YMMV.
Conclusion
As you can see, you can still book the Korean Air sweet spot to Hawaii for only 25,000 Korean Air miles.  If you don't have Korean Air miles or points to transfer to Korean Air, you could book it with Air France Flying Blue miles for 30,000 miles round trip, which is still a great deal!
One thing to remember in this hobby is that you may encounter bumps in the road as there may be website glitches, communication problems etc.  We must adapt to the changes and continue finding new sweet spots and workarounds to find them.  Have you been successful in booking your flights to Hawaii?
Travel Miles 101 has partnered with CardRatings for our coverage of credit card products. Travel Miles 101 and CardRatings may receive a commission from card issuers.