We love to focus on sweet spot redemptions where you can save big using a partner's miles to fly on certain routes, and some of our favorite sweet spots are to Hawaii!
This is a step-by-step guide to what may be the best sweet spot of all: Using Korean Air miles to fly round-trip to Hawaii from the continental United States for only 25,000  miles round-trip in Economy or 45,000 miles in business/first class on Delta planes!
And to make this sweet spot even better, Korean Air is a transfer partner of Chase Ultimate Rewards and Starwood Preferred Guest, so you can use your transferable points on this trip to Hawaii.
How to Use Korean Air Miles
Korean Air is a member of Skyteam, as is Delta Airlines.  This means that you're able to use Korean Air miles to fly on Delta airplanes.  As you'll see below, Hawaii (and Mexico) is considered part of North America on Korean Air's Skyteam award chart.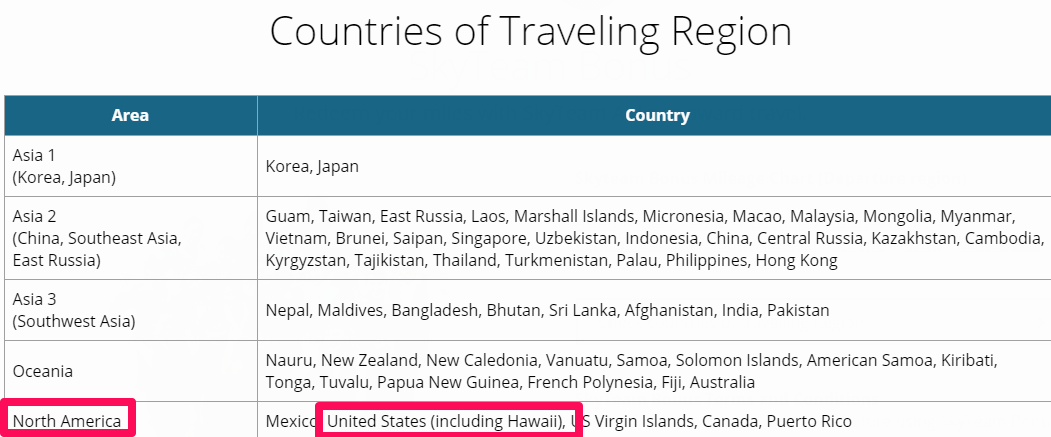 That means that on their 'departing from North America' award chart, from North America to Hawaii it costs an incredible 25,000 miles round trip in economy or only 45,000 miles round trip in business/first class.  Now that's a steal!
You may be wondering, "Is it complicated to book this award?"  It used to be much more difficult but NOT ANYMORE!  Here's how you do it:
Searching for Award Space
First, you will search for award space through Delta.com.  I like how easy it is to search for award space on Delta's website.  From the home page, enter in your flight information.  Make sure to select "one way" and "flexible days".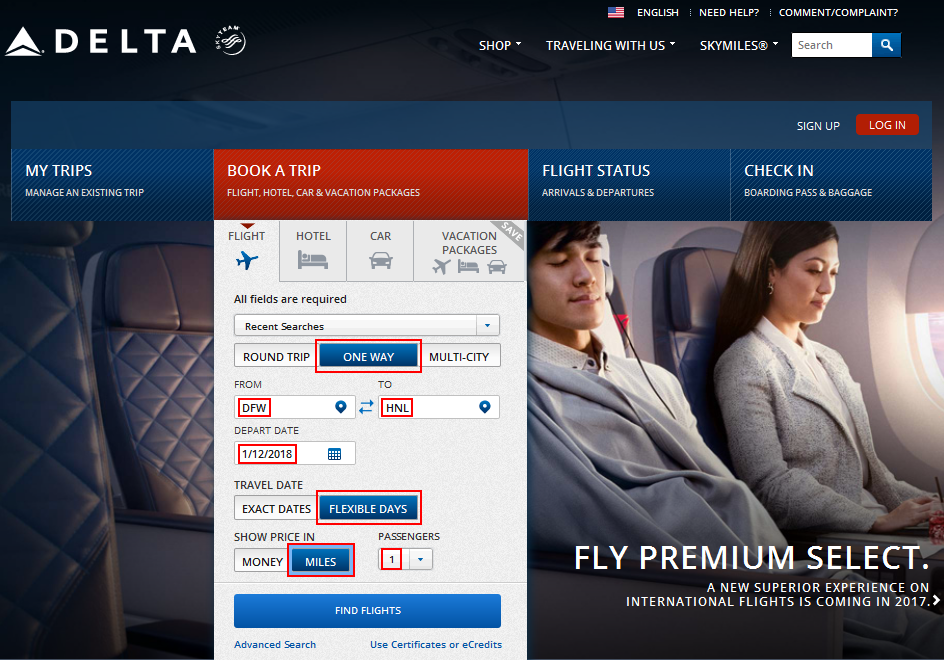 On this screen, make sure to change your calendar view to "5 weeks", and select "Delta Only" flights.  Then click "Update Results" to view the award space available on the calendar.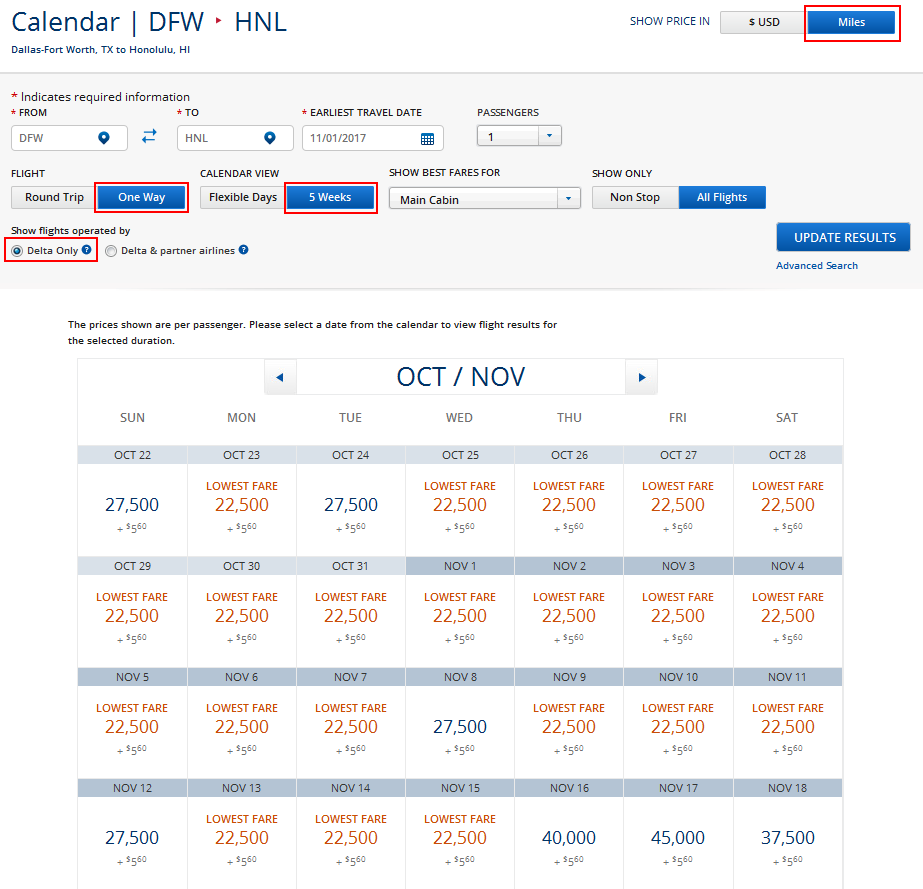 The dates showing fares of 22,500 miles are what you are looking for as those are the lowest level Saver Economy seats.  Keep in mind this will only cost 12,500 Korean Air miles for this one-way (though you have to book round-trip), but you're just finding the availability at Delta's site.
Those dates you find for 22,500 one-way will be available to book with Korean Air miles.  Select one of those dates for your departure.  The flights available at that rate will show.
Take a screenshot of the flight you're interested in, or make note of the flight information, such as the date, times, cabin and the flight numbers.  You will need this information when booking on the Korean Air website.
Next, search for your return flight the same way.  Select one of the dates that shows 22,500 miles.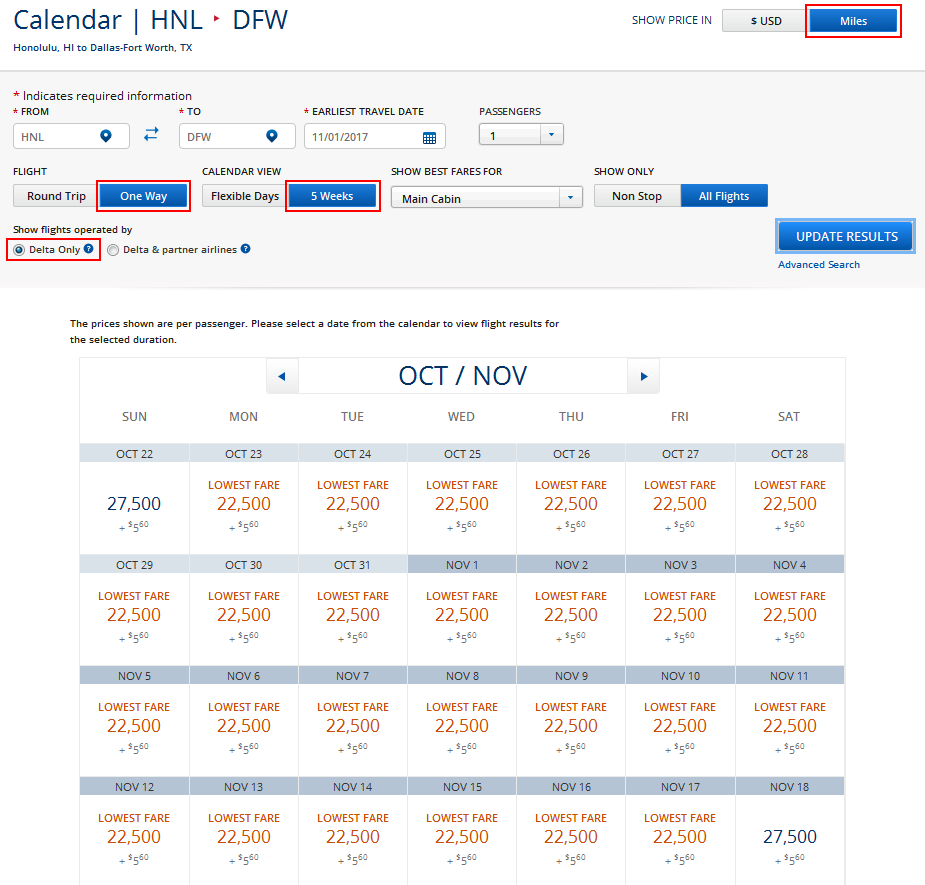 Once you select your desired date with the "lowest fare" award availability, then view the flight information for the return flight you are wanting to book.
Again, make note of the flight information for the return flight as we will need this information later.  Once you have your flight information for both your departure and return flights, you are ready to search for those flights on the Korean Air website.
Booking on Korean Air
Go to the Korean Air website to start the booking process.  If you haven't created your account with Korean Air, you will need to do so before proceeding as you're required to login before performing an award booking.
From the home screen, click on "Book a Flight"
Then a drop down menu will show where you will select "Award Booking"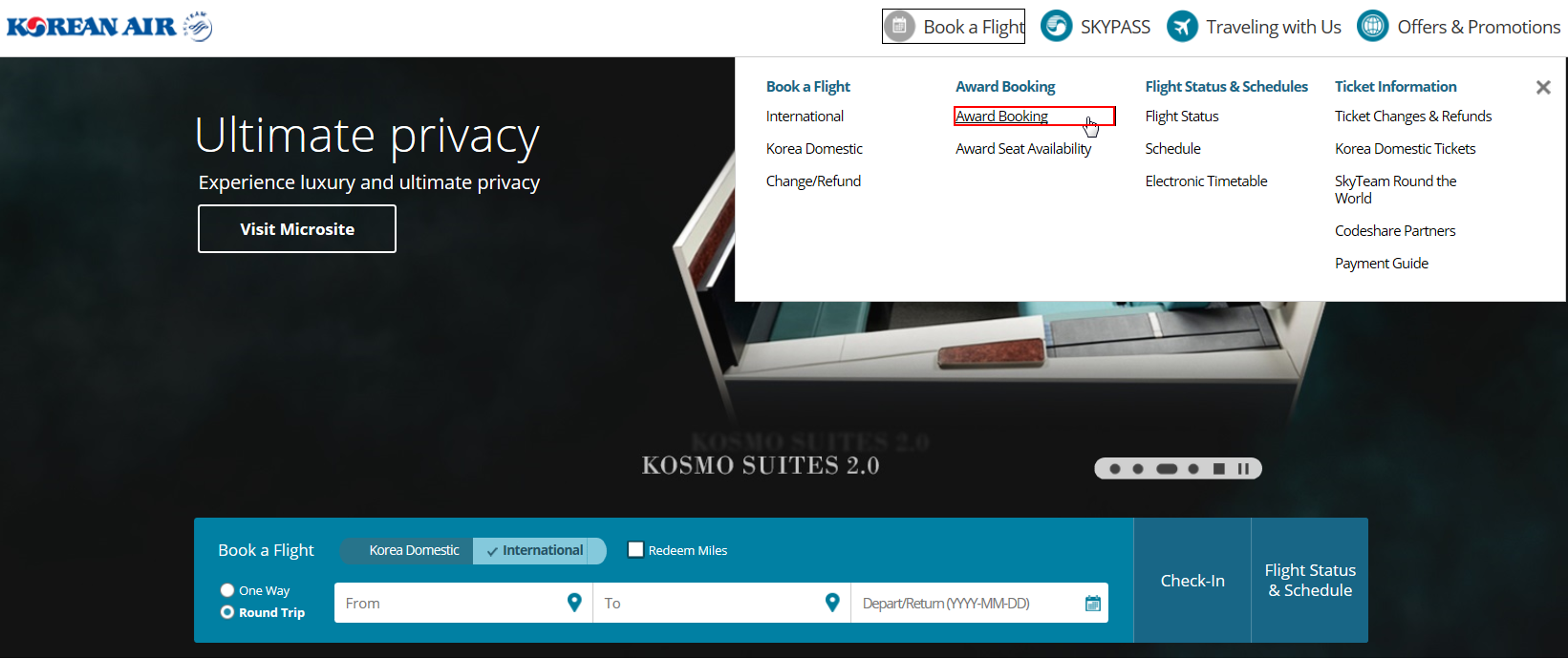 Before proceeding you will be prompted to enter in your account information for Korean Air.  Enter it to continue
Once you log in, fill out the flight search information.  Make sure "International Flights", "Award Booking" and "SkyTeam Award" are selected.  Then click "Find Flights"
A list of both outbound and inbound flights are shown.  Select the flights that match to the information you pulled from your search on Delta.com
Once you select the flights that matched your Delta search, scroll down and click on "Calculate"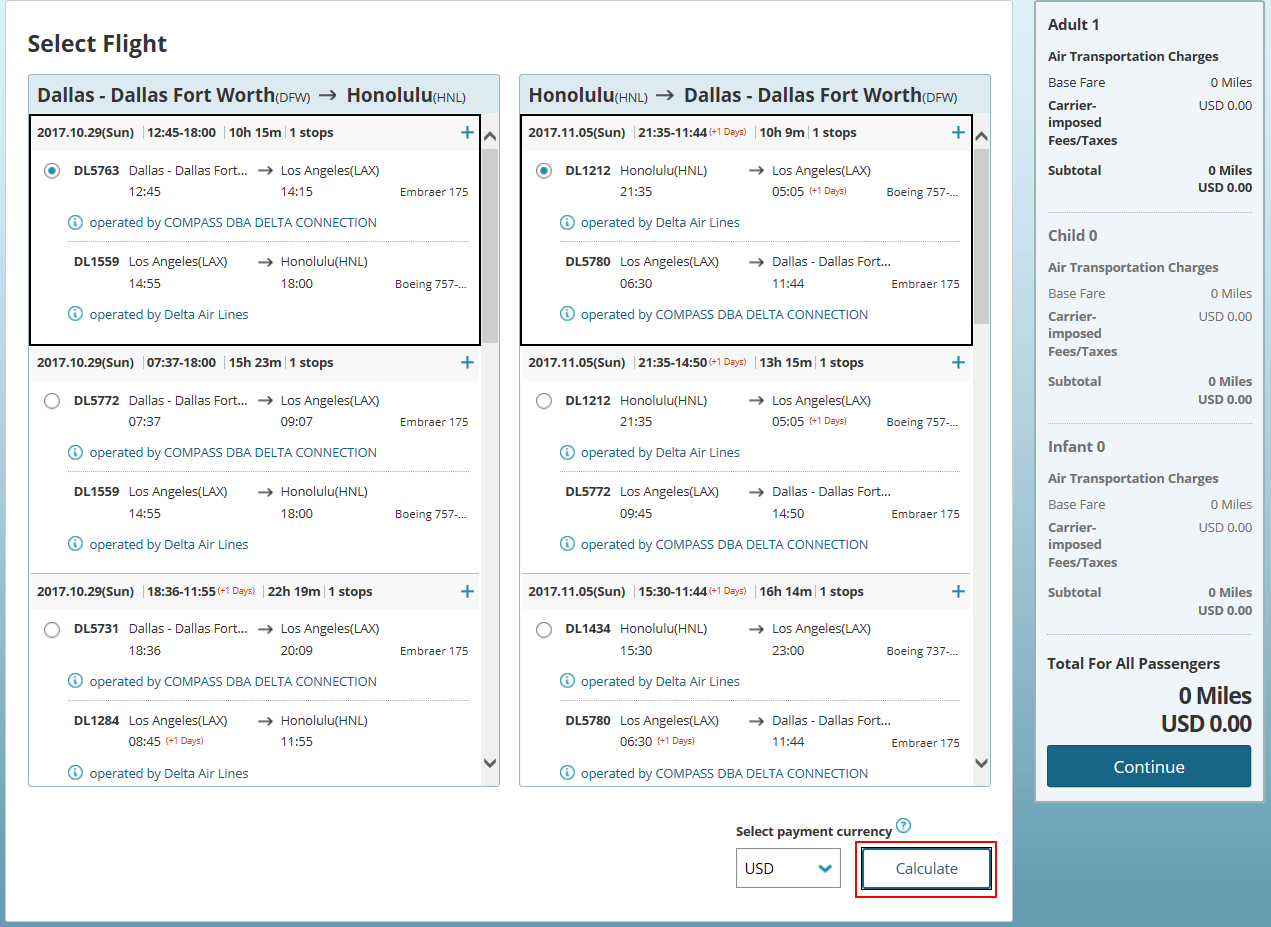 Once you click "Calculate", your calculation confirmation shows
Notice that your round trip flight costs only 25,000 miles round trip, with only $11.20 in fees!
From this point I cannot continue because I don't have any Korean Air miles in my account.  Assuming you were going to make this booking, you would have already transferred points to your account.
Conclusion
It is now much easier to book award flights with Korean Air since it can be done online.  However, proof of relationship is still required for everyone that you will be booking award flights for.  Make sure to add your family members to your Korean Air account before booking your award flights.
Using Korean Air miles for a trip to Hawaii is an amazing sweet spot.  Both Chase Ultimate Rewards Points and Starpoints from SPG can be transferred to Korean Air.  You can get some incredible value from your points if you plan ahead with this award flight.  Are you considering a flight to Hawaii using Korean Air miles?