My wife and I earned the Southwest Companion Pass under my Rapid Rewards account when I had signed up for the Southwest Plus credit card, and the Southwest Premier credit card.  When I signed up for these cards at the end of 2015 (see Brad's articles on the best timing to go for the Southwest Companion Pass), the signup bonus on each was 50,000 after reaching the minimum spending requirement.
To earn the Companion Pass, I needed to earn a total of 110,000 Rapid Rewards points within the same calendar year.  My strategy was to complete the minimum spending thresholds (plus additional spending to get to 110,000 total points) for both cards in January 2016 before the statement closing dates.  By doing it this, way all of the points earned from spending, and from the sign up bonuses would post in early 2016.
Since the Companion Pass is valid through 12/31 of the year following when you earned it, do it this way would get me almost 2 full years of having the Companion Pass.
The spending plan worked out perfectly!  In early February 2016, I received an email stating that I had earned my Companion Pass through December of 2017.  Woohoo!!  I earned the Companion Pass, but what do I do now?  I wanted to plan something special for my wife and I, since August 2016 was our 10 year wedding anniversary.
What is the Southwest Companion Pass?
Taking a step back, let's quickly talk about what the Southwest Companion Pass is and why it is one of the best deals in travel!  When you earn the Companion Pass, you designate a companion to fly with you almost free on either regular cash bookings OR when using rewards miles.  This means you double the value of your Southwest miles as you can get two tickets for the price of one!
All that is paid for the companion ticket are the taxes and fees, which come out to around $5.60 for a one-way domestic ticket.
It's also important to remember that while you earn the Companion Pass by earning 110,000 miles in one calendar year, you still have those miles to use!
Where did we go with the Companion Pass?
Cabo San Lucas had a special place in our hearts and I wanted to surprise my wife with a trip down there.  Due to work schedules, Labor Day weekend would work best for us.  I quickly signed into my Rapid Rewards account on Southwest.com, and started searching for flights from Dallas to Cabo.  Since I had a little over 110,000 Rapid Rewards points to use, I opted to use points to book our flights.
I found some very good deals (under 10,000 miles round-trip for the two of us!!) similar to the screen shots below:
Departing Flight
Return Flight
Grand Total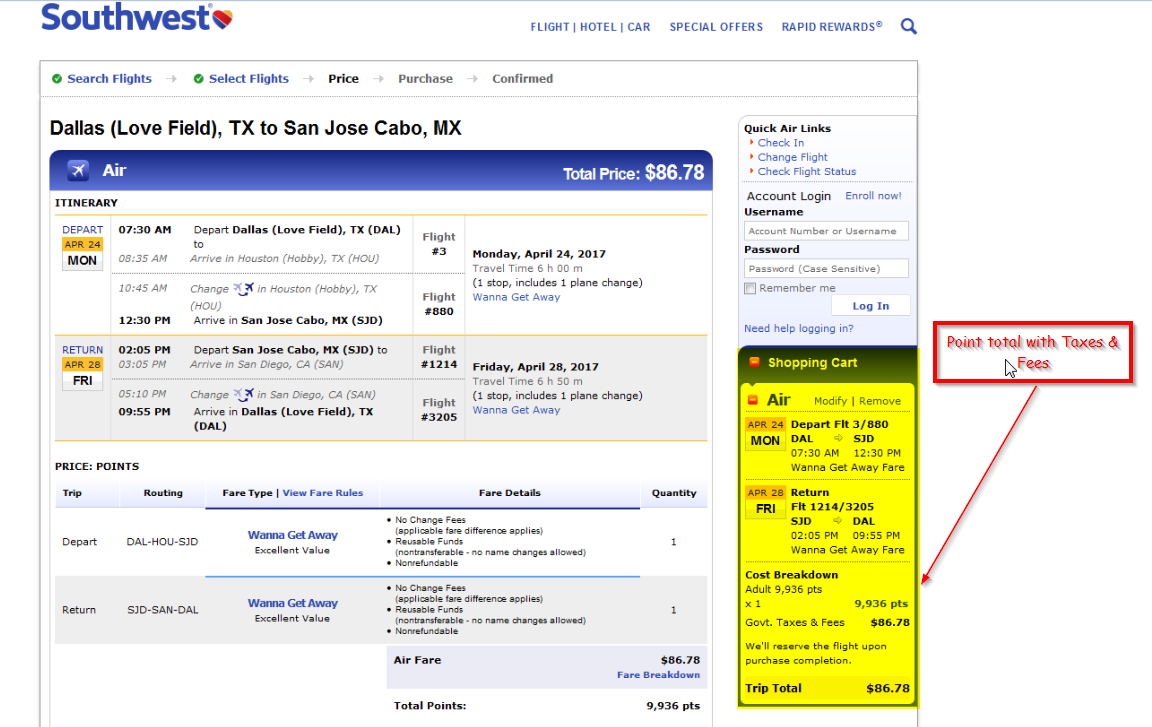 Less than 10,000 points for 2 people round trip from Dallas to Cabo is a screaming deal!
Pro tip: Keep in mind that when searching for flights on Southwest, with the intent of using your Companion Pass, search for the total number of fliers, minus your designated companion.  For example, if there are 3 people traveling, and one is your designated companion, your initial flight search would be for 2 people.  Once booked, search for the confirmation number for that flight under "My Account", then there will be an option to "Add your Companion" to that same trip.
Flights are booked, but where do we stay?
After booking the flight for both my wife and I, I needed to look into where we would be staying.  There are many places to stay either in San Jose del Cabo, or in Cabo San Lucas, and with so much beautiful coastline it was difficult to choose.  I did some research and I narrowed my search to Cabo San Lucas, near Medano Beach.  I chose this location because Medano Beach is one of the very few beaches where one could safely swim.  Also, by staying near Medano Beach, we would also be close to restaurants, nightlife and even a Wal-Mart.  There is a nice Fairfield Inn & Suites located close to Medano Beach if you wanted to find some hotel point options.  Although rates are very reasonable.
I opted to book our stay at a condo through Airbnb (click for a $35 credit for new users) because as part of the surprise for my wife, I invited some friends from Iowa to stay with us to celebrate our anniversary.  I found a great 2 bedroom/2 bath condo near Medano for close to $100/night.  That place was super nice, without the super nice price or resort fees.
Keeping the Anniversary Trip a Secret
Once everything was booked, I had to play the waiting game.  Our friends and I had to keep a secret for around 7 months, since I had booked the flights and condo in February 2016, and our trip wasn't until the first weekend of September 2016.  We did good, and not a word was said to spoil the surprise.
On August 19, our anniversary date, I had given my wife a greeting card wishing her/us a Happy 10 Year Anniversary, with a note saying that she needed to ask for a couple of days off from work.  If I gave too many clues, my wife would've figured out the surprise, so I didn't give any more details beyond that.
The night before our flight, I had to give my wife a few more clues so that she knew what to pack for our trip.  I just said to plan for a beach trip.  On 9-1-16 we headed to the airport, checked into our flight at the front desk, since Southwest didn't allow me to check in 24 hours before due to it being an international flight.  Finally, as we headed towards security, I told her where we were going and she was pretty excited.  Soon after, we boarded our flight to Cabo and were on our way.  We had a smooth, uneventful flight, which is always good.  She still didn't know that our friends from Iowa would be waiting for us at the airport.  Their flight arrived about an hour before ours.  We hopped off of the plane and made our way to immigration and customs, which was a smooth process.
Pro-tip:  After leaving immigration, you may be passed through to an area within the airport with folks trying to sell you timeshares, inviting you to attend presentations in exchange for free tours, dinners, events, etc.
Once we made it through the timeshare selling area, we headed outside of the airport where our friends were waiting for us, holding up signs with our names.  My wife saw the signs and said "hey look, there's our ride…" then she made eye contact with our friends holding the signs and said "HEY, I KNOW YOU…. WHAT ARE YOU GUYS DOING HERE?!?!"  Mission Accomplished…. Or as one would say in Cabo, Mision Cumplida.
Want to use your Companion Pass to see Cabo?  Here's how:
Log in to your Rapid Rewards account at Southwest.com
Search for flights with your departure/arrival cities, dates and the number of people flying minus the companion
Specify whether you will be paying with Points or Dollars
Click on the Fare Calendar to see what dates are less expensive so you could further stretch your points or dollars
Select the dates and specific flights you want
Pay for your itinerary with either Points or Dollars
Once you have been given a confirmation number, look for it under "My Account" under "My Trips"
Within "My Trips", under your confirmation number, click on "Add a Companion"
Verify the flight information, then pay the taxes and fees
Sit back, relax, and think of what tours you're going to book with the money you saved!