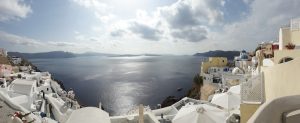 Greece had been on our bucket list for quite some time.  There is so much history in Athens that we want to see, and those beautiful post card pictures of Santorini really enticed us into wanting to go.
We finally decided to go this summer, using points/miles of course.  Here's a look at our planning:
How we wanted to fly
There are a lot of options when flying to Europe.  The option we chose was a little different because I really wanted to try out Turkish Airlines business class.  Many travel bloggers agree that Turkish Airlines offers a solid business class product, so I wanted to find out for myself.  My dilemma was that I wasn't sure which miles/points currency to use.  The currencies I had to work with for this trip were Starpoints, Membership Rewards points, Hilton points and IHG points.
MileValue provides a great Star Alliance spreadsheet to see how many miles from each currency are needed to fly to different parts of the world.

As you can see, Asiana and ANA require the least amount of miles to travel to Europe in business class.  However, both charge fuel surcharges when flying on Turkish Airlines.  I didn't have enough United miles to book, plus they required a lot of miles to fly Turkish.  I could've transferred Membership Rewards to Singapore Airlines, but they have fuel surcharges on everything except United.  It seemed like Aeroplan was the best option for us.
Aeroplan requires 57.5K miles each way to fly business class to Eastern Europe.  So for two people, the total for a round-trip flight to Greece and back would require 230K miles.  That's a lot of miles, and didn't seem like an appealing option initially.  However, they do allow a free stopover on award flights, which would allow us to fit Istanbul into our trip, with Athens being our final destination.
The plan
During the summer of 2016, Aeroplan was running a very tempting promotion where they offered up to 55K bonus Aeroplan miles when converting your hotel loyalty points to Aeroplan miles.  My wife and I had been saving up our Starwood points for an upcoming vacation, and this seemed like an efficient way of using our points.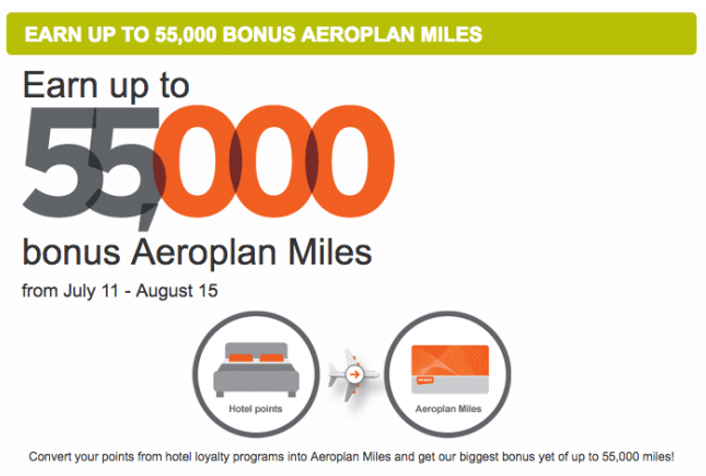 To earn the 55K bonus Aeroplan miles through their promotion, one had to convert hotel loyalty points into 200K Aeroplan miles.  Hilton converts to Aeroplan at a 10:1 ratio, so that idea was thrown out.  SPG transfers to Aeroplan at a 1:1 ratio, which sounded much better.  On top of that, SPG offers a 25% bonus when transferring points in 20K increments.  In other words, a transfer of 20K Starpoints would equal to 25K Aeroplan miles.
My wife and I combined our Starpoints into one account, which you can do for free, then initiated two 60K transfers, then one 40K transfer, spread across three days.  That was a total of 160,000 Starpoints transferred, which converted over to 200K Aeroplan miles.  Those 200K Aeroplan miles would then earn the 55K miles bonus, bringing the grand total to 255K Aeroplan miles.
So with this promotion, 160K Starpoints = 255K Aeroplan miles, 25K over the required amount of 230K for both of us to fly round-trip in business class.  Not bad!!
Searching for Award Space
Aeroplan's website is very good for searching award space for Turkish Airlines.  It is easy to navigate and it makes it clear which dates are available for award bookings.  Here is a walk through of how to book your own award flights with Aeroplan.
Once you've logged in, select "travel" under the "Use your miles" tab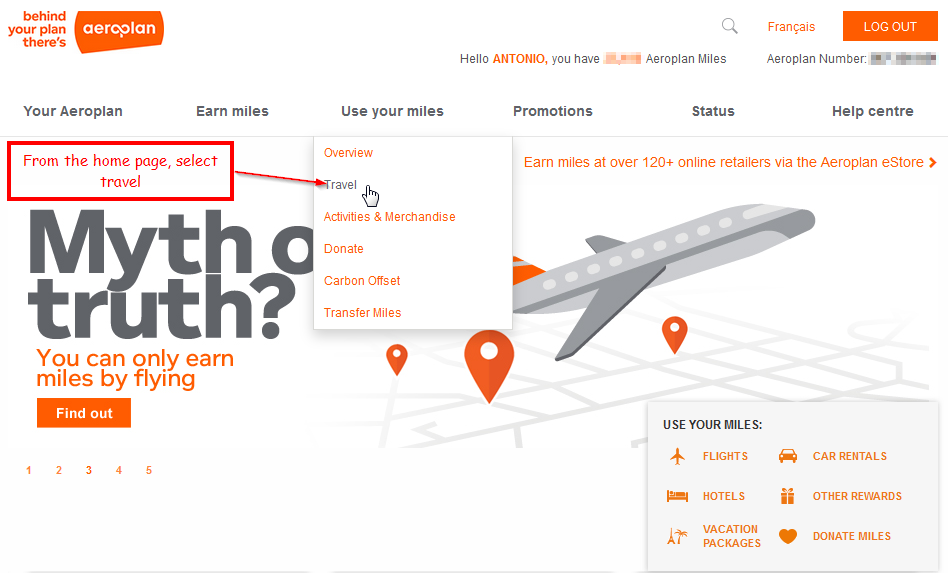 Next, enter your travel information
Select the date you want from the calendar
Then, select the flights you want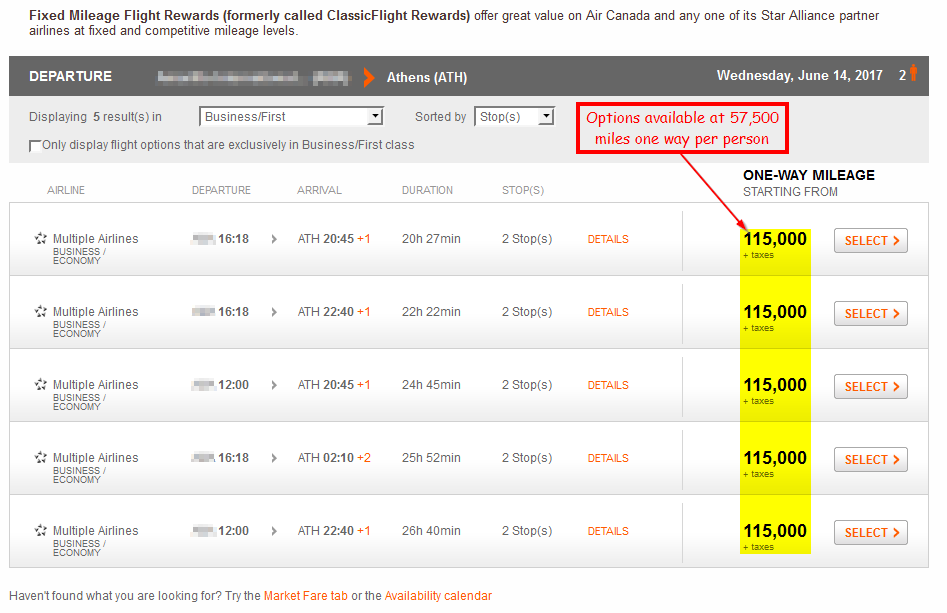 Once you have selected your flights, just follow the steps on the website to pay for the taxes.  To check for award space for your return flight, follow the exact same steps, just switch up your "From" and "To" airport codes.  It's not very complicated at all!
How to get to Santorini
With our plan to fly from our hometown to Athens set in stone, we still needed to get to Santorini.  One of the cheaper ways to get to Santorini is by ferry.  A long ferry ride is about 8 hours and a short ferry ride is about 5 hours.  We don't really like to spend a lot of time on our trips "traveling" if it isn't necessary, so we decided to check out flights.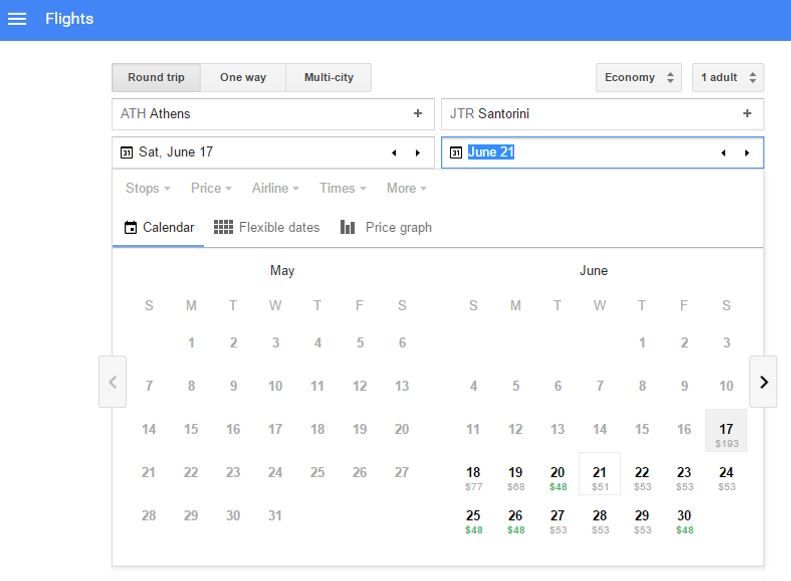 There are several flights from Athens to Santorini offered by low cost carriers Ryanair and Volotea.  Initially the flight I was going to book was through Ryanair, but while trying to book the flight, the incremental costs of baggage fees, choosing seats, etc made the flights much more expensive.  Low cost carriers can be a great option to save money when traveling, but do plan accordingly in order to reduce your overall costs.
I then looked at flight options through Aegean.  Prices were a little higher when looking at booking a Flex ticket.  The Flex ticket would allow my wife and I to have a personal item and check in a bag at no additional charge, assuming it met the size/weight requirements.
The price for both of us came out to around $300.  We paid with our Citi Prestige card in order to utilize the $250 airfare credit, covering most of the ticket cost, so I can't complain too much.
Conclusion
There are several options when flying to Europe, though not all will make the most sense, or will fit your needs.  Make sure to do your research before saving points/miles on your future award travel.  Also, don't look at the points/miles costs at face value.  Dig a little deeper and you may find quite the deal for your upcoming vacation.
Points/miles can make your upcoming trips a reality.  With the right game plan, reaching your dream destinations is not only possible but affordable.  If you'd like to learn more about the award travel, be sure to sign up for the Travel Miles 101 FREE Travel Rewards Course.
Travel Miles 101 has partnered with CardRatings for our coverage of credit card products. Travel Miles 101 and CardRatings may receive a commission from card issuers.