If you're a member of our Travel Miles 101 community, you no doubt like the idea of traveling for pennies on the dollar.  You may have read experiences from others in this hobby that have motivated you to want to pursue similar trips.  That's great, but it's super important to plan first.
Why Is It Important to Plan?
When you first get into this hobby, you may get overwhelmed with all of the intricacies involved with earning and utilizing your points/miles.
One of the things I come across often when helping people book their trips is that they don't have the right "currency" to get to where they want to go.  You may have accumulated a healthy balance of United miles, but if you're wanting to go to Bora Bora, for instance, those miles won't help you get there efficiently.  That's why I think it's important to "begin with your travel destination in mind" BEFORE you start accumulating miles/points, especially for your first trip!
How Do I Know Which Miles To Save Up?
There is a plethora of information within the Travel Miles 101 community, whether it's the Travel Miles 101 Facebook group or the website itself.  Also when searching the internet for information, you'll find exactly what miles you need for your flights and what hotel points you need for your stays.  There are certain websites that will give you some efficient routes and what miles you need for an award seat.  Many people like to use AwardHacker or FlyerMiler to find their award flight options.  Below is an example of some of the options available for award flights from Dallas to Paris using AwardHacker.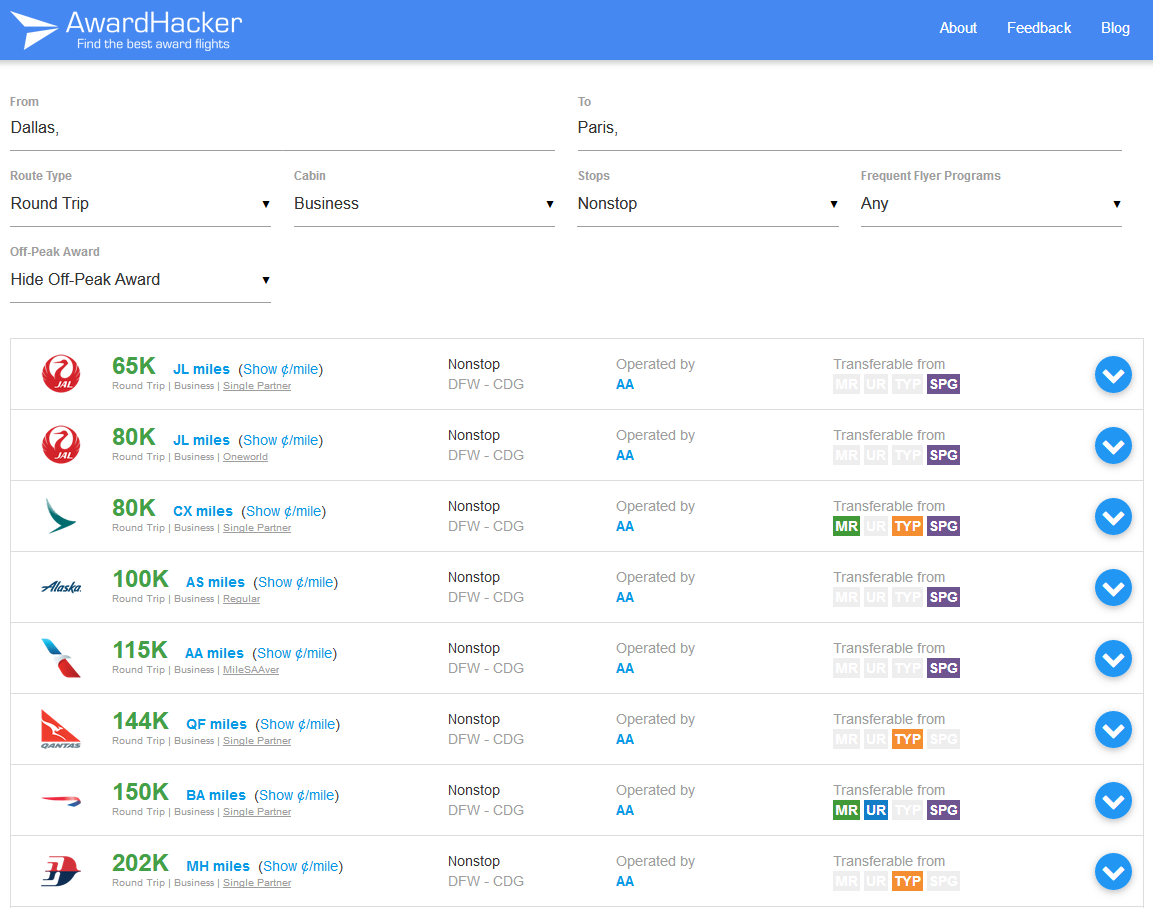 One thing nice about this is that it shows you the mileage currency needed and what flexible currencies transfer to the desired mileage currency.  This is extremely useful to help you reach your goal faster.  By applying for the right co-branded airline cards and flexible point cards, you'll save up for your trip in no time.
What About Hotels?
Hotels are a little more straightforward than flights.  A simple Google search will show you what hotels are available at your travel destination, and from there you can see what kind of hotel points you need to save.  For the most part, each hotel brand has their own hotel point and co-branded card and no other hotel points can be used to book rooms at that hotel.  For example, you can't use Hilton points to book a room at a Hyatt property.  An exception to this would be the current situation with Marriott and SPG as they are still merging different parts of their business.
After determining what properties I'd like to stay at, I look up rates on hotel website to see how many points per night an award stay would cost.  If a Hilton property costs 90,000 points per night, while a Hyatt property goes for 15,000 points per night, I would more than likely go with the Hyatt property since it would be easier to accumulate that amount of points, especially if it is an extended stay.  This helps me determine where I'd like to stay and what points to focus on saving.
Know the Value of Your Points
Another important thing to remember is that not all points are created equal.  Some have a much higher value than others.  Many of the travel blogs state what they value each point at, and you can use their values as a point of reference.  By knowing what kind of value you can get out of each point, you can decide if spending those points on a particular flight/hotel stay is a good deal or not as opposed to paying cash.  If there are cheap flights or hotel stays available for the trip you're wanting to book, I would rather pay cash than burn my points/miles since I know I could get much more out of them.
Conclusion
Starting with your travel destination in mind helps you to come up with a game plan to build up the right travel currencies for your trip.  To avoid building up balances of points that won't help you get to your travel destination, plan ahead.  With new restrictions being implemented across most banks, it's important for you to apply for the right cards.  So with that in mind, where will you be traveling to next?
Travel Miles 101 has partnered with CardRatings for our coverage of credit card products. Travel Miles 101 and CardRatings may receive a commission from card issuers.