PLEASE NOTE: THIS 'SWEET SPOT' FOR 25,000 IS NO LONGER AVAILABLE (though the process described below is still accurate for how to book): However, you can no fly to Dublin from six US cities for only 26,000 miles round-trip during the ~8 month off-peak time.
We love 'sweet spot' redemptions where you save big by finding deals buried within the airline award charts; the single best sweet spot is using British Airways miles to fly round-trip Boston to Dublin on Aer Lingus for only 25,000 British Aiways Avios miles.

While you'd normally pay 60,000 American Airlines or United Airlines miles for a round-trip to Europe, having this insider information that you can use British Airways miles on this exact flight will allow you to book a round-trip to Dublin for only 25,000 British Airways miles.
Sweet Spots in the British Airways Award Chart:
The British Airways award chart is based on distance, and as you can see from the below chart, Zone 4 flights between 2001-3000 miles (in real distance) are only 12,500 BA miles for the one-way economy flight.
Thanks to the Great Circle Mapper, we're able to see that the Boston to Dublin flight is exactly 2,993 miles: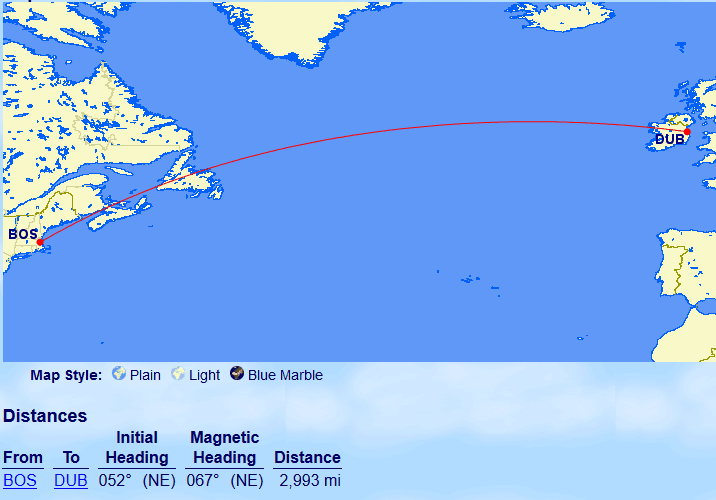 Seven miles under the Zone 4 limit makes for quite a sweet spot!
How to Book Aer Lingus Flights Using British Airways Miles:
Step 1: Searching for Saver Level Availability
The best place to search for the Aer Lingus Saver Level  (must be Saver or you cannot use BA Avios) economy award seats between Boston and Dublin is actually (oddly) on United.com.  United Airlines is not involved in this process other than to simply find the award seat availability.
Here's how you find the Saver availability at United.com:
Notice in the above screenshot that we clicked "Search for award travel," "My dates are flexible," and "Nonstop" before hitting the "Search" button.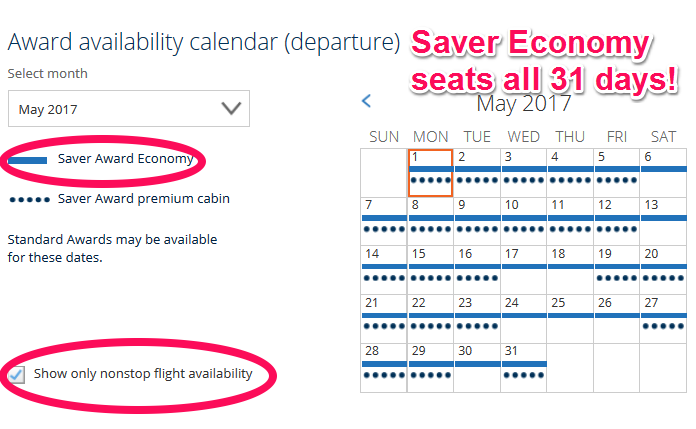 Since we selected that our dates were flexible, United shows us a monthly calendar with award availability.  This shows that there are Saver Economy tickets available all 31 days in May for this nonstop flight!
We then clicked on May 1st and scrolled down to find this information:
Notice that these one-way flights would cost 30,000 United miles at the Saver level (60,000 round-trip).  We are not paying that however as knowing this sweet spot will make the total points requirement 25,000 BA Avios for the round-trip.  So remember, you're just finding the availability on United.com since their search tool is so user-friendly!
In the above screenshot we clicked to expand the flight details to make certain it was operated by Aer Lingus and so we could mark down the exact flight number, date and time of the Aer Lingus direct flight between Boston and Dublin as we're going to have to feed this to the BA representative in Step 2.
Step 2: Booking the Flight with Avios
You cannot book Aer Lingus flights online with BA miles, so you must call their Executive Club customer service number to book this flight with BA Avios miles. The number to call in the US is: 1-800-452-1201
When you call you'll need to provide your Executive Club account number plus the flight number, date and time of the Aer Lingus flights you want to book.
Keep in mind that some BA agents may not be familiar with this award booking, so if they can't see Aer Lingus availability, either ask to speak to another agent/manager or hang up and call back again.
This direct flight between Boston and Dublin will cost 12,500 Avios miles for each one-way flight or 25,000 for the round-trip booking.  Members of our community have recently reported that the unavoidable taxes and fees on this round-trip flight come out to approximately $115 for each round-trip ticket.
Final point:  In case they try to charge you a fee to book it over the phone you should kindly ask the BA representative to waive the phone booking fee since you cannot book Aer Lingus flights online at BA's site.
Travel Miles 101 has partnered with CardRatings for our coverage of credit card products. Travel Miles 101 and CardRatings may receive a commission from card issuers.