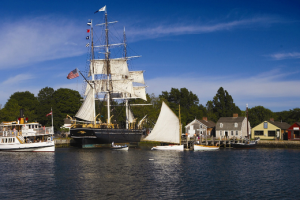 My good friend Marc, who is a member of our Travel Miles 101 Facebook group, recently started earning travel rewards points; like many of you out there, he has the earning miles part down quite well, but he doesn't know exactly how best to redeem the points for maximum value.  Here's what he recently sent me:
"Hey Brad – I'm looking to take the family to Mystic, CT for a 3 night trip while school is out for Rosh Hashanah the weekend starting Friday September 30th.  I have about 51,000 Chase Ultimate Rewards points and I don't know how best to use them.  Would love some help!"
I thought this was a perfect question to write a blog post about since the thought-process behind redeeming points is really essential to master, so I wanted you to see how I went about helping Marc.
Options to Book Hotels with Chase Ultimate Rewards Points
With Chase Ultimate Rewards points you have two main options for redeeming points for travel:
Booking through the Chase Ultimate Rewards portal
Transferring to one of the Chase Ultimate Rewards hotel partners:

Hyatt Hotels
IHG Hotels
Marriott
How to Think Through The Options for Best Redemption Values
Here's how I approached Marc's potential trip to Mystic, CT:
Booking Through the Chase Ultimate Rewards Portal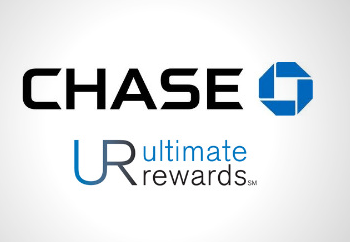 He has the Chase Sapphire Preferred, so booking hotels through the Chase Ultimate Rewards portal online would get him 1.25 cents per point in value.
This means his 51,000 points would be worth $637.50 worth of hotels.  This would also be incredibly easy, as he would just log into his Chase UR account, search for hotels in Mystic and book whatever he found.
While booking through the UR Portal is an easy and stress-free way to save money, we really hope to get about 2 cents per points in value out of Chase Ultimate Rewards when transferring them to airline/hotel partners (50,000 points would equal $1,000 in value at this rate), so booking through Chase at 1.25 cents per point isn't the best way to redeem these points.
Hotel Transfer Partner Options for Chase Ultimate Rewards Redemptions
I said earlier that Hyatt, IHG and Marriott were all options, but when I go to search I'm really looking for the one that I consider far and away the best bet for point redemptions:  Hyatt Hotels.

So I always start searching with Hyatt.
The Hyatt Award Chart is amazing as you can often find really nice Category 1 – 4 hotels which require 15,000 points or less per night.  We especially like Hyatt Place and Hyatt House as you get free breakfast included!  Here's the Hyatt award chart: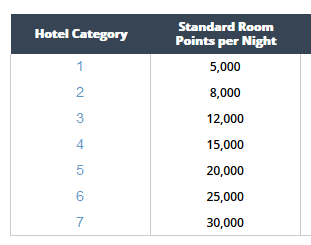 The first thing I did for Marc was run a simple google search for "Mystic CT Hyatt hotel."  Hyatt doesn't have as many hotels as some of the bigger chains like Marriott or Hilton, so it wasn't a slam dunk that there would be a hotel close by, but I was crossing my fingers.  Here's what came up:
Okay, so we're in luck.  Not only is there a Hyatt in Mystic, but it's a Hyatt Place, which is usually on the lower end of the Award Chart categories and you get free breakfast!
Now we needed to check availability for a 3 night stay starting September 30th.  From the hotel homepage I just entered his trip info in the "Make a Reservation" box and here's what showed up: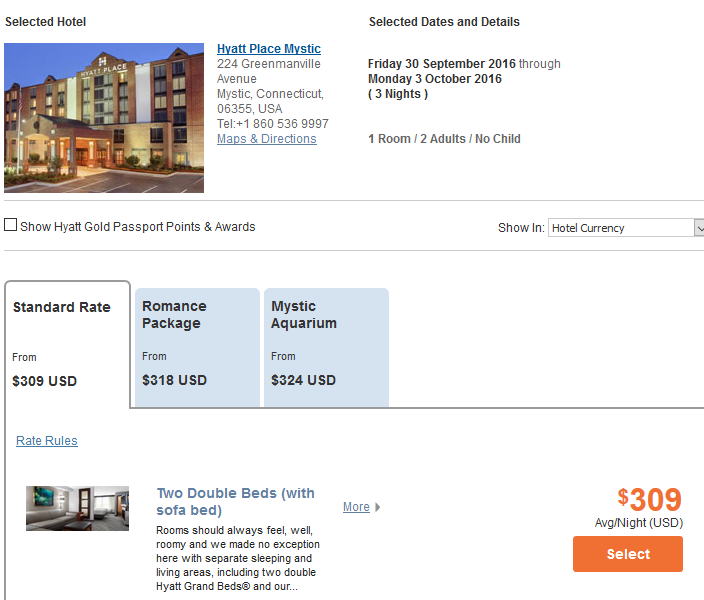 $309 for a standard room is pretty pricey for a Hyatt Place, so I'm thinking now that the point requirement is going to be significant, but let's click "Show Hyatt Gold Passport Points & Awards" near the top to find out: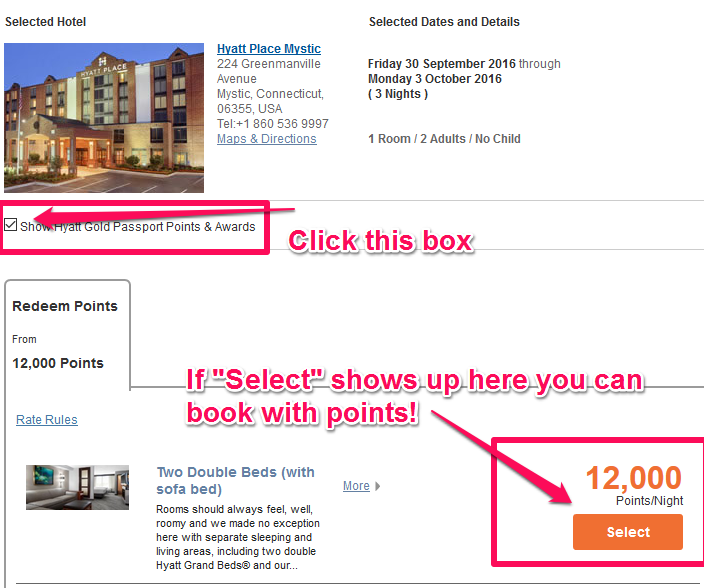 It's a Category 3 hotel at 12,000 points per night, which is not bad at all, and the best part is they have availability for Marc's dates!
At only 12,000 points per night he's getting a value of 2.6 cents per point from his UR ($309 cash price/12,000 = 2.6) which is fantastic!
In order to book this he now just needs to log into his Chase Ultimate Rewards account and transfer 36,000 points from Chase to his Hyatt Gold Passport account (free to setup here).
It only takes about 30 seconds from when Marc would transfer the points from Chase for them to show up in the Hyatt account (I find you usually have to log out and log back in) and then he can book.
It's important to note that once you transfer from Chase to one of their travel partners, you cannot transfer them back, so be 100% sure there's availability and you're ready to book before you make the transfer!
Checking All The Options First
Before I get ahead of myself and tell Marc to 100% book this Hyatt, we need to check all the options just to be thorough.
At this point I'm fairly sure his best bet will be Hyatt, but we need to check IHG, Marriott and the hotels available through the Chase Ultimate Rewards portal.
IHG Hotels:
I ran a search from the IHG homepage on Mystic, CT hotels and this is what comes up: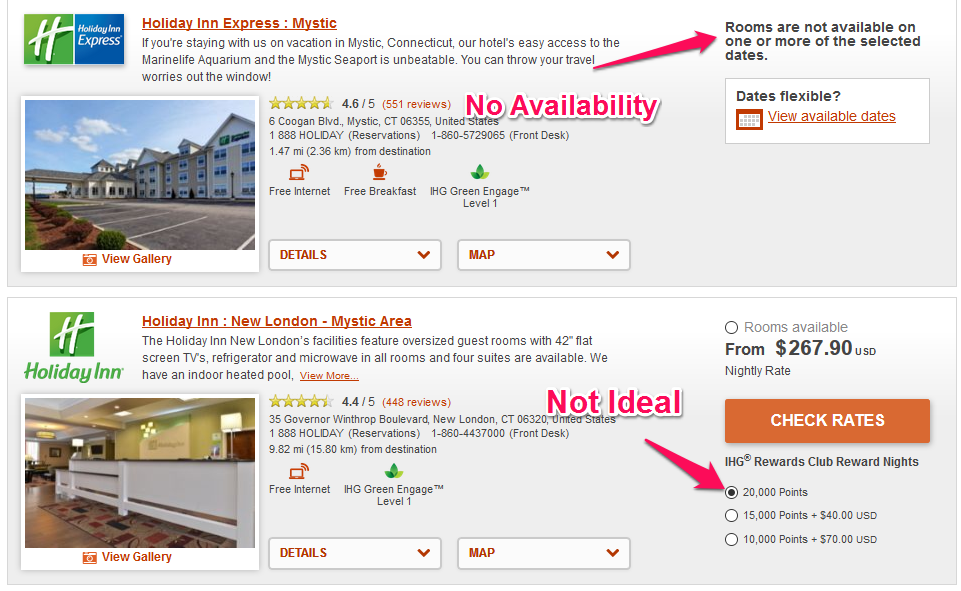 The one hotel isn't available those dates and the other one (which doesn't appear to be in Mystic actually) is 20,000 points per night.  This isn't going to work.
Marriott Hotels:
From Marriott's website I was able to find these Mystic, CT hotel options (Note: I mocked this up for ONE night to see the options):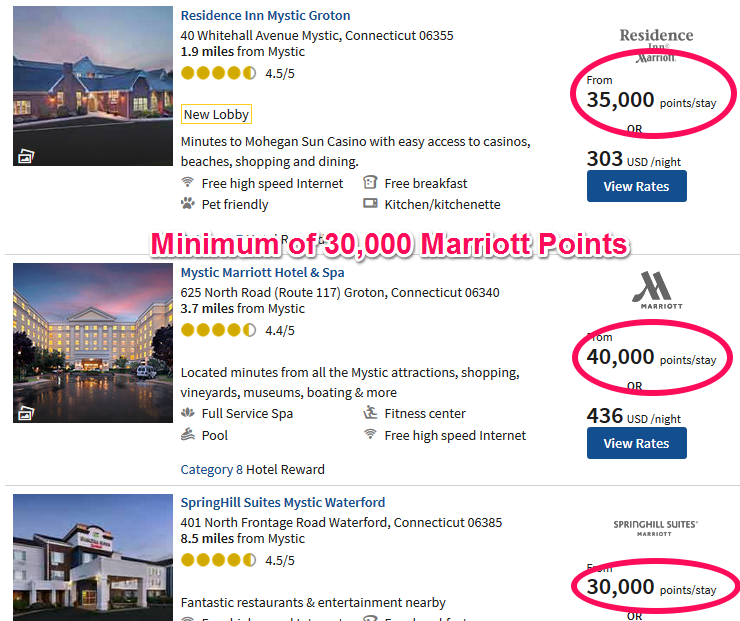 As you often see with Marriott, they charge an almost absurd number of points per night for their hotel redemptions, which makes me wonder if I would ever transfer my valuable UR points to their program.  Clearly not going to work for Marc's trip…
Chase Ultimate Rewards Portal:
The one plausible option remaining is to try to find available hotels through the Chase UR portal.  If prices are low enough, it is possible that we'll find something decent for fewer than 12,000 points per night (at 1.25 cents per point this means it can be a $150 per night hotel) and then Marc has a decision to make.  Here's what I found:
Of the 25 hotels available through Chase, 10 of them cost less than 12,000 points per night, including the two lowest priced ones listed above.
Many of these hotels don't look particularly appealing to me (Econo Lodge and two Super 8's among them), but Marc and his family might take a closer look at the list and decide one of the options work for them and it is worth it to save some points for a future redemption.
That's what is so great about travel rewards — you have to do what works for you based on what you value when you travel.  There's simply no right or wrong answer!
Summary: Marc's Trip to Mystic
We looked at but eliminated IHG and Marriott from contention, so Marc has two major options when it comes to booking his trip to Mystic, CT:
Book the Hyatt Place in Mystic for 12,000 points per night
Book a hotel directly through the Chase Ultimate Rewards portal for fewer than 12,000 points per night
I hope this post gave you a good overview into first how I would think about booking a trip list this, and then how to compare your options and ultimately book the free travel.
Travel Miles 101 has partnered with CardRatings for our coverage of credit card products. Travel Miles 101 and CardRatings may receive a commission from card issuers.