It's a great feeling when you're able to redeem points/miles for an award stay or flight.  After all, it makes travel much more affordable!  What if you could get an added bonus without paying any additional points?
Three of the major hotel programs (Starwood, Hilton and Marriott) offer you a 5th night free on award bookings, which is an incredible deal.  Let's take a look at the details:
Starwood Preferred Guest 5th Night Free on Award Bookings
The Starwood Preferred Guest program (SPG) offers a 5th night free when redeeming Starpoints for 5 (or more) consecutive nights.  In other words, you'll only redeem Starpoints for 4 nights, and your 5th night is free!  This could be booked on any of their Category 3-7 hotels.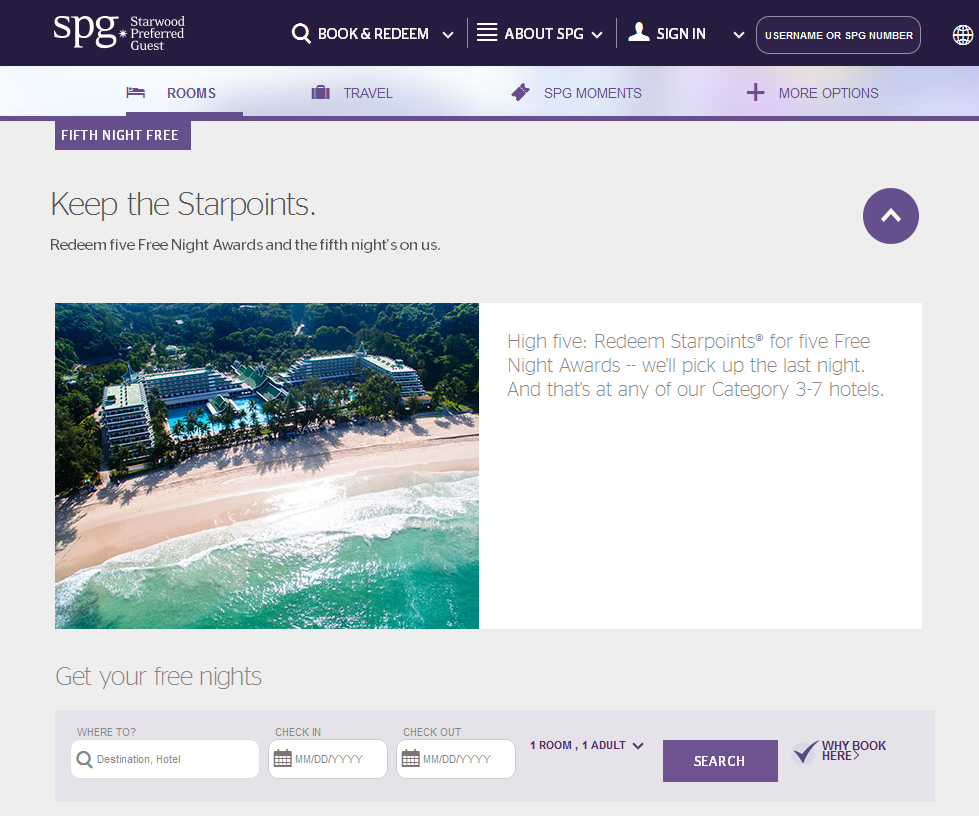 As an example search, I picked a random date range of 4 nights for New York City.  There are many SPG options in NYC and many of them are located in ideal spots throughout the city.  Here is one that I like the value on.
3.2 cents per point is pretty good value, but it gets better when we factor in the 5th night free.  I revised the search to add one more night to the stay, and notice the drop in points per night.
You'll notice they do the math for you factoring in the 5th night free, so the average is only 9,600 points per night.  The value went up to 3.9 cents per point.  A free 5 night stay in Manhattan would amount to considerable savings!!
Hilton 5th Night Free on Award Bookings
Hilton offers a 5th night free also on award stays, however you must have elite status with Hilton.  Not to worry though since obtaining elite status is easy with Hilton.  The American Express Hilton Honors Surpass card, the Citi Hilton Reserve card and all American Express Platinum cards offer Hilton Gold Status just for carrying the card.  Hilton Gold Status also means free breakfast at several of their properties.
When searching the same dates for New York City, I get several options available as well.  This was for a 4 night stay.
Once I revised my search to a 5 night stay, and then selected the hotel, the points per night dropped to 56,000 points per night.  This increases the value to .7 cents per point.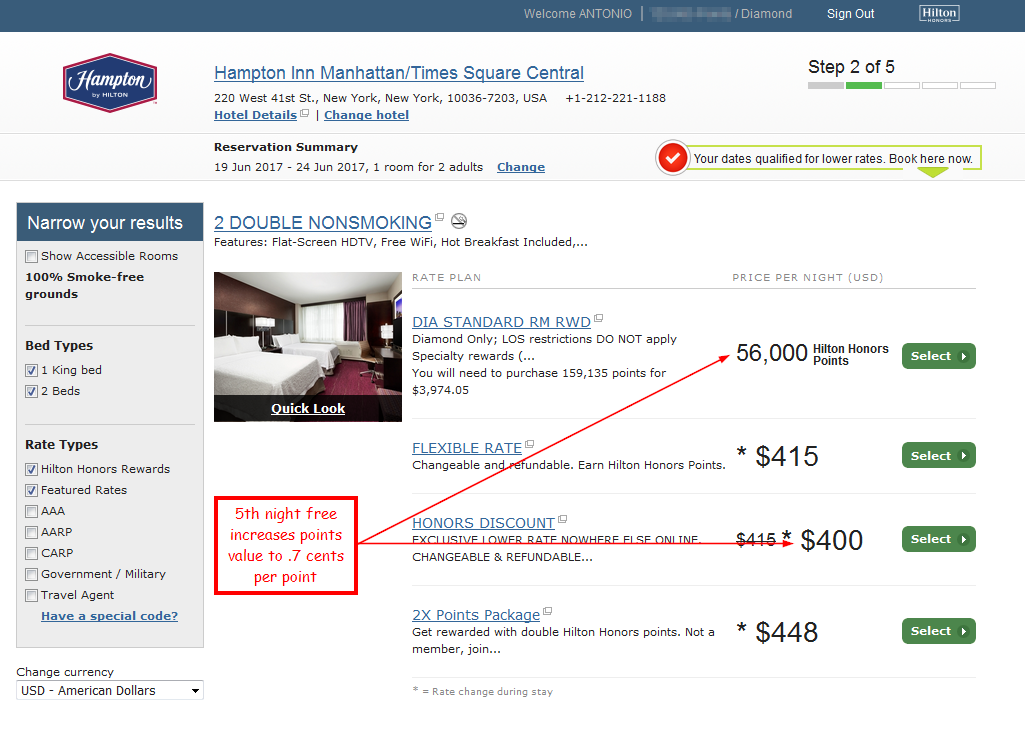 Hilton points are easy to earn.  Many of the Hilton co-branded credit cards offer generous point earning categories, so if you plan ahead, you could earn the required points with ease.
Marriott 5th Night Free on Award Bookings
Marriott also offers a 5th night free on award stays.  You don't have to have elite status with Marriott to take advantage of this benefit, plus you can use the benefit on longer stays too.  5 award nights = 1 free night, 10 award nights = 2 free nights, so on and so forth.  I searched New York City for the same 4 nights and these were the results.
Marriott charges 160,000 points for a 4 night stay, which comes out to 40,000 points per night.  $379 per night divided by 40,000 points comes out to around .9 cents per point.  Now let's see what happens when I extend the stay by one more night.
With the 5th night free benefit, the award stay comes out to 32,000 points per night (160,000/5).  This brings the value to 1.2 points per night!
Conclusion
Extending your stay when planning your vacation usually means added costs.  However if you take advantage of these 5th night free benefits, the additional night will not cost you any more points or dollars.  Make sure to calculate your point values before booking to see if they make sense for you.  If you're flexible on which hotel chain you stay at, and have points in these programs, you could definitely save on a five night stay.
Where are you planning to use this benefit?
Travel Miles 101 has partnered with CardRatings for our coverage of credit card products. Travel Miles 101 and CardRatings may receive a commission from card issuers.