In our Travel Miles 101 Facebook group, Jordan asked us this question: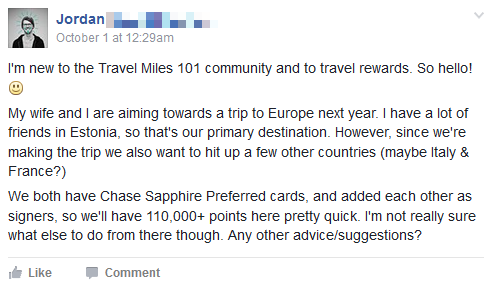 To summarize Jordan's question:  He's new to travel rewards and just got started by opening a Chase Sapphire Preferred credit card.  His wife opened one as well, so they'll each earn the bonus.  By my calculations he'll be very close to 120,000 Chase Ultimate Rewards points after earning the bonus and authorized user bonus on each card (plus points for regular spending).
They want to visit Europe sometime during 2017 with a longer stay in Estonia plus some additional travel to Italy and France.  Since they are new to this hobby, he's looking for some easy ways to make this happen.
How Jordan Can Use Chase Ultimate Rewards Points on a European Vacation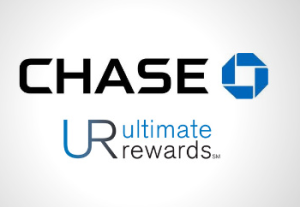 I think Jordan made a smart choice to get started with Chase Ultimate Rewards points, as they provide a ton of flexibility.  The easiest way to book a European trip would be to mock it up through the Chase Ultimate Rewards portal and see what deals he can find.
When you have the Chase Sapphire Preferred card you get 1.25 cents per point in value when booking through the Chase UR portal, so their 120,000 points would be worth $1,500 in travel booked through Chase.
While that may be a reasonable option if you were just visiting one European destination, the likelihood would be slim that Jordan and his wife would be able to put together this trip to Estonia plus a stop in Italy and France for just 120k points through Chase UR.
So it is time to get a bit creative!
I love using United Airlines miles for international trips, especially when you want to include a stopover in another destination.   United is a transfer partner of Chase Ultimate Rewards, so you can transfer your UR points to become United miles.
In Jordan's case both he and his wife would want to consolidate their 120,000 miles into one of their United frequent flyer mile accounts (free to setup, free to transfer) so they can book the two tickets together.
120,000 miles is actually the EXACT number they need to book two round-trip flights to Europe from the United States using United miles, so they are in great shape.
Excursionist Perk Explained
Here's United's very clear explanation of the new Excursionist Perk (entire article here):
In Jordan's case this will allow him to travel from the US to European City #1, get an entirely free flight to European City #2, and then fly back to the US on a third flight (this can be from City #2 or an "open jaw" from any City #3 (so you don't have to fly back from any of the cities you previously flew into or out of!)).
And all this costs the same 60,000 miles as if you were just doing a simple round-trip from let's say New York to London.  This is an amazing perk!
Jordan's Itinerary
Okay, so taking what Jordan told us above, we're going to use the following as his trip itinerary (I assumed he was flying out of New York City since he didn't specify, but this would work for any US city):
New York City to Paris
Paris to Rome
Tallinn, Estonia back to New York City
Here's how you put this trip together on United.com:
First, go to the main homepage and click "Multi-city" as shown below:
After you click "Multi-city" you are brought to this page where you have to enter your first two segments of the trip: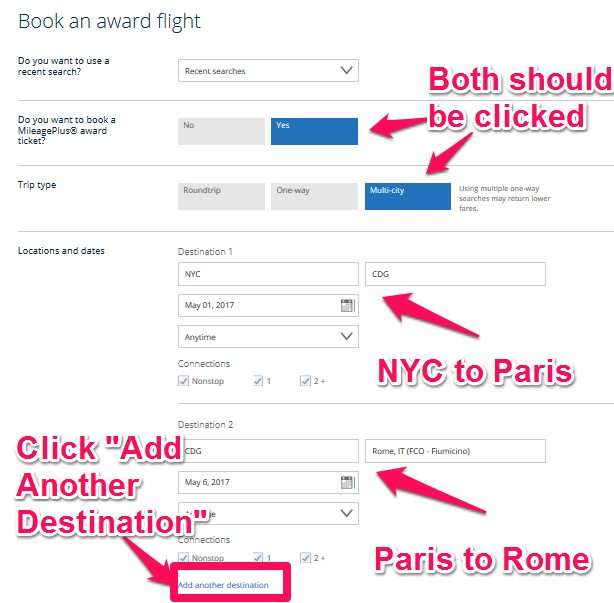 In this case we said that Jordan would be traveling from NYC to Paris on May 1st and then from Paris to Rome on May 6th.
The next step is to click "Add another destination" which allows you to enter your next segment:
In this case we entered Tallinn, Estonia flying back to NYC on May 20th and then clicked "Search."
I just wanted to mention at this point that Jordan and his wife will have to make their way from Rome to Tallinn on their own, as that isn't part of this flight itinerary.
If they wanted to just do a stopover in Paris and then fly from Paris to Tallinn, that would be part of the 60,000 mile booking, but since we're throwing in another city (could be Rome or anywhere else really…), they would have to make their way to their final destination.  Flights within Europe are very inexpensive, so this doesn't seem like a big hurdle to see another city on their big trip.
Moving on with our booking example:
As you can see, there are Saver Economy award seats nearly every day in May on this NYC-Paris route.  On May 1st we selected a nonstop flight from EWR-CDG.
You'll note that United is showing this as a segment that costs 15,000 miles, but they are actually prorating the normal 30,000 mile one-way from the US to Europe across this flight and the Paris-Rome flight we mocked up next:
Again we find tons of Saver Economy award availability, and the total for the first two segments equals 30,000 miles plus $56.90 (60k plus $113.80 for the two of them).
The return flight availability looks like this:
Again, lots of Saver Economy award seats and this is a wonderful one-stop itinerary back from Tallinn to NYC!
After selecting the flights the entire trip comes out as follows:
120,000 United miles transferred from Chase Ultimate Rewards plus a very manageable $178.12 in unavoidable taxes and fees for the following itinerary:
It took me about 3 minutes to mock this award flight up on United.com, so I'm quite confident that with the right flexibility and planning time that Jordan and his wife can take a wonderful trip to Europe next year using just the Ultimate Rewards points they have already earned!
I hope this step-by-step explanation was useful for you and, as always, if you have any questions, please ask them below in the comments section.