The Hyatt hotel brand is a fan favorite because of their reasonable award prices, beautiful properties and loyalist perks.  Hyatt has a small global footprint, however they have been making some key acquisitions which adds value to its brand, and increases their presence worldwide.  Accumulating Hyatt points is easy with their co-branded credit card and by transferring Ultimate Rewards points.  Booking award nights with Hyatt is also very easy to do either over the phone, or if you're like me and want to avoid talking to a human, through their website.  In this guide, we'll show you how easy it is to book online.
Searching For Award Space
The first step is to go to the Hyatt website.
Once you're on the Hyatt homepage, fill out your search criteria.  Enter the city, or the exact property you're looking for, then your check in/out dates.  Then specify the number of room/guests that you're requesting.  Make sure to check the "Use Points" box.  Once all of that is done, click on "FIND HOTELS".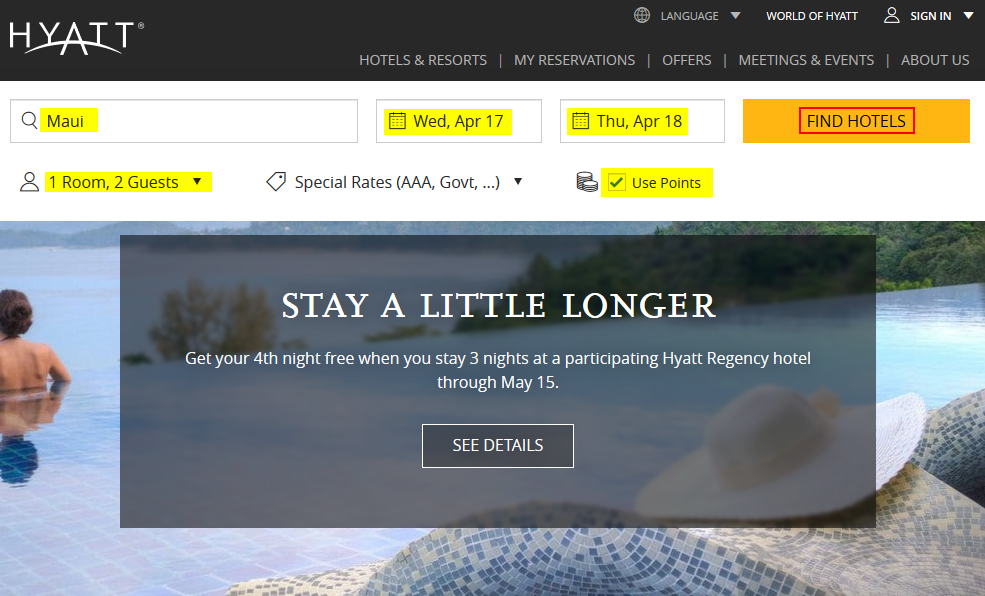 Here you'll notice the search results for Maui.  There are 3 properties that show award night availability for the requested date.  The award price per night will show per property.  Also notice that the cash price is shown for each property.  This allows you the opportunity to do the match to see if an award night stay makes sense to you, or if you should pay cash.  If you want to book a particular property, or want more information on it, click "SELECT".  In this example, I'll select the Andaz Maui property.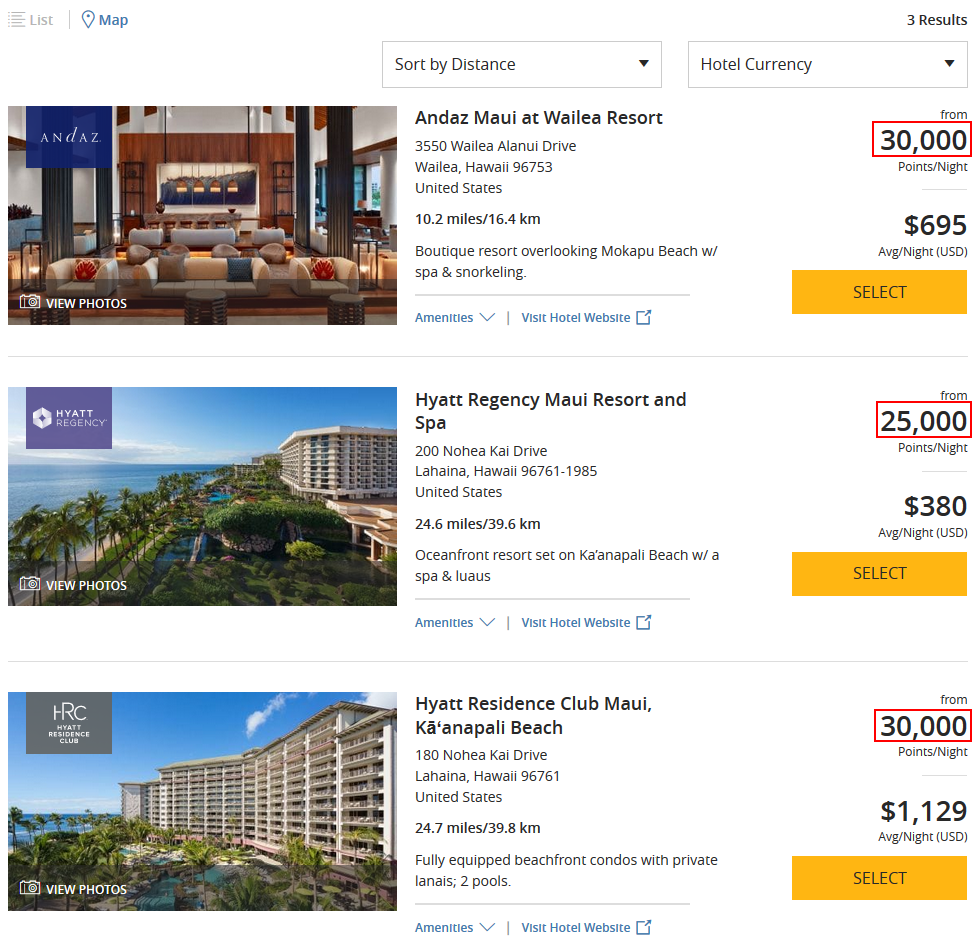 Once selected, you'll see more information regarding the award night.  You'll notice that for 30K points per night, you can get a room with a King bed with garden views.
With this information you know if there is award availability for your desired dates, and how many points are required for an award night.  If you wish to proceed with an award booking, make sure you have enough Hyatt points in your account.  If you need to transfer Ultimate Reward points to your Hyatt account, now would be the time to do so.  If this sounds appealing to you, click on "SELECT" to proceed.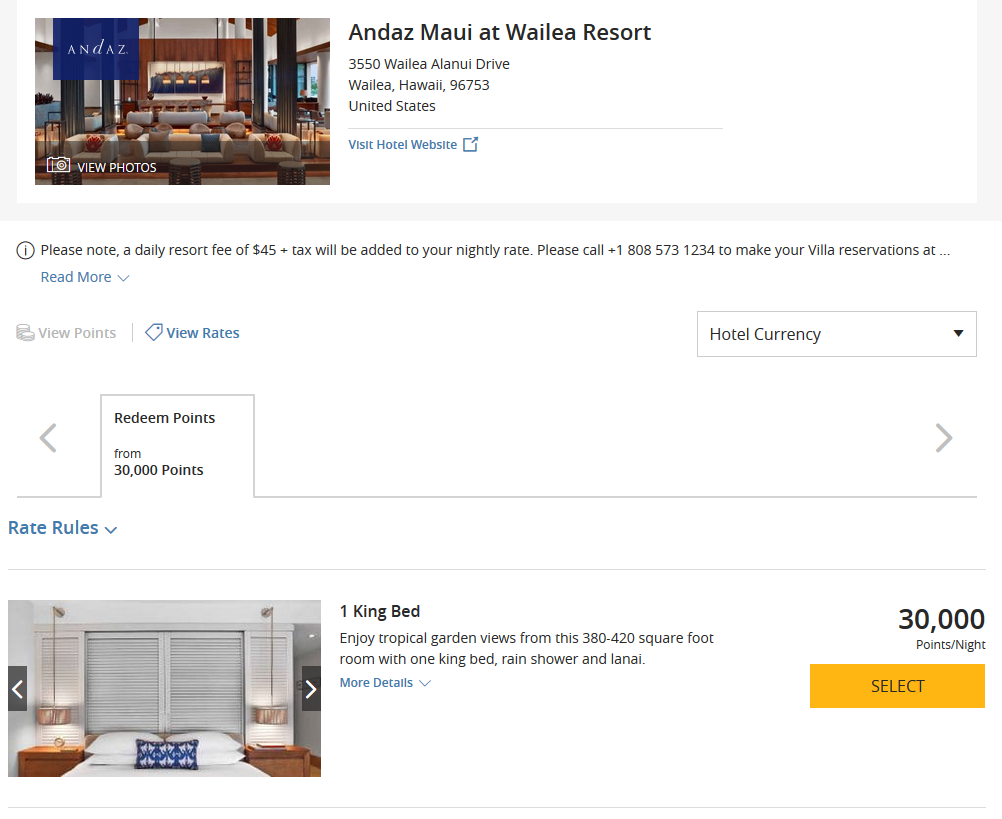 At this point you'll be required to login to your World of Hyatt account.  Enter in your login credentials and click "SIGN IN"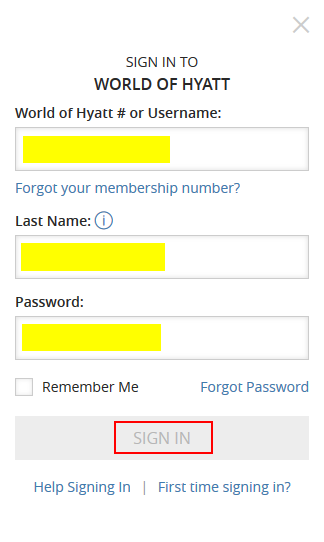 Once you log in, enter in your Contact Information and Address.  Then click "PROCEED TO PAYMENT"
At this point you'll get confirmation of your award booking and Hyatt points will be deducted from your balance.
Conclusion
As you can see, searching for award space and booking an award night online is very easy with Hyatt.  As mentioned before, earning Hyatt points is easy with the Hyatt credit card, or by transferring Ultimate Rewards points.  With good award night prices and easy to accumulate Hyatt points, you could be booking a dream hotel or resort stay very soon!