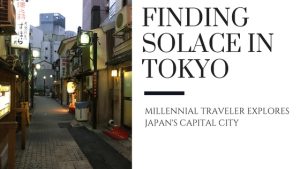 Connie Tao's journey to Tokyo started when the 27-year-old travel enthusiast first learned of Travel Miles 101 through the Mad Fientist podcast.
"I needed a new hobby," Connie said. "And I thought this one sounded like fun."
After completing the Free Travel Course, she said her early efforts were enthusiastic but not well planned, as Connie signed up for anything that sounded good. But as she began planning to attend her cousin's wedding in Tokyo, Connie knew she needed a strategy.
"I decided I wanted to use these miles I had accrued to be able to fly either first class or business class to Tokyo – something I wouldn't have been able to do without the points."
Attending a wedding removes one of the keys for simplifying travel redemptions – flexibility. With a date certain for her family's nuptials, Connie tried to create flexibility around that date – so her arrival and departure dates could move to accommodate the best reward redemptions and availability.
She had a large stash of Chase Ultimate Rewards points, as well as British Airways Avios and even some United points. Connie's first move was to start looking through MileValue learning about the different route options into Asia, and deciphering the options around premium class seats – she found The Points Guy's post on "aspirational first class redemptions" particularly helpful.
THE FLIGHTS
Her return flight from Tokyo to her hometown of New York City was an easy booking win, using United points for a flight on Asiana in Business Class, overnighting in Seoul, Korea. Total cost – 70,000 United points, plus $40 taxes and fees.
Through her research, Connie had her heart set on flying Japan Airlines. So she signed up for one last card bonus on American Airlines. Small problem – she was approved for the card in October 2015, and the wedding was in April of 2016.
"It was way more stressful than it needed to be because of the short timeline on meeting my minimum spend, waiting for the points to post and then securing an award seat."
Connie earned her bonus on January 15. Three days later she found business class availability from Dallas to Tokyo. So she would only need to add a low-cost one-way ticket from JFK to Dallas. Eager to ensure she had at least one flight option confirmed, Connie snapped it up, but kept looking, knowing she could take advantage of AA's generous award flight change policy.
On February 5, she found one seat in business class flying directly from her home airport of JFK – no extra flight required. So she changed her ticket. "I was perfectly happy with business class out of NYC, but I kept checking, just in case I could find a first class seat come available."
On March 6, just 14 days before her departure, Connie was performing her usual morning check of award seat availability and found one first class seat on Japan Airlines from JFK to Tokyo. So she got on the phone with American Airlines and 30 minutes later, she had scored the upgrade for a total of just 56,000 points plus $5.60 in taxes. (which includes the Citi Advantage Platinum 10 percent refund for point redemptions).
Connie said her 14+ hours in first class on Japan Airlines was worth the wait and anxiety of searching for a seat. "It really was amazing. I slept so well on the flight. You still have a slightly dehydrated feeling but the fat bed and great food make such a difference. When I got to Tokyo I didn't feel jetlagged at all."
Her return flight in business class was almost equally enjoyable. "First class is a little more over the top, with the food and the champagne, but as far as comfort, I found them identical."
THE CITY OF TOKYO
Her jetlag-free arrival in Tokyo served her well as she hit the ground running on a grand, self-guided tour of the city. "My whole tour plan was to look on Google Map and find what looked interesting. Then walk from place to place and see what it looked like on street level."
Tokyo's public transportation system made her plan easy. "The subway in Tokyo is amazing, so fast and always on time. After buying the subway pass, I didn't worry about working with their maps and boards to find my way, I just used Google maps on my phone. I rented a pocket wifi online and picked it up in the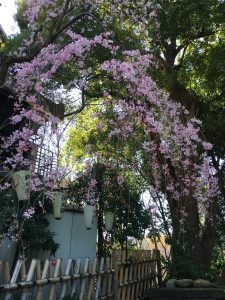 airport. Kept it in my pocket and had my own personal wifi cloud around me everywhere I traveled."
Connie said she found almost every green space in the city. As luck or planning would have it, her cousin's wedding fell in the midst of cherry blossom season, covering the skies over the city in pale pink petals.
Ueno Park is perhaps the most popular spot in all of Tokyo to enjoy the cherry blossoms. Families gather with tarps and blankets covered with traditional Japanese picnic cuisine, reminiscent of an American football tailgating experience.
"The Japanese take their picnics very seriously," Connie reported. "People cook up home meals and bring out real china and silver and sake glasses and they stay for hours. This was no American picnic with a sandwich and soda!"
Connie's walking-and-subway-tour of the city made her feel at home. "Living in New York City, Tokyo felt very similar. When I go on vacation I'm usually looking for some peace and quiet, which is why I hit up every green space I could find."
LODGING
Lodging was a simple affair for Connie's 2-week trip to Tokyo. Her first night was spent in a hostel, where she paid a staggering $25. "Japan as a whole is so clean and safe. Hostel's definitely recommended for those (travelers) on a budget."
Connie also spent over a week staying with her new in-laws. "It was such a gift to be able to experience the city from the local's perspective."
Her last five nights in Japan were spent at the Shinagawa Prince Hotel which Connie booked using her Citi Prestige card, receiving the 4th night free. Total price just over $600 with a $140 rebate for that 4th night's stay.
FOOD
"The food. Oh my god, the food. It was so, so amazing," Connie said breathlessly. "I couldn't eat sushi for six months after I got home because everywhere I went was so bad compared to my experience in Tokyo."
From ramen to sashimi to traditional sushi, Connie's food tour of the city touched on all the traditional high points. Surprisingly, she found prices for her indulgences quite reasonable. "Food and alcohol seemed quite a bit cheaper than I anticipated. Our group went to an Izakaya one night and enjoyed a 10 course meal for $40 per person. For $5 more, we added all we could drink."
Connie said it's important for travelers to know that most restaurants and shops in Tokyo do not accept credit cards. Having learned of this potential challenge before her departure, Connie opened a high yield investors checking account with no foreign exchange fees, no annual fees, and even refunds ATM fees.
"It was invaluable during the trip because it let me take out cash more frequently in smaller denominations rather than carrying a ton of cash around with me all the time. They do place a couple days hold on cash that is transferred, so I now keep it stocked with a couple hundred dollars at all times, just in case I ever need some quick cash while traveling."
All told, Connie spent $930 on her 14-day trip to Tokyo. "A typical economy flight to Tokyo would have cost about what I spent on the whole trip," she said, noting her flights both included premium class seating.
Her only regret, she said, was staying in Tokyo every day. "I really wanted to get out into the countryside, visit Mt. Fuji, stay in a traditional Ryokan, experience life outside the city in Japan."
Next time, Connie. There will surely be a next time. And we can't wait to hear of your next adventure.
Based in Tennessee, Christina spends her days helping clients tell their stories and add value to their customers' lives through her work at a marketing and communications firm. She and her husband hustle hard every day in their very grown-up, 8-5 jobs, while actively pursuing financial independence through joyful frugality, real estate investing and travel rewards.