In our Travel Miles 101 Facebook group, Sabrina posted the following: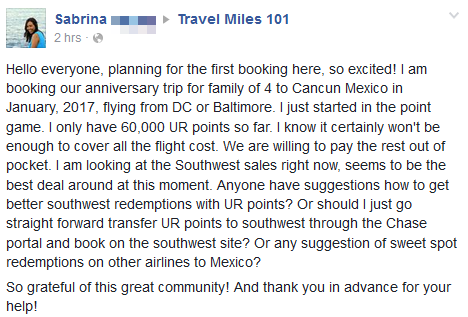 To summarize:  She is looking to take an anniversary trip with her family of four to Cancun, Mexico and she has some flexibility to fly from either Baltimore or Washington, DC.  She currently has 60,000 Chase Ultimate Rewards points and while she knows this won't be enough to get four free round-trip flights, she wants to maximize her points as best as possible.
Sabrina's Flight Options to Cancun
Before I get started searching for flights, I wanted to brainstorm Sabrina's realistic potential options to redeem her Chase Ultimate Rewards points for travel to Cancun:
Book travel through the Chase Ultimate Rewards portal
Transfer points to Southwest to book on Southwest flights
Transfer points to British Airways to book on American Airlines flights
Transfer points to United to book on United flights
The first thing we need to do on our search is find out what airlines fly to Cancun from the Baltimore/Washington, DC area.  So we go to the Cancun Airport Wikipedia Page and scroll down to the "Airlines and Destinations" section and search for both Baltimore and Washington, DC.  Here's what I found:
Southwest has direct flights from Baltimore and United has direct flights from Washington-Dulles airport.  I'm quite pleased to see the Southwest flight as I know from experience that they are the easiest airline to book award seats with, especially when you're looking for a family of four.
Not only that, but since Sabrina is flying from their main hub in Baltimore and January isn't a high-demand month, there is a chance that these flights will be really inexpensive booking with either points or cash.
We also note there are some "seasonal" Delta flights out of both Baltimore and DC, but that isn't going to help us much on this search:

One thing to note at this point is that since there aren't any direct flights on American Airlines from the DC area to Cancun that we are now throwing out our option above to use British Airways miles to fly on American Airlines planes.  That just isn't plausible for the itinerary.
Searching for Flights on Southwest Airlines
Since I have a strong suspicion that Southwest is going to be Sabrina's best option, I start my search at Southwest.com and here's what I entered (note that I clicked the "Points" button near the top right):
Since Sabrina didn't specify her dates in January, I just randomly picked a few dates to get started.  Here's what I found from BWI to CUN:
There appear to be two nonstop flights on the 18th and the one only costs 9,288 Southwest miles for each one-way flight.  Here's the return on the 23rd:
There are also two nonstop flights back to Baltimore, but you'll notice that this flight segment costs 15,124 miles for the one-way, which is not ideal.
Since Sabrina has some flexibility, we decide to click the "Try our Low Fare Calendar" in the upper right section of the page, which is a nice hidden search tool when finding award seats on Southwest.com.  Here are the options from BWI to CUN: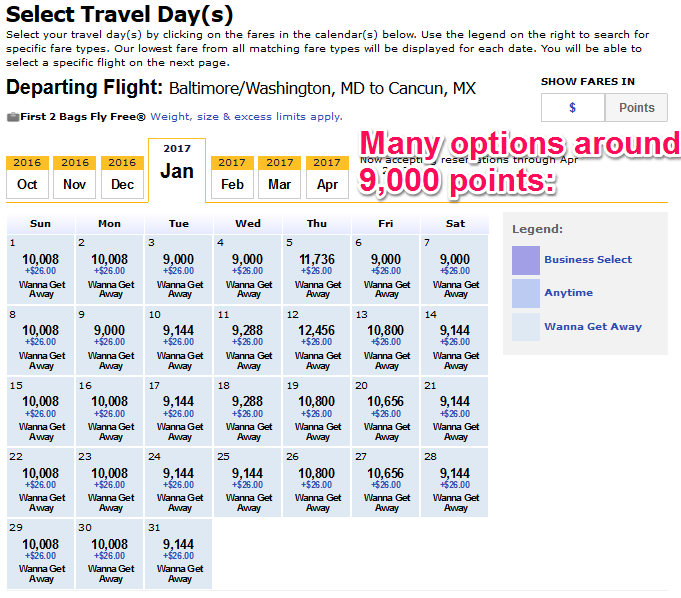 It looks like there are many options around 9,000 points per flight, which is roughly what we found on our search on the 18th.  Here are the options back from Cancun: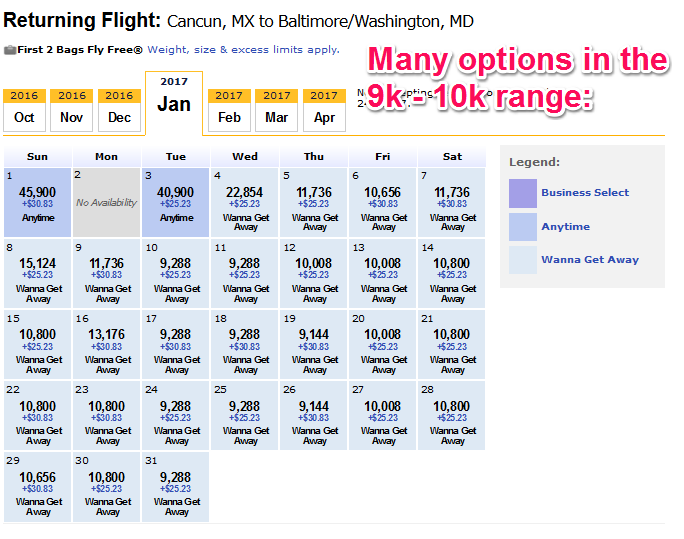 It looks like there are many dates with flights in the 9,000 – 10,000 miles range (though they may not be nonstop, so Sabrina will have to search additionally, but this gives her a guide at least), so we're fairly confident she can get three of the four round-trip flights from BWI to Cancun using her 60,000 Chase UR points.  She just has to simply transfer them from Chase to her Southwest Rapid Rewards account and she can book through Southwest.
The other nice thing about Southwest is that she can easily purchase the fourth ticket normally through the site using cash; since Southwest points flights are based on the cash price, we're fairly certain the flights she decides to book will be on the less expensive side, so there won't be any nasty surprises waiting for her when she goes to book the fourth ticket.
Booking Options Through the Chase Ultimate Rewards Portal
Sabrina's second major option is to book travel directly through the Chase Ultimate Rewards portal.  She'll get a value of 1.25 cents per point, so her 60,000 points will be worth a total of $750 through Chase.
First she'll log into her Chase account and go to Ultimate Rewards and will see the following screen: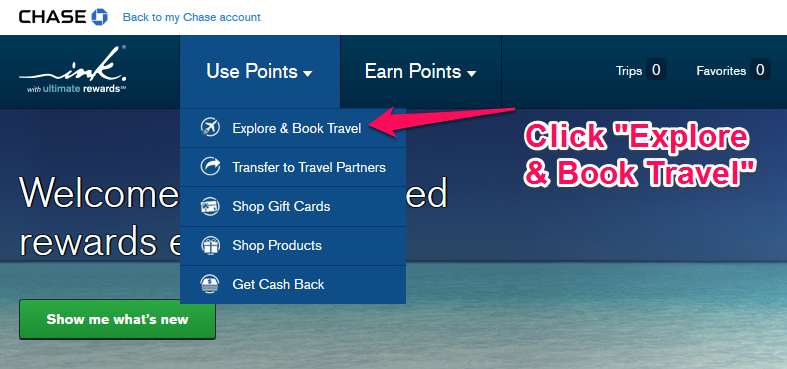 Then she'll hover over "Use Points" and click "Explore & Book Travel."  Then she'll enter her flight info:
After clicking "Search" here's what we find: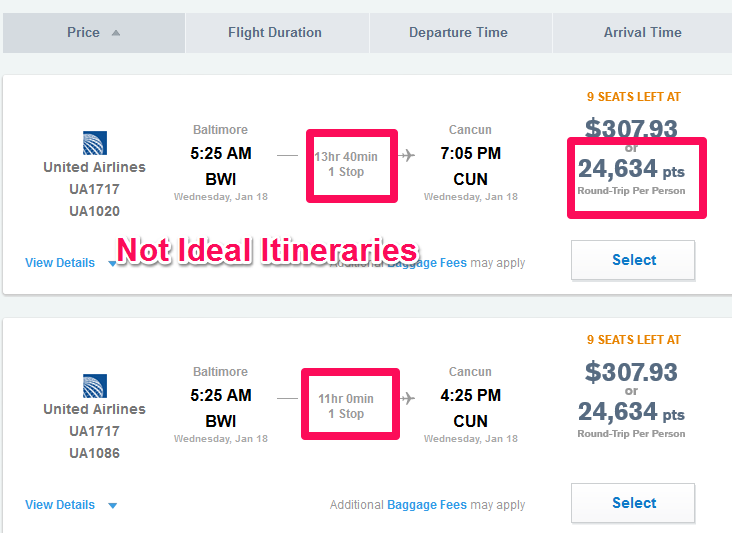 These are pretty awful looking flights with a cost of nearly 25,000 miles round-trip and at least an 11 hour journey.  I can't imagine she'd prefer these options to the Southwest flights we already found!
For the sake of thoroughness, I also check from DC to Cancun: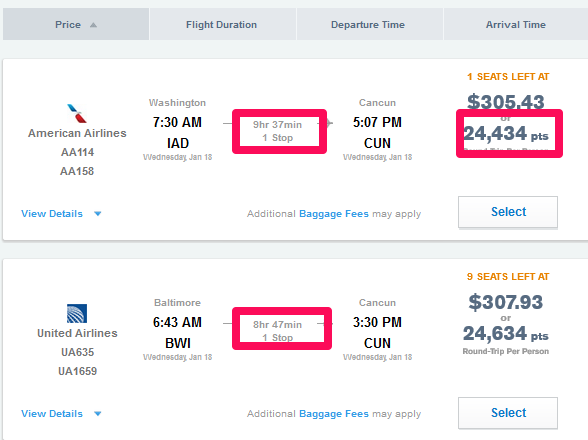 While these flights are shorter, they still require one stop and are each over 24,000 points, so again not ideal.
Using United Miles to Fly to Cancun
From the United.com homepage, I enter the following info hoping to find Saver Economy availability on that direct flight out of Washington-Dulles airport:
After clicking "Search" here's the availability I found:
The first thing that jumps out to me is that the Saver Economy flights cost a whopping 17,500 miles one-way!  That's 35,000 miles round-trip, which is dramatically more than the roughly 20,000 we found using Southwest miles.
I conclude at this point that using United miles is a bad idea for this trip and stop my search.
Summary
We looked at Sabrina's options to fly from the Baltimore/Washington, DC area to Cancun using Chase Ultimate Rewards points and Southwest Airlines came away as the clear winner.
It looks like she can book three round-trip tickets with her 60,000 miles (transferred from Chase to Southwest) and she can pay for the remaining ticket through the Southwest website.