We get a lot of questions about taking a dream vacation to Hawaii using rewards miles in our Travel Miles 101 Facebook group and our Master List of Sweet Spot Redemptions to Hawaii with Miles is one of the most popular posts on the site.
One question that gets asked many times is "Can I use frequent flyer miles to fly from one Hawaiian Island to another?"
The answer is definitely 'YES,' you can use miles.
In fact, the three major US legacy airlines (United, Delta and American) all allow you to use their miles for Hawaiian Airlines flights between islands (United lets you fly Island Air as well, though that's a much smaller airline).
Here's a step-by-step guide using each of the three programs plus I'll show you how to find these flights on the Hawaiian Airlines website to see if using miles makes sense as they can be rather inexpensive to begin with:
Check What Flights Exist Using Wikipedia
The first thing I always do when getting ready to research award flights is to check out the Wikipedia page for the airports in question.
In this case, I assumed I was going from Maui to Kauai so I Googled "Maui Airport wiki", found the airport code (OGG), and then scrolled down to the "airlines and destinations" section and found these Hawaiian Airlines options:
I was quite pleased to see Lihue (LIH) in Kauai as an option so I knew I'd be able to use United, Delta and American miles if flights were available.
Using United Miles to Fly Between Hawaiian Islands
Okay, the first thing we do is search from the United.com homepage.  In this example we're flying between Maui (OGG) and Kauai (LIH) on May 15, 2017.  Notice that we clicked "search for award travel" and "nonstop":
Here's the award calendar that shows Saver Award Economy seats on the nonstop flights on May 15th (and all other days that month):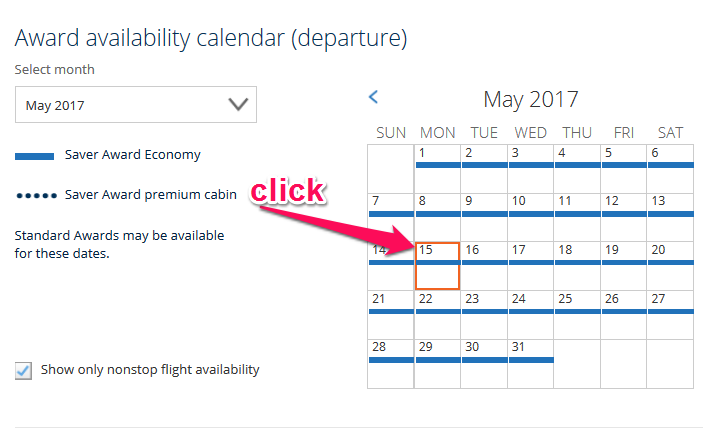 After clicking on the 15th we scroll down and see that there are 3 direct flights between OGG and LIH on Hawaiian Airlines: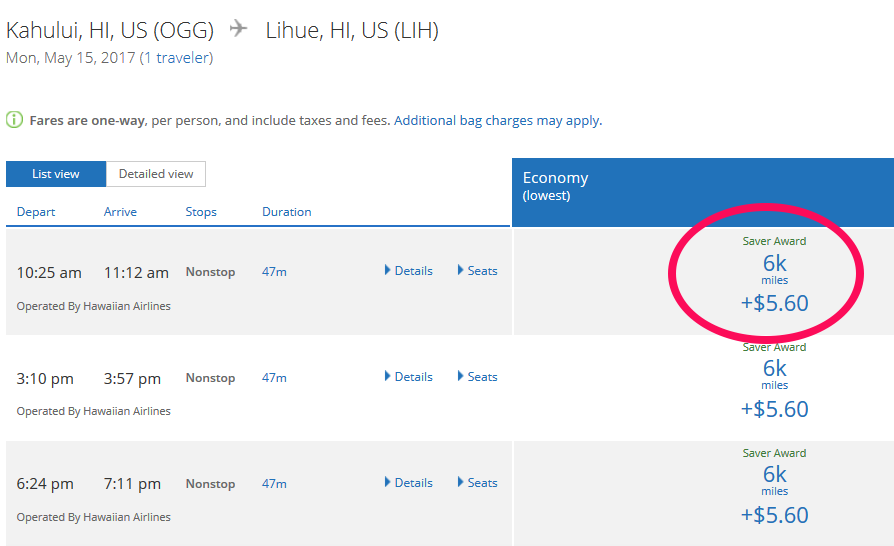 The flight costs 6,000 United miles plus the standard $5.60 fee for each one-way flight between Hawaii Islands.
Using American Airlines Miles to Fly Between Hawaiian Islands
We first search from the main AA.com homepage with our flight details and click "Redeem Miles" and then "Search":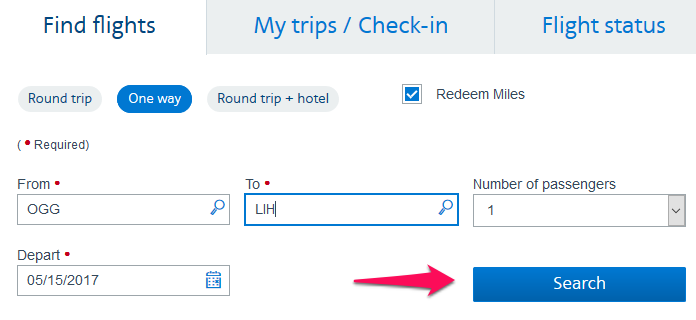 Next we come to the availability calendar which looks promising as there is "Economy MileSAAver" availability every day for 7,500 American Airlines miles.
Out of habit I selected the "Non-stop only" dropdown option as well: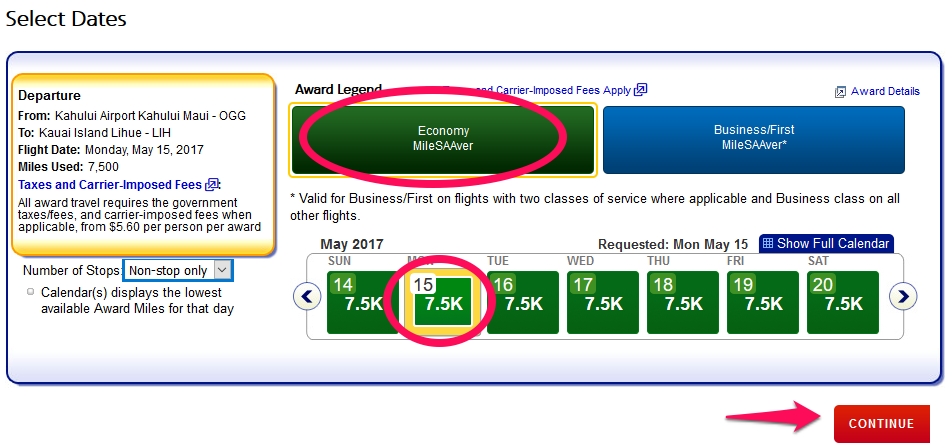 After we click "Continue" we see the same three flights that were available using United miles: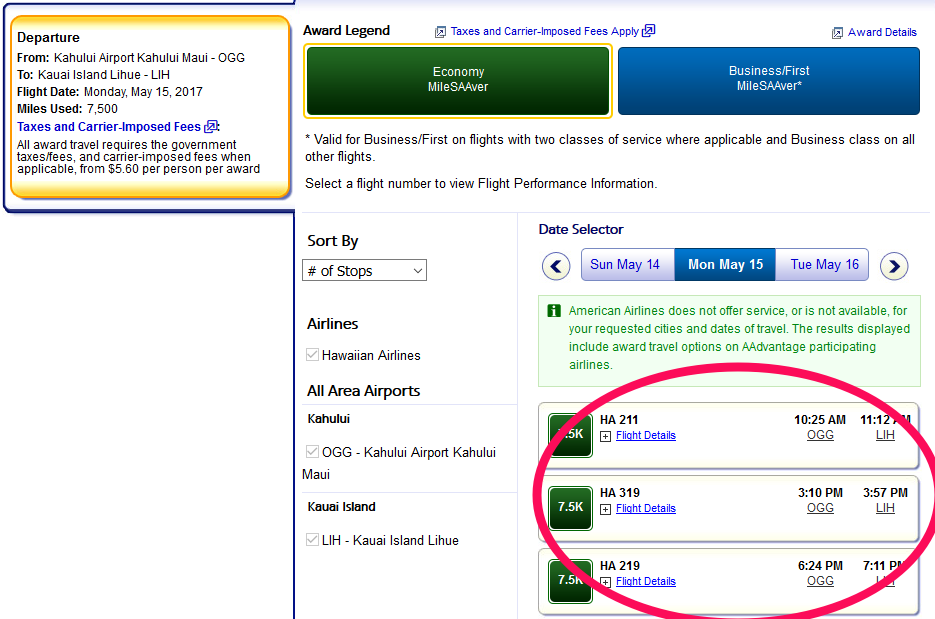 Total cost to fly a one-way between Hawaiian Islands using American Airlines miles is 7,500 miles plus $5.60.
Using Delta Miles to Fly Between Hawaiian Islands
From the Delta.com homepage we enter our familiar flight details and click the "show price in miles" button and then "find flights":
Delta also shows the same three Hawaiian Airlines flights available using miles:
Total cost to fly a one-way between Hawaiian Islands using Delta miles is 7,500 miles plus $5.60.
How to Tell if Using Miles is a Good Deal
The next thing I did was head over to the Hawaiian Airlines website to find the cash prices for these flights, so I entered our details in:
Here are the results which show our three familiar flights plus one other flight that day which evidently has no award availability: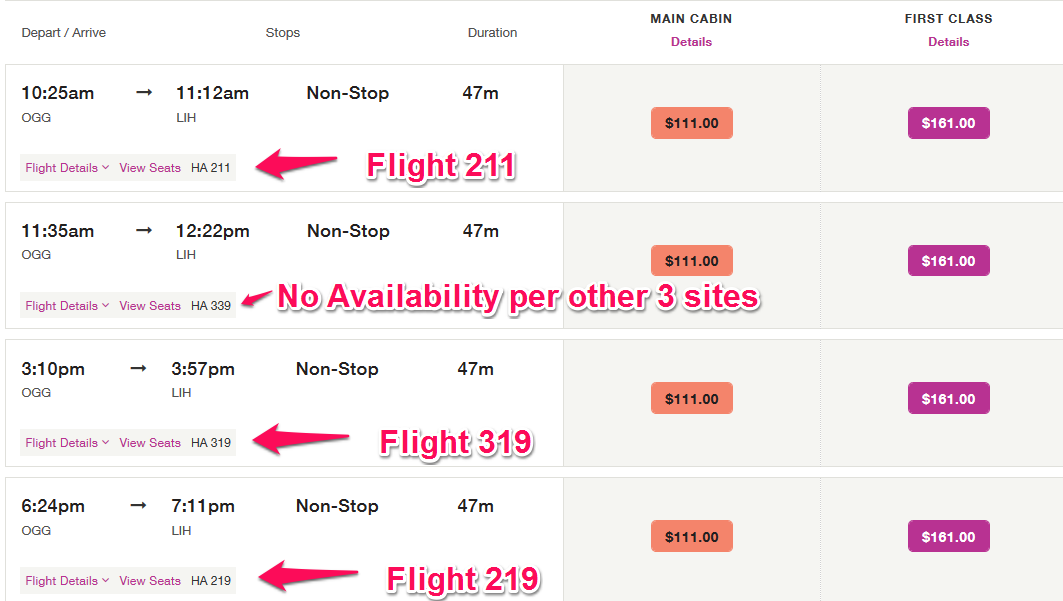 These flights cost $111.00 which I'm assuming is all inclusive of taxes and fees.  So the apples-to-apples comparison after subtracting the $5.60 fee we pay on award seats is $105.40 we'd be saving using miles.
That means for 6,000 United miles we're getting 1.75 cents per point in value and for 7,500 American or Delta miles we'd be getting 1.40 cents per point in value.
Though I always try to get 2 cents per point in value as a rough rule of thumb, this is not a bad deal at all, especially using United miles.
These are also small point requirements, so if you had some points remaining but not enough for an award ticket somewhere, you could make the case that this would help you fully utilize points that may not have otherwise had a simple redemption.
Travel Miles 101 has partnered with CardRatings for our coverage of credit card products. Travel Miles 101 and CardRatings may receive a commission from card issuers.