A 'sweet spot' is using one airline's award chart to get your flight on their partner's flights for fewer miles than if you had that partner's points in the first place, and British Airways Avios points give you some of the best sweet spot opportunities of all!
This is especially true if you can fly these 2 airlines in the United States:
American Airlines
Alaska Airlines
What Alliance Does British Airways Belong In
You may have heard of airline alliances such as Star Alliance and Sky Team, but what are they?  An airline alliance is a group of airlines that team up to provide routes to consumers around the world, and the consumer can earn benefits from their preferred airline while flying on a partner airline.  For example, American Airlines doesn't fly into Colombo, Sri Lanka, but Sri Lankan Airlines does.  Sri Lankan Airlines is part of the same airline alliance as American Airlines.  An American Airlines loyalist can earn some of the same benefits from American Airlines on Sri Lankan Airlines and vice versa.  The alliance name is Oneworld, which is the one that British Airways belongs to also.
So how do airline alliances affect our hobby?  Well in this example, you can redeem British Airways miles on an American Airlines flight since they are in the same alliance.  Not only that, but you can redeem British Airways miles with their partner airlines too, such as Alaska Airlines and Aer Lingus.  These two airlines are not (yet!) part of the Oneworld alliance, but since they partner with British Airways, then you can redeem miles with them.  This is where the British Airways program becomes extremely useful for everyone, especially if you don't fly on British Airways.
The British Airways Award Chart
Below you'll find a British Airways miles chart we created to help you determine the price for your award flight in miles.  Keep in mind that for these sweet spots, your flights must be direct flights since British Airways will price each flight segment individually on your award flight.  Another thing to know is that Zone 1 awards are not available to, from or within the US.  Don't let that scare you though, there is a lot of value to be found from this program:

So how do you read the chart above?  The price for your flight segment is based on the geographical distance between where you are departing from and your destination.  So, let's say you want to fly within the US.  That means that Zone 1 won't apply since flights are in the US.  If the distance of your flight is between 1-1,151 miles, then you would pay 7,500 Avios for your one-way flight.
If you plan to fly a short route in Europe, then you can utilize Zone 1.  If you find a short flight, between 1-650 miles, then your off-peak price for that flight would only be 4,000 Avios.  That's amazing!  Now you may be wondering how you find out the distance of your flights.  In the next section we'll discuss a couple of tools to help you prepare for an Avios award booking.
Great Circle Mapper & Wandr.me
So now that you understand how the British Airways mileage chart works, let's see how to determine the distance of the flight you're wanting to search for.  There are two great tools that you can use to help you find the distance of your flight, which will allow you to figure out the price of a potential award flight.
The first tool is the Great Circle Mapper.  This provides you with the exact distance between two airports and shows the route on the map.  To further illustrate how the Great Circle Mapper works, let's take a look at an example.  Let's assume we want to find the distance between Dallas and Mexico City.  Here are the steps.
Once you're on the Great Circle Mapper Page, enter in your route on the search box.  In this case it's DFW-MEX.  Once you enter your route, click on "Map"
On the next screen, you'll see your search results.  Notice how the map between the two airports is displayed.  At the bottom you'll also notice the total miles for this segment.  In this case it's 935 miles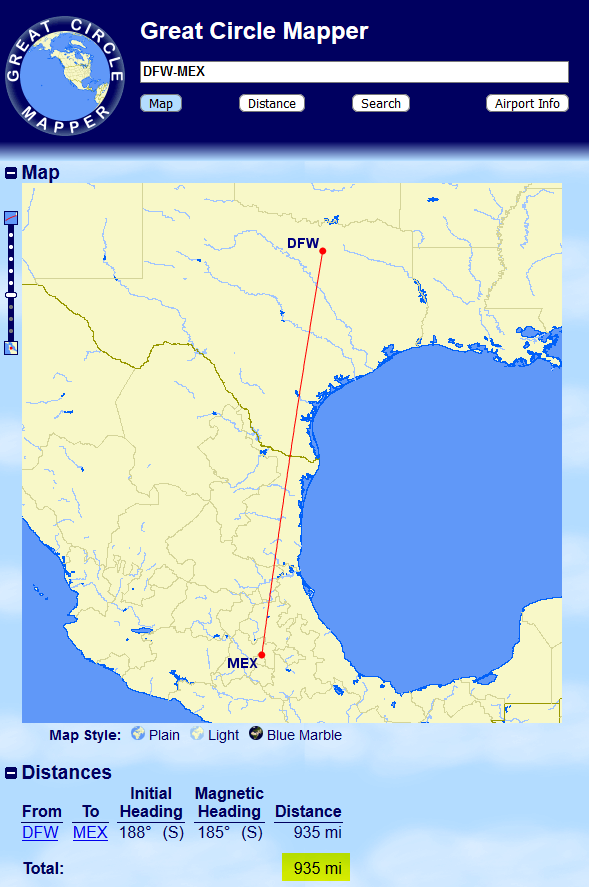 So with that information, you can view the British Airways miles chart to see how much your flight would cost.  Again, since this flight originates in the US, it doesn't qualify for Zone 1 pricing.  As mentioned previously though, since it is under 1,151 miles, it would price out at 7,500 Avios!
The next tool that I find super useful is the Wandr.me Avios Calculator.  It'll provide you the Avios price for the routes that you search.  Another feature that I like is that it'll allow you to see the direct routes and their Avios pricing from the airport of your choosing.  Let's take a look at how to do this.
Once you're on the Avios Calculator page, enter in the route information.  After that click "Search!"  In this example, we'll show you the same DFW to MEX route.
On this screen, you'll see all the available routes from Dallas to Mexico City and their prices in Avios.  As mentioned previously, for this to be a sweet spot you need to focus on the direct routes as British Airways prices each segment of your award flight.  Notice the first row of the search results.  This direct flight shows the price of 7500 Avios.
If you're only interested in seeing the nonstop routes, click on the link that says "Search nonstop routes on a map"
After clicking on "Search nonstop routes on a map", you'll come to this screen which looks a little intimidating at first.  In the search field at the top, you can enter in an airport that you want to search.  In this example we will search for Dallas (DFW).  Then click "Go!"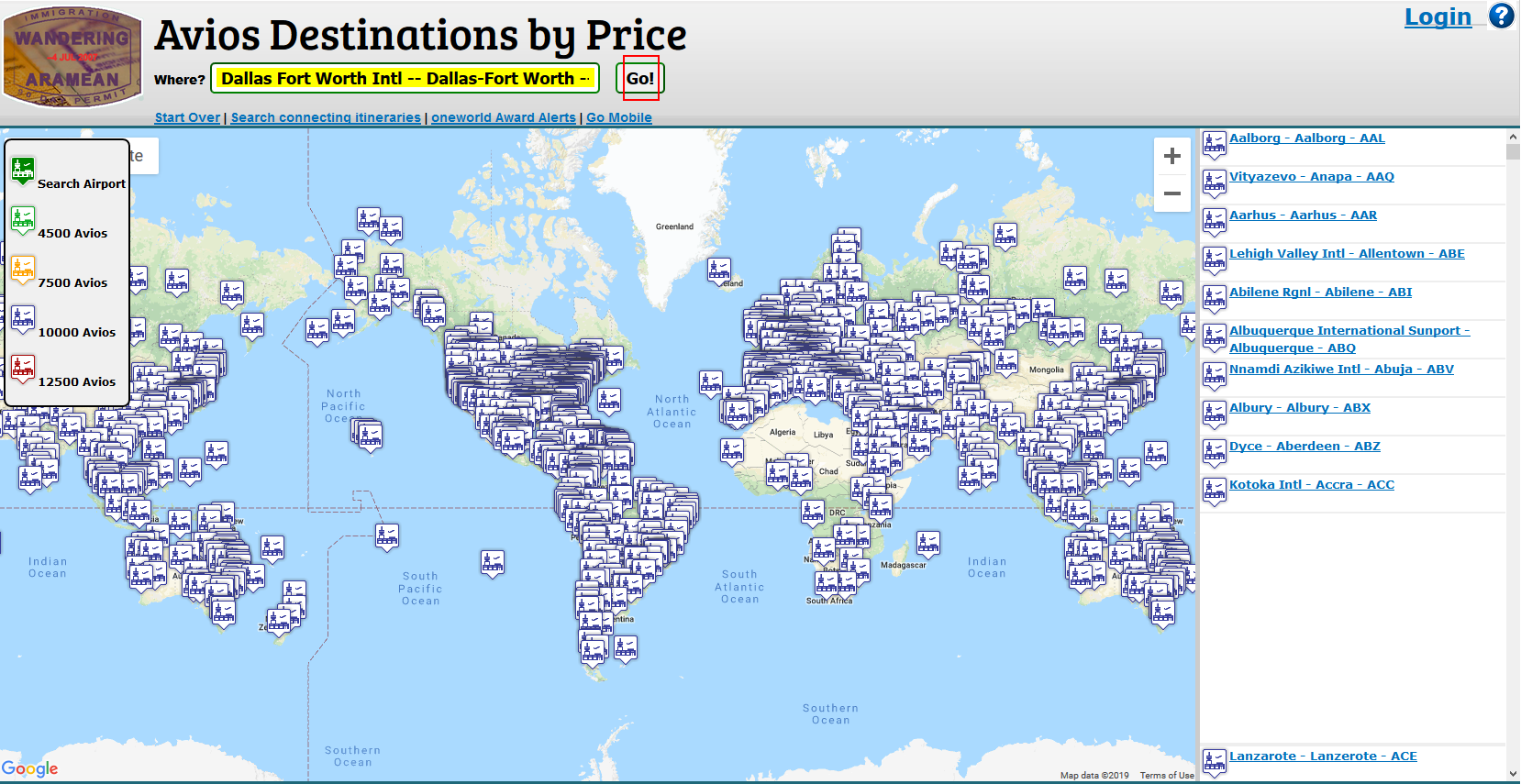 Your search results will show all of the direct flights from the airport entered, in this example it was Dallas, and color code them according to their price in Avios.  As you can see, there are several flights that would price at 7,500, 10,000 and a couple priced at 12,500 Avios.
If you want to zoom in on a particular part of the map, you can zoom in by clicking on the "+" at the top right hand corner of the map.  Notice the numerous options at 7,500 Avios from Dallas!
If you want to look at a different part of the map, simply put your mouse on the map until the cursor turns into a small hand, then click and drag the map to the area you want to see.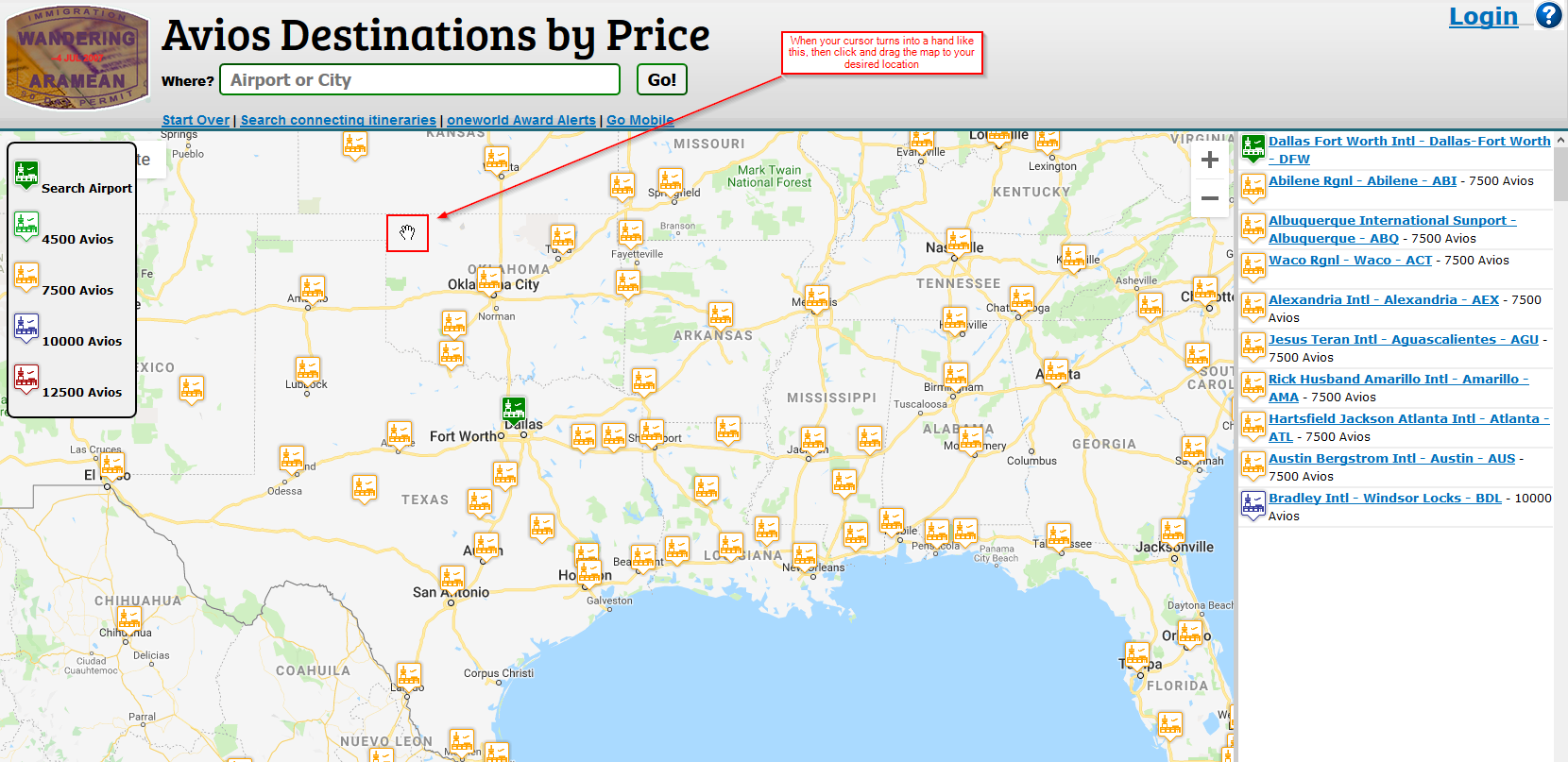 As you can see, there are a lot of options that price out at 7,500 Avios out of Dallas.  This really gets your imagination going on what the possibilities are.  I encourage you to play around with the file and check on the airport that you want to fly out of to see what options you have out of there.  It's very easy!
Looking For Award Space
Now that we know what certain routes should price at, let's take a look at trying to find award space.  Finding award space isn't difficult at all and this guide will help you to do so.  The British Airways website has a pretty good search function when looking for Oneworld alliance flights.  If you want to search other sites for award availability, you can check out American Airlines or Qantas as well.  This guide will show you how to search for Oneworld flights on British Airways.
The first step is to go to the British Airways website.
One you're on the homepage, you must log in to your British Airways account.  Enter in your login credentials and click "Log in".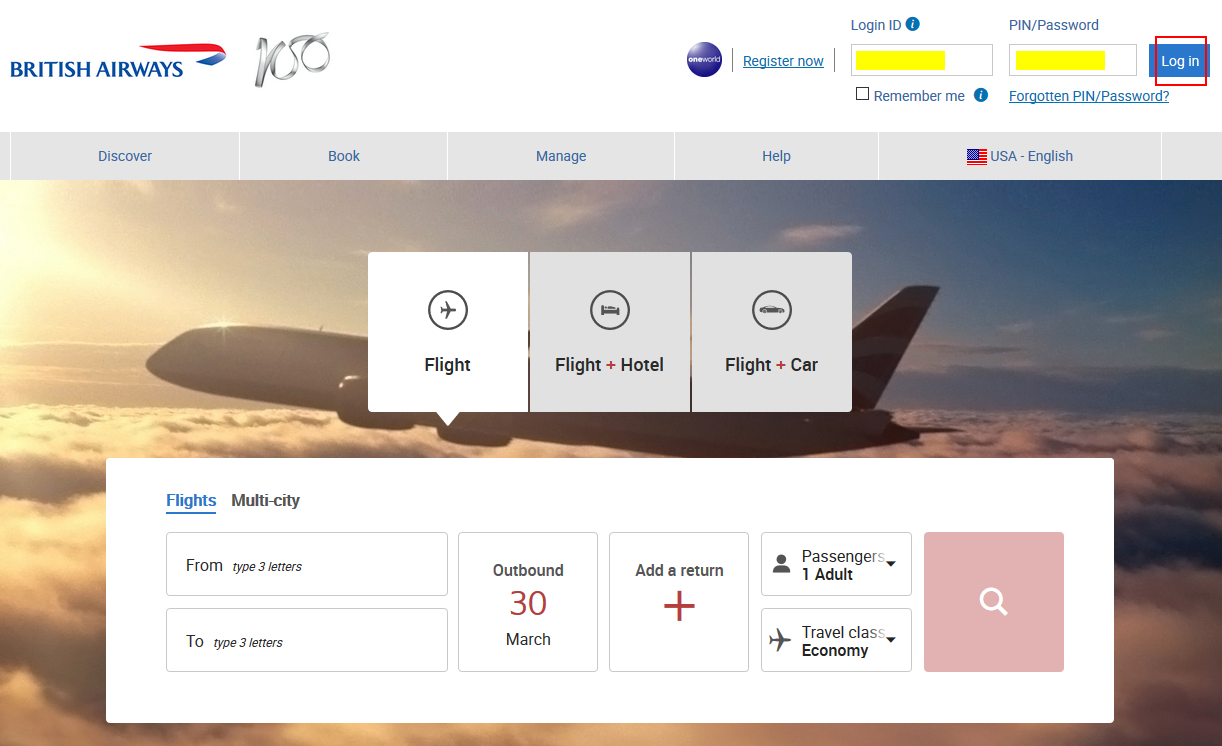 Once you've logged in, hover over the Book tab then click on "Book a flight with Avios"
Next fill out your search information.  Enter in where you are flying out of, your destination, desired date and then click on "One way only".  Since British Airways prices out each segment, we only want to look for one way flights.  Then click on "Get flights"
In this example we are searching for Dallas to Mexico City
Here are the search results.  Notice how there are several direct flights from DFW to MEX available.  One thing that is nice about the British Airways search tool is that it tells you how many award seats are available.  Each of these routes have at least 7 award seats available in economy, which is excellent for a large group!  Another thing to notice is that these are not flights on British Airways metal, rather they are on American Airlines.  That's what is great about this sweet spot.  You can get some cheaper award flights using British Airways Avios on some of their partners.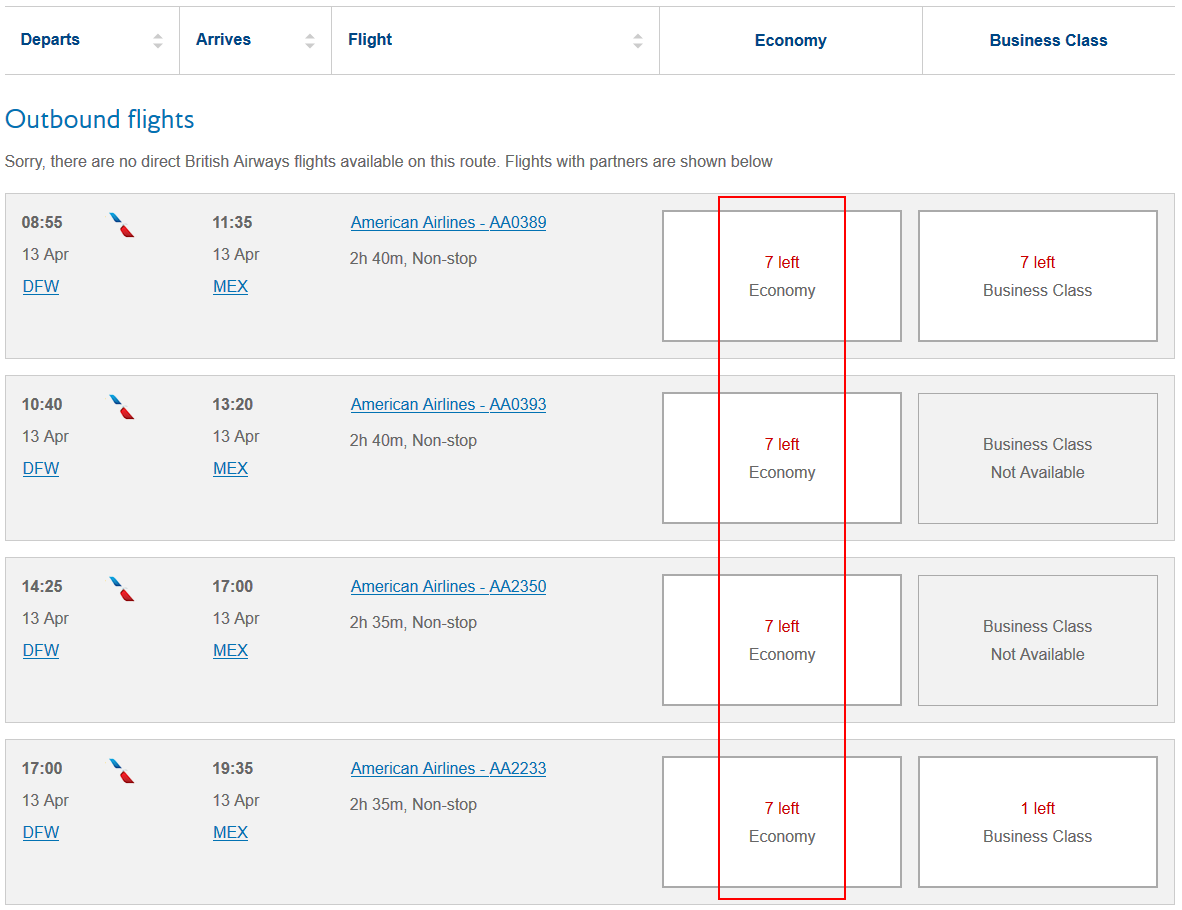 When you find the route you want, click on the seats you're wanting to book

Here is the total price for your chosen award flight.  You'll notice that the price in Avios is exactly what we saw when searching through the Wandr.me site.  7500 Avios and about $35 in fees is a great deal!  To proceed with the booking, click "Continue" and follow the prompts to finalize.
Just to compare, these same flights using American Airlines miles would cost you twice as many miles at their saver level.  Definitely keep the British Airways program in mind when booking your next short flights.
As you can see, you can find some sweet deals using British Airways Avios on short, direct flights on some of their Oneworld partners.  Ideally, you don't want to use British Airways Avios on British Airways flights because of the exorbitant surcharges that are imposed on British Airways award flights.
Super Sweet Spot To Europe
On this guide you've learned how valuable British Airways Avios can be and how they can be used for incredible value, but the fun doesn't stop there.  While these short direct routes are considered "sweet spots", there's an even better one that could interest you if you want a cheap flight to Europe.  It involves flying to Ireland!
As we've discussed throughout this guide, British Airways Avios is a distance based award program, so if your flight falls within certain zones, your award flight should price according to the chart based on availability.  The same principle applies to this sweet spot as well.
The shortest route from the US to Europe on a British Airways partner airline is from Boston to Dublin.  You can use your Avios points to fly on Aer Lingus for cheap depending on award availability, but how much would it cost?  Take a look at the screen shots below.  Notice how the distance between Boston and Dublin is 2,993 miles which would fall in Zone 4 on the award chart.  To confirm the price we can see on the Wandr.me site that it would cost 12,500 Avios.  That's a steal for a flight to Europe!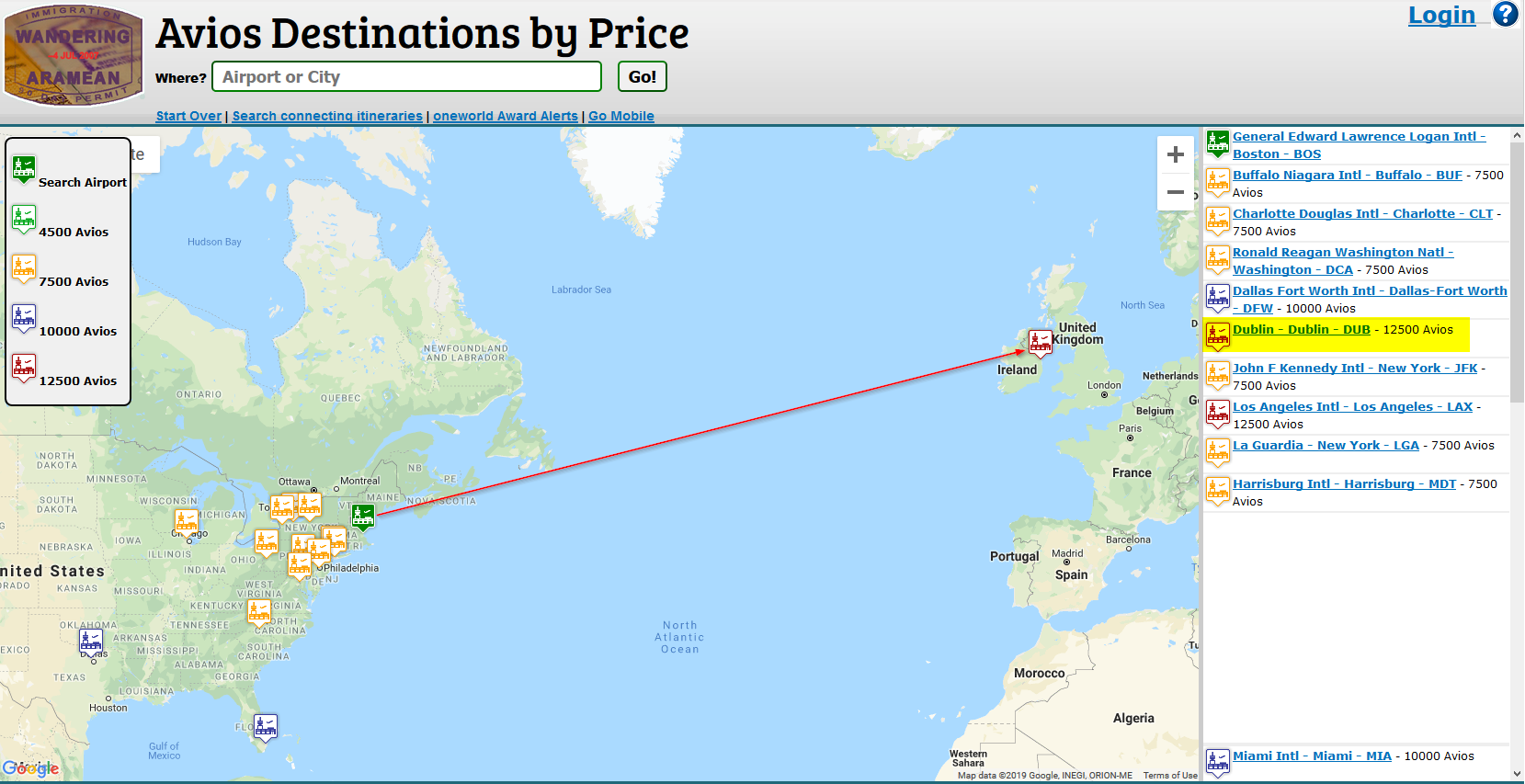 This is an amazing sweet spot!  If you're able to find award space to and from Europe on this route, the round trip award flight would only cost 25K Avios in economy.  With this being only a 6 ½ hour flight, economy is just fine in my opinion, especially at these saver levels.
Finding Award Space
Now that I have you salivating over this sweet spot, how do you go about finding award space for it?  This one is a little awkward since we wouldn't search the traditional Oneworld websites.  To search this award, you would need to search through United website.  You only need to do this to see if there is award space on your specified dates.  These are the steps to search for award space on Aer Lingus.
First go to the United website.
Once you're on the home page, enter in your search criteria.  Click on "One-way" then check the box that says "Book with miles".   Enter in your from and to cities.  In this case, from will be Boston and to will be Dublin.  Enter your desired departure date and number of travelers.  Then click on "Find flights".
After that you'll be prompted to sign in to your MileagePlus account.  Just close out of that pop up window.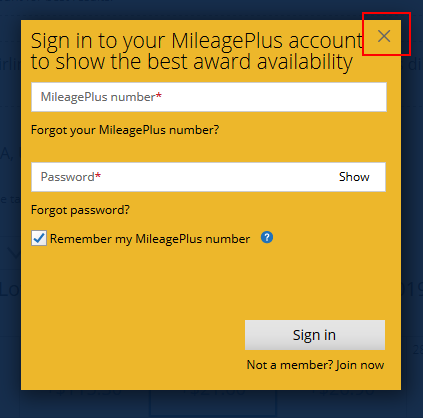 Next you will see a few search results.  However we want to see the full 30 day calendar so that we have more options to consider.  To do so click on "View 30 day calendar"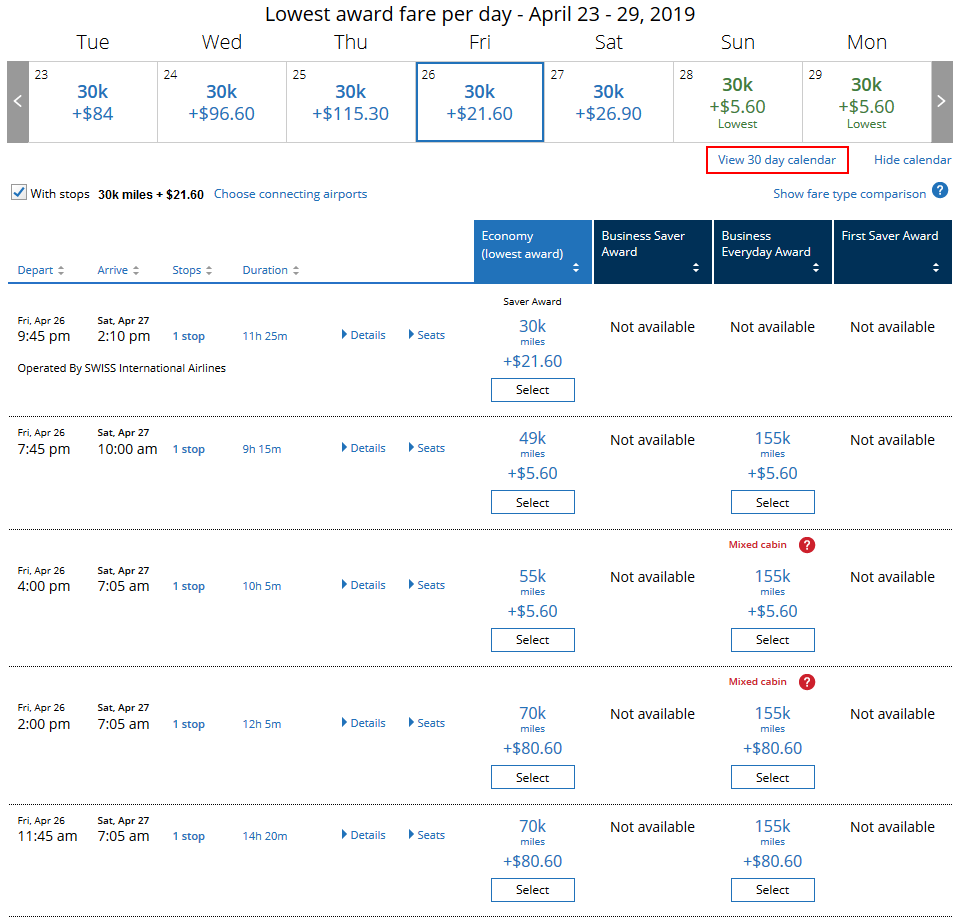 Here you'll notice that the calendar has expanded to provided a 30 day view of award availability.  For the purposes of this guide, we'll choose April 28th to see which flights are available.  When you search on your own, check for Saver Award availability, direct flights and the option with the lowest fees.  Keep in mind that the award prices on this search are in United miles, which is why the price is different.  That doesn't matter though since you would be paying in British Airways Avios over the phone.  All that you need to worry about at this point is finding Saver level award space on the United website.
After selecting the desired date, check out your flight options below.  The first option available is operated by Aer Lingus and is a direct flight.  This is what you want to look for when searching for your award flight.  Again, don't worry about the 30K miles shown below.  That is not the number of miles required if paying with Avios.
Now that you know which route that you want to book, make sure that you have enough British Airways Avios into your account.  If you need more points, you can transfer points from your Ultimate Rewards, Membership Rewards or Marriott Bonvoy accounts to your British Airways account.  Once you have the right number of points, call British Airways to book your award flight.  Then pack your bags!
Conclusion
The British Airways loyalty program is extremely useful, whether it's for short domestic flights or short international flights on Oneworld partners.  You can save a considerable amount of your hard earned points by using this program.  With this guide you can see which routes are available from your desired airport, search for a route distance and search for award space.  You're well on your way to your next "free" trip!