It goes without saying that earning as many miles per dollar on your everyday expenses is the ultimate goal to getting closer to a free flight. While some credit cards offer miles or points bonuses for certain types of purchases (dining, travel, etc.), what if I told you that you can turbocharge your everyday spending to rack up miles even faster?
Let me back up for a second. Just like many of you involved in this hobby, I was excited to learn about the Chase Sapphire Reserve credit card, and even more excited when I was approved for it. Now double that excitement when I envisioned what I would do with my 100,000 Ultimate Reward (UR) points, plus the additional points earned from everyday expenses.
I knew right away that my ideal use of the points would be to transfer them to United's MileagePlus program and then use those miles towards 2 round-trip business class tickets from the US to Europe, for an upcoming trip that my girlfriend and I are planning. With a one-way business class award requiring 57,500 miles, I figured I'd need 230,000 United miles to make these flights happen. Now, that's where United's MileagePlus X app (MPX app) comes in…
After searching the web looking for tips and tricks on how to earn more miles, I stumbled upon a few people discussing the MPX app. Curiosity got the best of me, so I had to download it to my iPhone and try it out for myself. I've never looked back since.
What is the MileagePlus X app?

The MPX app is an official app from United which allows you to purchase digital gift cards to a variety of restaurants and businesses directly from your phone, while earning mileage bonuses to your United account. The beauty of this app is that the gift cards are purchased and loaded in real-time, so you can use the gift card on the spot. And, the miles post instantly to your account.
In addition to using the gift cards in-store, you can also use them on the retailers' websites if they accept gift cards online. There's even an option to purchase Amazon gift cards (more on this later).
What businesses participate in the MPX app?
A wide-variety of businesses are signed up to work with the app, and the cool part is that you can find them simply by relative distance to your location. Download the app and see for yourself, but the ones I use the most are:
Amazon
Panera Bread
Red Robin
Starbucks
Regal Movie Theaters
Bed Bath & Beyond
Once you set up the app, you can see all the businesses in the area that you probably visit regularly, where you can start earning bonuses. Below are screenshots of what is near me as I write this post (there are many, many more – these are just the absolute nearest 10 places):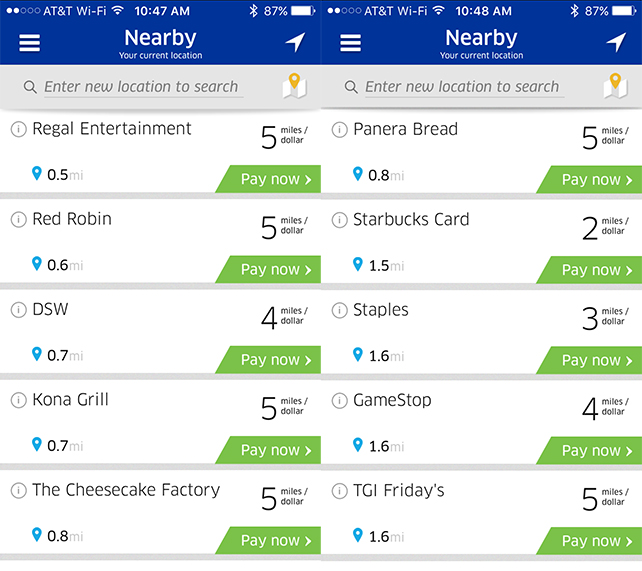 How do I use the app?
Using the app couldn't be simpler: download it from the App Store or Google Play Store, log in with your MileagePlus account information, and input your credit card information. And now, you're ready to start racking up miles!
Bonus tip: If you have a United MileagePlus credit card from Chase and you add it to your MPX app, even if you do not use it for your purchases, you'll earn a 25% mileage bonus on your purchases via this app – wow!
Here's a real-life example:
It's Tuesday around lunchtime, you just got out of a 2-hour staff meeting and you need to fuel up with something to eat before your 1:00pm meeting with the marketing department. You head downstairs and out the door to grab a quick bite at a nearby restaurant. As you walk to the car, you load up your trusty MPX app and see what's around you. Feeling like a sandwich and soup combo at Panera? Perfect, because they offer 5 miles per dollar via the MPX app.
As you get to Panera and are waiting in line to place your order, open up the MPX app and press "Pay Now". You'll see your default credit card in the top right corner and a keypad to enter in the gift card amount in the middle of the page. Walk up to the register, place your order and wait for the cashier to tell you your total (including tax).
Once you get the total, $10.74 in this case, simply enter in that amount in the app and confirm your payment. This takes about 15 seconds and then generates a gift card number right on your screen! Inform the cashier that you are using a gift card to pay and hand them your phone, from which they key in the gift card number into their system. It's that simple!
For the meal I was going to purchase anyway, I've just earned 53 miles!
Note: You can purchase a gift card for a higher amount than your bill, but then you'll be carrying a gift card balance for your next visit. Personally, I'd rather just use the app again next time than have gift card balances to multiple places just sitting around.
What about category bonuses from credit cards?
Here's why I brought up my Chase Sapphire Reserve credit card earlier: I earn 3 points per dollar on dining when I use that card. What that means is that you can double-dip using the MPX app for a total of 8 miles per dollar in this situation.
How that works is simple. When you purchase the gift card with the app, you are still processing the charge with your credit card at the merchant, which in this case is a restaurant. So as far as Chase is concerned, your dining at a restaurant for the gift card amount.
When factoring in the additional 3 points per dollar (which I will later convert to United miles), this lunch has now earned me 85 miles.
Plus, remember the United credit card bonus I mentioned earlier? If I had that in my account as well, I would have received an additional 14 miles, for a grand total of 99 miles – just for one lunch!
How about online merchants, such as Amazon?
There are a few online-specific merchants in the app, with Amazon being the one that sticks out the most. While you only earn a bonus of 1 mile per dollar, it's still an extra mile that you otherwise wouldn't be earning for the Amazon purchase you were going to make anyway. Note: some retailers, such as Nordstrom, are not listed in the online section of the app, but you can still purchase their gift cards in the app and use them on the retailer's website.
Using Amazon as an example, it's quite easy to use the MPX app for a purchase. Once you've added the items you want to your cart and are in the checkout process, Amazon will offer a variety of payment methods as options (credit card, debit card, bank account, or gift card). Choose gift card and then go to the MPX app on your phone to purchase and generate a gift card for the amount of your shopping cart. Use the gift card number you generate in the app on Amazon's website for payment and you're all set.
Here's what an Amazon (as well as any other retailer/restaurant) gift card looks like in the app: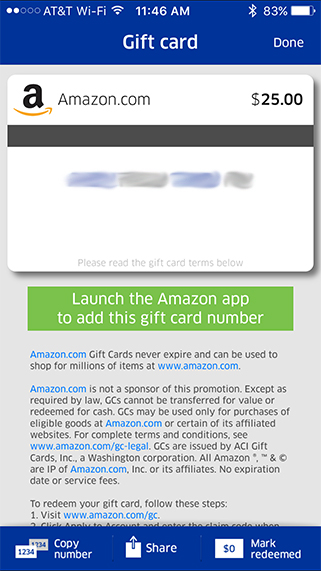 I know what some of you may be thinking right now: "85 miles? That's it? How am I supposed to get a substantial amount of miles for a free flight?" To answer this question, all you have to do is take a small step back to look at the bigger picture.
Building off my lunch example, I eat at Panera Bread about twice per week. Now, look at the sum of just those lunches over a 52-week period – that comes out to 8,840 miles. So those 2 lunches per week pack a bit of a punch in getting us closer to our goal of those 2 free business class tickets to Europe.
Establishing a strategy using average monthly expenses
Evaluate your regular purchases made throughout an average month (below with a number next to each to show miles per dollar earned just with the app, i.e. before any credit card category bonuses):
Going out to dinner with friends to The Cheesecake Factory (5), Kona Grill (5), or a wide-variety of other restaurants featured on the app,
Grabbing your morning Starbucks (2),
Getting an oil change at Jiffy Lube (5),
Picking up some new makeup at Sephora (5),
Going to see a movie at Regal (5) or AMC (5),
Purchasing some new linens at Bed Bath & Beyond (4), or
Picking out some new clothes for the kids at the Gap (5).
The list literally goes on and on, and once you start using this app, you'll be amazed at how quickly you can get to your travel goal. You're spending the money already, so you might as well be strategic about it and get as many miles for your dollars as you can. The hundreds of dollars you are spending every month can easily translate to tens of thousands of miles per year!
Personally, I've been using this app for a few months now and have been earning miles left and right. In fact, with the amount of extra miles I'm earning from this app, I won't even have to open an additional Chase card for the sign up bonus, because I'll be at 230,000 miles before I know it. Hope this has been helpful and please ask me any questions – I'll do my best to answer them and get you closer to your goal!
Based out of Chicago, IL, Steven works in digital marketing and spends his days creating online experiences to benefit customers nationwide. As a travel enthusiast, he enjoys finding ways to earn and maximize points and miles, and use them to take him on new adventures.
Travel Miles 101 has partnered with CardRatings for our coverage of credit card products. Travel Miles 101 and CardRatings may receive a commission from card issuers.