My friend Jeff Howard runs the site HotelsNearDCMetro.com which provides great information on , you guessed it, hotels in Washington, DC that are convenient to the Metro, as well as other in-depth information to make your trip a success.  Today we have a guest post from Jeff's team on a successful trip to Washington, DC for a young couple (with some solid hotel options using points).  Enjoy the post — I think there are a lot of insider tips here that will help anyone planning a trip to DC!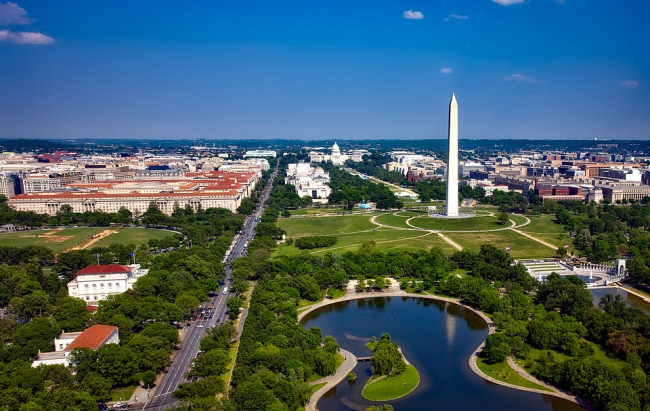 Washington, DC, is an excellent spot for a weekend trip for couples: not only is it easy to get to via train, car, bus, or plane, there are tons of local restaurants, hot spots, and national landmarks to see. Even just two days in Washington can be jam packed with fun events that will create lifelong memories with your significant other!
Whether you are active and want to spend time outdoors, or are a history buff with a knack for the past, or somewhere in between, there's bound to be something that you both will love. Below is an example itinerary for some great couple-friendly suggestions. In terms of finding accommodations we found this post on Washington, DC vacation and getaways help to pin down the best hotel or rental.
Finding a Great Hotel in D.C. for Young Couples
For couples who want to use under 10,000 points per night and find an urban neighborhood we suggest the Le Meridian Arlington in Rosslyn, or the Westin Arlington Gateway in Ballston (both Starwood hotels). Both locations are located in Arlington, VA and both hotels are a short 2 block walk to the Metro. Arlington, VA is filled with young 20 some professionals, plenty of nightlife and it is easy to get in and out of the city. In fact, it is also easy to bike from Arlington to the National Mall, walk to Georgetown, and is a quick ride to the airport.
Your First Day in Washington, DC
After arriving in Washington, the best way to kick off your weekend is to see some of DC's most breathtaking sights. One favorite for local couples is a monument tour, but instead of paying high prices for a bus tour, try a cheaper alternative.
If you're into fitness, you'll find tons of couples running a route from the Capitol down the Mall to the Lincoln Memorial, stopping in between to snap some pictures or pausing to stretch. Another great way to do this is to rent DC's bikeshare bikes, CityBikes. For just hourly fees, you and your significant other can rent bikes and bike down Constitution Avenue to see some of the most breathtaking historical buildings Washington DC has to offer.
Lunch:  For lunch after sightseeing, stop in to one of DC's famous eateries close to the Mall and monuments. Some of the best known restaurants in DC are only a few steps from the Mall and offer great lunch specials. Eat like the locals and try Old Ebbitt Grille, The Hamilton, or one of DC's famous food trucks – which serves up any type of cuisine you can imagine. For another dose of history, check out the rooftop of the Watergate (yes, that Watergate building). There's an excellent view, and some refreshing drinks at the bar.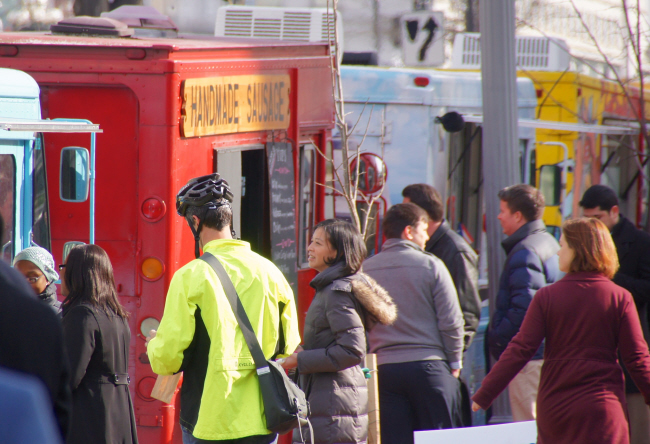 Afternoon:  After refueling, hit one of the local attractions that are on any couples' must see list: the Newseum, a huge museum on 6th St NW dedicated 100% to newsworthy events from the past 100 years, or the newly opened Museum of African American Culture and History (on Constitution Avenue near the Washington Monument). After seeing some of DC's unique museums, head up to 14th Street to start your evening.
Happy Hour: Couples who are looking for a good spot to unwind together and recap on a day full of sight-seeing will love any of the 14th St Corridor bars and restaurants for a good pre-dinner drink or two. All of these restaurants are couple-friendly haunts, and offer plenty of space to sit down and chat together. One of the favorite local spots is Garden District, a cute beer garden on 14th Street with plenty of large tables to unwind. Another great suggestion is a romantic favorite: splitting a milkshake at Ted's Bulletin…however, these aren't just any milkshakes. Ted's are 'boozy' milkshakes, and are excellent to split for a couple before heading off for a great meal.
Meal: Any of the restaurants on 14th Street offer great food at a wallet friendly price. Some of the more romantic spots that offer dark wood booths and low lighting are fun for couples: try somewhere like Masa 14 for tapas, Le Diplomate for DC's most well known steaks, or Pearl Dive for seafood at a great price. Pop in to any of these haunts on your way back to your hotel for a nightcap – you wont be disappointed!
Day 2 in Washington, DC
Morning/Lunch:  It wouldn't be a weekend in DC without brunch! Washington is well known for bottomless brunch options that you wont find in other major cities. Young local couples frequent the many great brunch spots with friends, so you wont be out of place as a tourist heading to any of the best-rated brunch spots around. For a great start to your last day in the city, head to the Capitol Hill neighborhood and grab brunch at Cava, a greek tapas-style brunch with a variety of mimosa variations –all included in your single price for breakfast!
Sightseeing/Afternoon: After enjoying a nice hearty breakfast and a couple mimosas or bloody mary's, head out to explore the Capitol Hill neighborhood and all it has to offer. One of the best places for couples to visit together is Eastern Market, on the blue/orange line Metro corridor. Eastern Market is buzzing with local vendors on the weekends, selling all sorts of locally made crafts. Bring your significant other here for some fun shopping and pick up some souvenirs to bring back home to remember the trip!
If your afternoon allows, hail a cab and head down to the Southwest Waterfront; the Navy Yard neighborhood is home to the Washington Nationals baseball stadium, which frequently hosts wine or beer festivals on the weekends. Right next door is a lively neighborhood full of fun spots to check out, but a great place for couples is Blue Jacket Brewery. Grab a DC local craft brew (and for ladies who prefer something lighter, they have excellent ciders too!) before heading home.
Dinner/Meal before departure:  If you and your significant other find yourselves longing for one more taste of DC before hitting the road, the beauty of DC's travel stations lie in the fact that they offer local spots the opportunity to serve up food for travelers – for example, some of the best local restaurants happen to be in Reagan National Airport, and Union Station is home to some great little food stalls for a last minute taste of DC! On your way out, be sure to purchase some matching sweatshirts or perhaps a hat or two to remember a great weekend in our nation's capital.
Travel Miles 101 has partnered with CardRatings for our coverage of credit card products. Travel Miles 101 and CardRatings may receive a commission from card issuers.