We just discovered a BRAND NEW sweet spot using British Airways Avios and it should help a whole lot of people in the US fly to Ireland for fewer miles than ever before:
There are now nine US airports with 'sweet spot' redemptions to Ireland! (hint: six of them qualify for 26,000 Avios round-trip flights eight months a year)
First, a background:
Aer Lingus is now owned by the same parent company as British Airways and they just formed their new program called AerClub using the familiar "Avios" currency.  There has been some doom and gloom in the past few days as it appeared the famous 'sweet spot' from Boston to Dublin (and Boston to Shannon) for only 12,500 Avios one-way in economy (25,000 round-trip) was being massively devalued in a somewhat sketchy manner.
This is somewhat true as here are the new Avios requirements:
13,000 Avios one-way in off-peak times
20,000 Avios one-way in peak times
During the peak times (mostly summer), the increase is a much more significant 7,500 Avios each way.
Five New Cities to Ireland Round-Trip for 26,000 Avios
The big news is that there are now five new airports (plus Boston which makes six) that can take advantage of this Aer Lingus sweet spot to Dublin (and Shannon from JFK and Boston)!  They are:
Chicago
Hartford
Newark
New York
Washington, DC
Fights to Ireland from these airports were previously 20,000 Avios one-way, but the wonderful change is that they now qualify for the 'off peak' award chart!
So that means one-way flights the eight months detailed above as off peak are now only 13,000 Avios (26,000 Avios round-trip).  That's absolutely incredible!
Even More Sweet Spots from 3 Additional US Cities
The other 3 US cities that Aer Lingus flies to also qualify for a sweet spot, though not quite as good:
16,250 Avios one-way in off-peak times
25,000 Avios one-way in peak times
This means flights from the following cities are only 32,500 Avios round-trip during the 8 month 'off peak' time (and 50,000 Avios round-trip during peak times):
Los Angeles
Orlando
San Francisco
Aer Lingus Award Charts for Reference:
Here are the Aer Lingus AerClub zones per their "spending Avios" page:
Notice that sneaky "exception" at the bottom!
Here are the Avios requirements for these zones: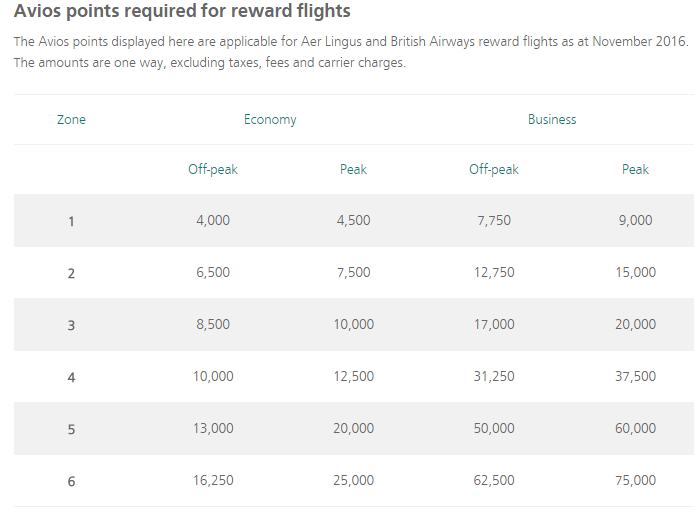 From the Great Circle Mapper, here are the distances for the Aer Lingus US routes: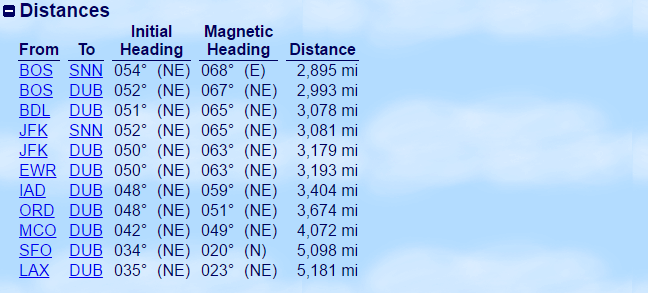 As noted above, the first six cities fit into Zone 5 and the final three cities are Zone 6 on the award chart.
One of our Travel Miles 101 community members booked an Aer Lingus flight to Boston using British Airways Avios and they were charged 26,000 Avios for the round-trip flight, so we are 100% certain that this off-peak chart is currently in effect.
It's time to take advantage of these brand new sweet spots!!