In the first few lessons we've given you the background needed to understand the travel rewards concept in general. Now we'll move into the planning stage for your card opening strategy. But before you actually open any cards, you need to have a sense of what types of miles & points would be most useful to you.
To start, you need to assess your current situation:
1. Local Airport(s):
Your local airport will be a large determining factor in how you plan your strategy. You need to determine first what flight options are available from your neighboring airport(s). You also need to consider some level of flexibility with driving to a larger hub if possible.
The larger airports will always give you greater flexibility and options, not to mention more direct flights.
To determine what flight options are available at your neighboring airports, you'll search for the airport Wikipedia page. The Google search would be "City Name or Airport Name or Airport Code airport wiki" ("Washington DC airport wiki", "Dulles airport wiki", "IAD airport wiki")
Scroll towards the bottom of the Wikipedia page and it will show you all the "Airlines and Destinations" that operate out of that airport. You're trying to get a sense of what options you have domestically and internationally (if any):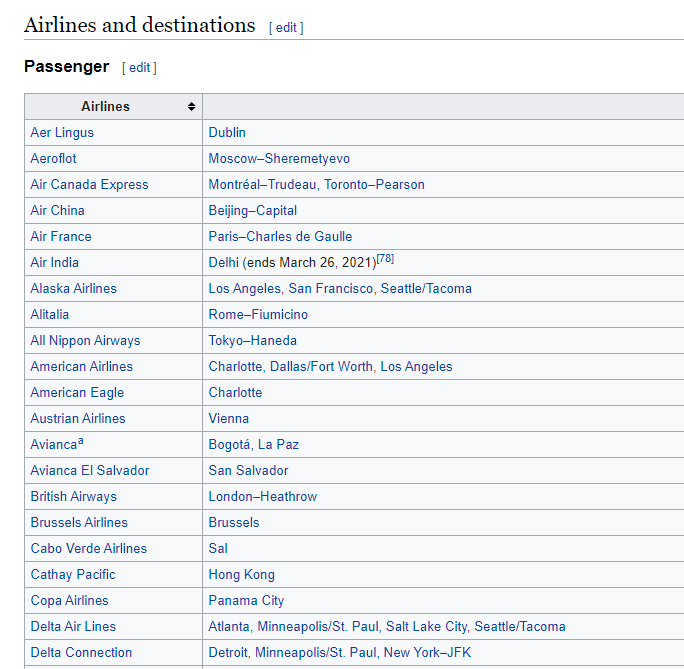 For domestic flights, you're looking to see if your airport is a hub for any of the major airlines. Generally speaking your best options are:
Southwest Airlines
American Airlines
United Airlines
Alaska Airlines
In the past we considered Delta and JetBlue not ideal for travel rewards purposes, but that has changed for the following reasons:
Jetblue: There is now a Jetblue credit card with a significant signup bonus and Amex Membership Rewards points and Chase Ultimate Rewards transfer to Jetblue, so it is actually fairly easy to accumulate Jetblue points now.
Delta: While they are notoriously bad at releasing 'Saver Level' award flights, the fact is there are a lot of Delta flights in the US and they are convenient for a lot of people. They are also easy to earn from the Delta personal and business credit cards and they are a direct transfer partner from Amex Membership Rewards, so you should give them some attention (especially if you live near a Delta hub).
As we discussed previously, for domestic flights, Southwest is a great option if your airport has a number of their flights (or even just connecting through their hubs (Baltimore, Chicago, Houston, Dallas, etc.) if you live near a smaller airport).
For most non-hub airports, the main legacy airlines will give you options to fly direct to a few of their hubs and you have to connect from there.
If you have specific destinations you often visit, it would help to search for award availability at the airline's websites let's say 6-months in the future just to get a sense of what real options exist for you. There might be a route, but there might not be a lot of award seats for whatever reason, or they might be plentiful! It always helps to check before you start opening cards.
2. Travel Plans in the next 1-2 Years:
The timing and potential destination(s) of your upcoming travel will directly impact how you design your card strategy.
Timing:
Let's say it is only a few months prior to your travel plans and you're just getting started; in this case traditional frequent flyer miles are quite unlikely to provide you any value as you'd have to open a card, hit the minimum spending requirement, wait for the points to post to your account and then hope there's some availability left.
Not a good strategy.
In this hypothetical, your best bet would be to open up one (or more) of the 'fixed value' cards we spoke about in Lesson 4. You can then use this card to pay for your travel and then after the fact you'll log in and redeem your miles for a statement credit.
Since the initial travel expense can be part of your minimum spending requirement, it provides a lot of flexibility and some nice value even though you didn't have time to gather traditional frequent flyer miles.
This helps illustrate that there's always a way to save money! It might not be optimal and 'free', but it sure beats the alternative of paying full price.
Generally though if you have 8+ months (the more the better) to gather points, then you can likely go the traditional route of gathering miles with specific airlines and especially with the transferable programs.
Time of year:
Time of year also matters, not only for the required points, but for award availability.
As we illustrated in Lesson 5, you can take advantage of the off-peak chart that American Airlines offers to save a significant number of miles; in some cases this 'off-peak' time period lasts for 6+ months of the year, so you want to consider if this is a possibility for your travel plans.
If you can avoid major holiday weeks and most of the month of July, you'll find award availability to be plentiful, especially with enough planning time.
Destinations:
Your potential destination(s) will certainly impact your card opening strategy; while it is nearly impossible to say with certainty where you'll precisely travel in the next few years, it does help to have some sense of your larger travel goals.
Do you expect to travel mostly in the US?
If so, depending on your airport options, you might consider Southwest points and then a combination of transferable points and specific US airline points to give you options for future redemptions.
Are you potentially planning international trips?
The points required will be significant, especially if you're planning on taking 2+ people on the trip. That means multiple cards will be required and a longer time frame necessary to gather them. Transferable points will be an ideal starting point for international trips and then you want to jump on larger 50,000+ point bonuses with major currencies like United and American Airlines miles.
We ideally like to have enough points to book round-trip flights using either American miles or United miles so you have options in both major alliances.
Depending on timing and specifics for your airport and destination this might not be plausible or even necessary, but the general theory holds that you don't want to put all your eggs in one basket with flight redemptions.
At the very least it is quite helpful to have enough points to book your round-trip tickets on one alliance and then one-way on the other. Here's how this would look in a real-world example:
Let's say my wife and I wanted to visit Europe during the summer. We'd expect it to cost 120,000 miles round-trip for the two of us.
We would aim to earn 120,000 United miles (through United cards and Chase Ultimate Rewards) to book the two round-trip flights on United or a Star Alliance partner. We generally find United and Star Alliance partners to be the most user-friendly and would be our preferred option to Europe.
Just in case we could only find one-way Star Alliance availability that we were happy with, we would also want to have 60,000 American Airlines miles so we could each book a one-way flight on an American/OneWorld Alliance partner flight.
This trip would then use 60,000 United miles for two one-way flights to or from Europe and 60,000 American miles for the other two one-way flights to or from Europe.
You are always looking for options and flexibility!
Hotels at your destination also come into play when planning your strategy. We'll discuss hotels in a future lesson, but as we mentioned previously, hotels are part of the low-hanging fruit of the travel rewards world.
While you almost always want to focus on award flights first, as they are the constraint in the system, hotels can be a huge travel savings and you nearly always will find award rooms available if you have the points.
That said, if you have a specific destination in mind, you need to scout out the chain hotel options in that city before focusing your points-earning strategy for that trip. It sure wouldn't help to amass Hyatt points if there wasn't a Hyatt hotel within 200 miles of your intended city!
3. Number of People Traveling on Points:
It is fairly obvious that the more people you have traveling with you, the more points you'll need for a particular trip. If one round-trip flight costs 60,000 miles to Europe then two award tickets will cost 120,000 miles, three will cost 180,000 miles, etc.
What isn't abundantly obvious at first, but might be upon further reflection, is that the more people you expect to travel with you using points on the same trip, the fewer flight options you'll have to choose from.
We've spent the first few days of this course painting the picture of what you need to do to be successful with travel rewards and we've said repeatedly how difficult it can be to find award availability on specific routes and specific dates.
This becomes more pronounced when you start searching for 3+ award seats on the same flight (and much more pronounced when searching for anything over 4 award seats).
None of this makes 3+ tickets impossible by any stretch of the imagination, so please don't get discouraged if this is your situation (like it is for both Alexi and Brad's families and we both succeed significantly with travel miles)! However, it is important that you know that it is always going to be harder to book for 3+ than for 1-2.
4. Travel Style:
What type of traveler are you? Do you like staying at luxury hotels? Or are you okay with less luxurious accommodations?
Luxury hotels eat up a lot of points, so if luxury is essential to you generally or just for one particular special trip, then you need to add extra time into your planning strategy and focus more on hotels than you normally would.
If you have your heart set on one specific hotel (a Park Hyatt for instance) then hotel availability becomes nearly as important as flight availability, so you must factor this in when planning your strategy and actual trip.
What's coming up next:
Over the next few days we hope you keep these background considerations in mind as we introduce you to different card opening timetables and strategies
We'll then move into a discussion of our top credit cards, designing specific card opening strategies based on travel goals, meeting spending requirements and then actually starting to execute your plan.