How Airline Awards Charts Work
Today we want to focus on the conversion of miles into award flights by understanding airline award charts and the three major airline alliances.
But first, some useful information about what you generally can do with your Award Miles:
You can get award tickets for yourself on the airline whose miles you've accumulated.
You can get award tickets for other people (family, friends, etc.) on the airline whose miles you've accumulated.
You can get award travel for yourself and others on

alliance partner airlines

of the airline whose miles you've accumulated.
It is helpful to know that you usually cannot transfer airline miles from your account to another person's account (even a spouse) without paying a huge fee.
There are some rare instances where you can transfer airline miles. For instance, British Airways and Jetblue allow you to pool miles across family members' accounts, and most of the major hotel chains allow you to transfer your points, but as a general rule you should consider that points in one person's actual airline account cannot be combined with another person's points.
It is possible, therefore, find yourself in a situation where you have enough points all together for an award redemption, but because the points are split between accounts you cannot actually book the ticket, so be mindful of this.
In a prior lesson we mentioned how valuable transferable points can be, and these are other instances:
Chase Ultimate Rewards points can be transferred to the airline/hotel rewards account of a family member who is an authorized user on your credit card account.
Chase Ultimate Rewards can also be transferred to another Ultimate Rewards account if they reside at the same residence as you. This could be you spouse, partner, children, roommate or even your mortal enemy.
AMEX allows you to transfer their Membership Rewards points to the rewards account of an authorized user on that credit card account.
That adds another layer of flexibility to those points.
A Background on Airline Award Charts:
Which Award Chart to Use?
This trips up nearly everyone at the beginning, so it's essential that you remember this:
Each airline has its own award chart, and even though they are often quite similar, differences do exist and you can exploit those to your benefit; we call these 'sweet spots.'
Because of the wonders of the airline alliances and partnerships, you can use one miles currency to book flights on many different airlines. However, for the purposes of the award chart, it isn't relevant which actual airline's plane you'll be flying on — all that is relevant is the currency you're using to book the flight.
To determine how much the award flight will cost you, you must look only to the award chart for the airline where you have accumulated the miles.  For instance, if you wanted to use United miles to fly United, you would go to united.com. If you wanted to fly Singapore Airlines and use United miles, you would also go to united.com.  It's all about the miles you have, NOT the plane you're flying on!
Understanding Airline Alliances:
There are 3 main worldwide airline alliances. Having points on one alliance member allows you to book award flights on the other alliance partner flights (always pending award availability).
This means you could have points from just one member of each alliance and potentially fly on dozens of airlines across all three alliances. Alliances make frequent flyer miles much more powerful.
Star Alliance (click to see all partners): United, Air Canada, and Lufthansa are all main draws for US based travelers. United miles are quite easy to accumulate (United cards and Chase Ultimate Rewards), though Singapore Airlines is actually a transfer partner of all the transferable points programs and can be viable in many cases (though they do pass on 'fuel surcharges' on many non-United partner redemptions).
OneWorld Alliance (click to see all partners): American Airlines, British Airways, Cathay Pacific and Iberia all make this a top-notch alliance for travelers. American Airlines miles are plentiful as you can continually open the Citi AA cards to earn the signup bonuses many times over. British Airways miles are another that are quite easy to come by as a Chase UR and Amex MR transfer partner.
Sky Team Alliance (click to see all partners): In our opinion this is the weakest of the 3 major alliances; Delta, Air France and Korean Air are the top draws here. Delta is notoriously difficult to find award flights at the Saver Level, so that knocks out a huge portion of this alliance for most US based travelers. Air France often has promotions to fly to Europe and as an Amex MR partner, it could be an attractive option.
"Normal" Redemption Levels to Note:
We put "normal" in quotes here because as we've said, there are differences on a chart-by-chart basis, but it is important that you have a framework for what some major redemptions cost at the Saver Economy level (Note: unless in dire circumstances, we ONLY book Saver Level flights):
One-way flights in the continental United States: 12,500 miles
One-way flights from the continental US to Europe: 30,000 miles
One-way flights from the continental US to Hawaii: 22,500 miles
One-way flights from the continental US to the Caribbean: 17,500 miles
Let's say a standard flight using United miles costs 12,500 miles to fly one-way in the US. This would be the case whether it was a flight from New York to Los Angeles or a simple hop from New York to Miami because their award chart says a one-way flight in the continental United States costs 12,500 United miles.
Example of Saver Level Flights: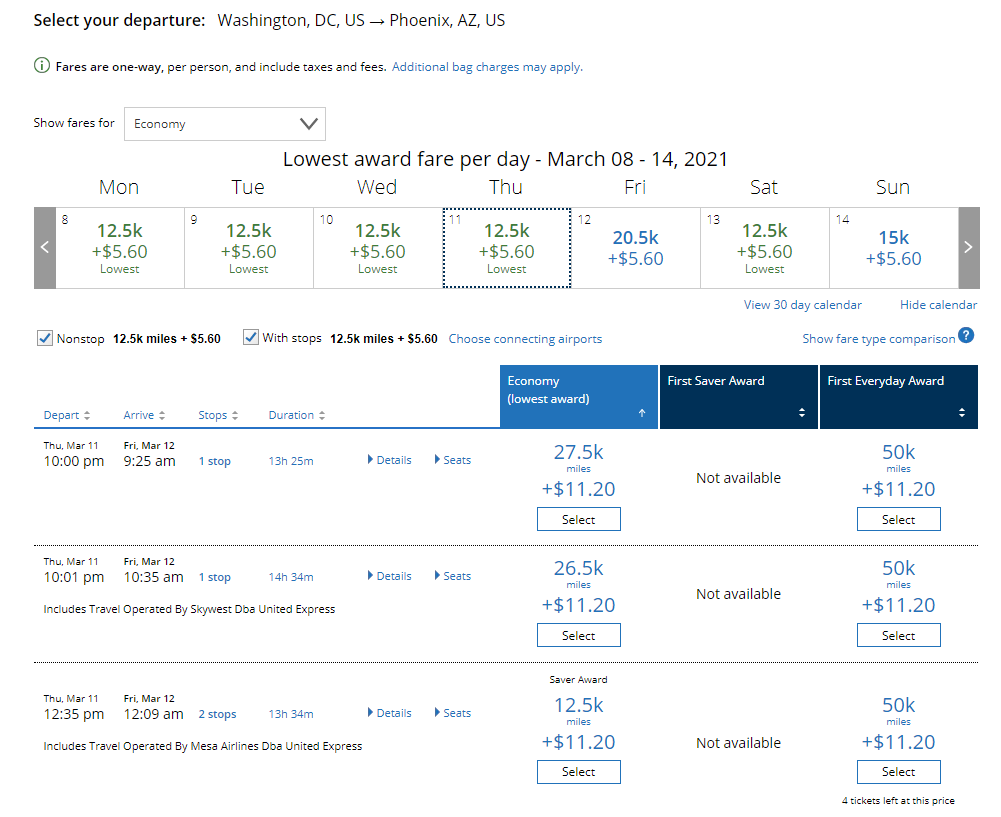 You'll notice the "Saver Award" is 12,500 miles while other Economy flights can cost as much as 27,500 United miles on this same journey from DC to Phoenix!
Sweet Spot Redemptions:
Our definition of sweet spot redemption:
You've found a way to exploit an award chart (usually of a partner airline) to fly a route for fewer miles than the standard redemption.
It is important to note the aforementioned standard redemptions as foundation to know how to accurately assess if you've found what we call a "sweet spot" redemption.
Here are some examples:
British Airways (BA) Award Chart:
We will discuss BA and their miles (Avios) in great detail later in the course, but it would be silly if we didn't start off any discussion of sweet spot redemptions with the BA award chart as there is huge value to be had here.
BA bases their redemptions on the distance the flight actually travels.
Their award chart is split into different distance "zones" and the most lucrative are generally:
Zone 1: If the one-way flight is under 650 miles in distance, it only costs 4,500 Avios one-way (9,000 round-trip)
Zone 2: If the one-way flight is between 651-1,150 miles, it costs 7,500 Avios one-way (15,000 round-trip).
Important Note: Zone 1 flights "for reward flights originating or terminating in the United States of America" are 7,500 Avios one-way. All other Zone 1 flights throughout the world are 4,500 Avios.
Keep in mind that this award chart governs the redemptions on their partner airlines, which in the US means all flights on American Airlines and Alaska Airlines
Some real-world examples:
American Airlines Off Peak Chart:
Please navigate to the American Airlines Award Chart by clicking this link:
American Airlines Award Chart Link
If you click "Details on Award Travel" near the top of the page, you'll see a list with "MileSAAver OffPeak dates."
The AA off-peak chart is quite generous as for instance their off-peak schedule for Europe runs nearly 4 months.
And in this case you'd only pay 45,000 AA miles instead of the normal 60,000 for a round-trip to Europe.
Hawaii Sweet Spots:
Hawaii is a top destination for travelers and there are some solid sweet spots available here compared to the normal 45,000 mile round-trip requirement:
Hawaii from the West Coast using BA Avios: There are currently 10 West Coast airports where you only need 25,000 Avios for a round-trip flight to Hawaii on either AA, US Air or Alaska Airlines.
Using Singapore Airlines miles to fly on United airplanes costs 35,000 Singapore miles. You find availability on United, transfer your points (all major programs transfer to Singapore) and book the flight with Singapore miles.
Using Korean Air miles to fly on Delta airplanes costs 25,000 Korean Air miles. The hardest part with all Delta flights is finding award availability at the lowest Saver Level, but if you can do that, you can book using Korean Air miles to get this round-trip flight for only 25k miles.
Action Steps:
Click on the American Airlines award chart link above and see if you can use their Off-Peak chart for future sweet spot redemptions.
Google "Your City Airport Wiki" (for instance, "Boston Airport wiki") to find your local airport wikipedia page. Scroll down to see all your available options on American Airlines and Alaska Airlines. These direct flights can be flown using BA Avios miles. Will any of these benefit you in the future?