Today we bring you a Travel Miles 101 success story from a community member who blogs as Mrs. TJL at TheJollyLedger.com where she talks about financial independence and travel.  She recently used rewards points to take her family to Walt Disney World and saved thousands in the process!
Not only does Mrs. TJL detail how she put the trip together, but she also gives you 8 tips each on saving money at Disney World and how to have a stress-free Disney vacation.  This is really helpful info and without further delay, here's is Mrs. TJL:
Mrs. TJL's Travel Miles 101 Success Story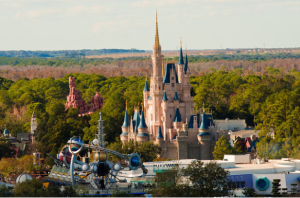 We were complete and total newbies when we started our travel rewards adventure to Disney World back in January, 2016. By September, we had accumulated over 250,000 travel reward points through lucrative credit card bonuses. We executed a 6- night/ 5-day trip that would have cost over $5,000 but ended up only costing $1,510!
We learned how to manage and utilize travel reward credit cards by taking the Travel Miles 101 free online course offered by Brad Barrett and Alexi Zemsky. Armed with excellent credit scores and lots of time to plan (9-18 months), we set out to fund a large portion of our Disney Vacation.
The Ultimate Disney World travel rewards point guide
Brad Barrett saved us a lot of time and headache by compiling a very extensive guide to maximize travel rewards cards to pay for airfare, hotel and park tickets to Disney World at his site RichmondSavers.com. I recommended following his plan exactly, or hone it slightly to suit your specific trip.  He also offers a completely free program where he works 1-on-1 with you through the Keys to the Magic Kingdom Challenge.
Our cheap trip to Disney World
Although we followed the guide pretty closely, here is an outline of how we took a cheap trip to Disney World.
Pre-departure Costs:
Hotels, Airfare, Disney World tickets and more!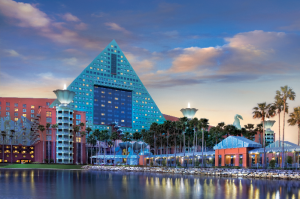 Pre-departure costs including fees associated with hotels, and airports were only $347! This included the resort fee of $25 per day plus tax, baggage fees and airport parking. Hotel, airfare and 5-day Park Hopper tickets were completely free using reward points.
Between my husband and I, we used a total of seven (7) rewards point credit cards to subsidize our Disney trip. The hotel costs for 6 nights/ 5 days were covered by 50,000 SPG points earned on the Starwood American Express cards.
The Dolphin hotel is located near Epcot, with free shuttle and boat (!) transportation to all the Disney World theme parks. We found it to be a convenient and comfortable location with plenty of amenities including shopping, dining and pools.
Round-trip economy airfare to Orlando for three people was covered by one (1) Chase Sapphire Preferred card. We also booked an airport hotel room the night before our departure with leftover points.
The 5-day park hopper Disney World tickets were purchased through Undercover Tourist, which gets coded as Travel.
Note: buying tickets directly through Disney does not code the purchase as travel. We purchased each ticket separately from Undercover Tourist (free shipping!) using three separate fixed value cards; One  (1) Barclay Arrival+, and two (2) Capital One Venture cards.
All points were earned through signup bonuses and regular spending.
Other Disney World Expenses
The real spending began once we finally arrived at Disney World. Before the trip, I set a budget (see estimated costs) of $1,518, but we only spent $1,163!
Expenses at Disney World
The largest expense for this trip was for groceries, restaurants, gifts and souvenirs we purchased while at Disney World.
We eliminated the cost for the taxi service, Happy Limo, by redeeming 15,000 remaining reward points on the fixed value cards. Be sure to make reservations with them for service to and from the Dolphin hotel. Our driver Donald did a fantastic Donald Duck impersonation!
We further lowered our costs by receiving a $200 statement credit from a Disney Premier Visa. The annual fees on this card is $49, making our take a decent $151!
Overall, the entire trip to Disney World for 6 nights/ 5 days cost only $216 per day!
 Tips on Saving Money for a Trip to Disney World
Use a relative or friend as a pet and/or house sitter. Pay them back with a nice gift presented with a home-cooked meal. They will want to hear about your trip!
Get groceries delivered to the hotel through We Go Shop. We spent $126, including delivery fees, taxes and tip. This covered all of our breakfast and lunch expenses. Ensure that your room has a mini-fridge; we were able to keep milk, fruit, yogurt, cheese, lunch meat and creamer fresh all week. Every day we would eat breakfast in our hotel room and pack a lunch for the parks. It was wonderful to be able to stop and eat whenever we got hungry without having to decide where to eat or wait in lines for food. We ate out every night and this was enough to feel like we were on vacation and splurging.
Bring reusable containers and water bottles. The hotel replenished our bottled water and coffee every day for free. In the parks, any quick service restaurant will provide you with a free cup of ice water to fill water bottles during the day. No need to pay $4 for water! Awesome!
Bring fun dress up clothes for your children (and yourself?). This creates the illusion that they are getting a special treat without costing you a dime. I also brought make-up for my daughter and let her wear it to dinner every night (something she doesn't get to do at home). To get a make-over and princess dress at Bippidy Boppity Boutique (yes, there is such a thing), costs over $100. Before we left, I purchased Japanese outfits for all of us using an Amazon Rewards Card. After the rebate of $70, I paid a total of $11 for all our purchases! She is still wearing this dress!
Buy your child a gift card. You choose the value and give control of money management to your child. When the money is gone, it's gone.
Bring your own poncho. It rained every day in the late afternoon and evenings. Ponchos at Disney World cost $9. We bought ponchos at Walmart for $5.
If you need to book a hotel the night before departure, try to find a hotel that offers free parking. We didn't and ended up paying nearly $100 in long-term parking fees.
Decline daily linen service and receive a hotel voucher of 500 SPG points/day. We earned 2,500 Combined with our leftover SPG points we have enough for another hotel room for a future trip!
Tips for Having a Stress-Free Disney World Experience
Travel during the off-season. It makes finding air and hotel availability easier and decreases the chance of heavy crowds at the theme parks.
Make reservations for dining ahead of time. By choosing and reserving restaurants for every day of our trip we avoided the dreaded, "I don't care, where to you want to eat?" conversation that every couple encounters. It made the whole process stress-free knowing when and where we would dine each night.
Use a crowd calendar to plan light crowd days to visit each park. Kenny the Pirate puts out a good one.
Arrive at the park early. Crowds get insane in the afternoon. Arrive early and enjoy the place to yourself (mostly).
Reserve rides/attractions through Fast Pass+. We chose three fast pass rides for the mornings between 9 am and 12 pm.
In the afternoons, return to the hotel to rest and play in the pools. This helps to rejuvenate everyone and rest weary feet.
Let the kids do more than just ride and shop. At Epcot, there were multiple "Kid Stop" locations for art and craft activities. At Animal Kingdom, kids can be a wilderness explorer and do the activities and record observations along the trails and throughout the park.
Sit and enjoy the fireworks each night. Even better if you can see them from your room like we did!
Travel Miles 101 has partnered with CardRatings for our coverage of credit card products. Travel Miles 101 and CardRatings may receive a commission from card issuers.