Technically, we invaded Seattle first. But international invasions make for more exciting headlines.
In early 2016 I learned about Brad and Alexi and Travel Miles 101. Taking their free course (how is this course still free?!?) made me believe that my need to travel and my need to reach financial independence may have found their happily-ever-after.
Within two months, I secured Chase Sapphire Preferred, Chase Ink Plus, SPG and Hyatt credit cards. My husband joined the game with his own CSP, SPG and Hyatt. As the point bonuses rolled in we spent hours dreaming of the adventures ahead of us.
We took a few long weekend road trips over the summer and a quick flight to visit family in Chicago, all using  our points. As our second anniversary approached in September, we evaluated point options and destinations on our bucket list, and decided on Seattle and Vancouver for our celebration trip.
THE TRANSPORTATION
We live two hours north of Atlanta, so we often commute south for the cheapest fares and most nonstop connections. But that trip-before-the-trip can be exhausting and create additional stress when we hit the inevitable traffic nightmare.
For our anniversary, we spent a few more points to fly out of our local airport. Flights from
Atlanta would have cost around 42,000 UR points transferred to Southwest. We paid 52,000 points to fly United, booking through the Ultimate Rewards portal. The convenience and peace of mind was worth the extra 10,000 points.
We chose Uber for our transportation to and from the airport at a round-trip cost of $18.50, a significant savings off the $81 we would have paid to park onsite.
Our flight was round-trip to and from Seattle. We booked Amtrak between Seattle and Vancouver – the Cascades line.
Train tip: We found the 4-hour ride to Vancouver stunningly beautiful during daylight hours. Returning on the same track took over 5 hours and in the dark, it was far less appealing. In retrospect, we would schedule our return flight directly from Vancouver.
THE HOTELS
Our lodging in Seattle was the Westin Downtown. The hotel was ideally located – close to the train station and just a few blocks from Pikes Place Market, the monorail and literally hundreds of restaurants and shops. We took advantage of SPG's stay-4-nights-get-the-5th-night-free offer, spending 48,000 points for 5 nights of luxury accommodations in the heart of downtown. List rate for those 5 nights, plus tax, would have been around $1,200.
Hotel tip: We declined daily linen service, earning an additional 500 points per night. Those 2,500 extra points come pretty dang close to covering another room night at an SPG category 1 hotel! (For the record, I'd make my bed more often if I got points for it….)
In Vancouver, we spent two glorious nights at the Hyatt Regency. When making the reservations, I noted that we were celebrating our anniversary, and immediately upon arrival we were presented with a free breakfast voucher worth almost $50, plus tip. The buffet was expansive and featured traditional North American cuisine, as well as Asian offerings.
Service was impeccable throughout our stay and we were given early check-in when we arrived at 11:30 a.m. a late checkout of 2 p.m., giving us extra time to explore the city. The facilities were modern and clean and high-tech, with a well-furnished gym and outdoor pool. Can't recommend this property highly enough. We spent 24,000 for our two nights in Vancouver. List rate, plus taxes, plus breakfast, would have run $600.
Our final vacation night was a quick overnight at the Crowne Plaza at the Seattle Airport. More than I wanted to spend at 13,000 points through the UR portal, but my options were limited and the location was ideal. Again, if we had to do it over, we would spend that last night in Vancouver and save ourselves the 5-hour return train ride and throw-away night at the airport hotel. Live and learn!
FUN & FRUGAL TIPS
Grocery – as hopeless foodies, it is important for us to set priorities for our food budget. We ate a couple of nice breakfasts out, but otherwise stocked our mini-fridge with fruit, yogurt and protein bars. A bottle of wine and a few blocks of cheese cost $20 at Safeway instead of $60 at the hotel bar. Bonus points for buying our Safeway gift card at Staples using our Chase Ink and scoring 5x's points.
Dining Out – happy hour specials can be great opportunities to enjoy authentic regional cuisine at a fraction of the cost.
Do a little research and ensure the food menu that accompanies those half price wine glasses is worth the night out. Both Seattle and Vancouver have affordable and plentiful seafood eats, but don't miss the ethnic cuisines. We loved the Japanese restaurants in both cities and had the best sushi of our lives at Miku on the water in Vancouver. Not cheap, but the salmon aburi was truly unforgettable.
In Seattle, the streets around Pikes Place Market are bustling with hometown specialty shops, including the heavenly Piroshky Piroshky with sweet and savory Russian pastries. Using our CSP, we received 2x's points for all restaurants.
Getting Around Town
Both Seattle and Vancouver have adequate public transportation options, but they are also extremely walk-able cities. So if you're up to it, take those gorgeous neighborhoods by foot and enjoy the sights and smells of the cities. Uber and other ridesharing services are plentiful and cheap, so if your feet are giving out and there's no train station in sight, log into your app and you'll have a car within moments.
Biking can be a great way to see a city or specific neighborhood. After an unfortunate incident in NYC last year when I learned my anxiety level runs too high to share a roadway with actual moving vehicles, my husband and I agreed to keep our biking to dedicated bike-only or bike-and-pedestrian paths.
We rented bikes and pedaled through Vancouver's Stanley Park, passing some of the most iconic views in the city. For a total rental cost of $20 bucks, this experience is not to be missed.
Finally, remember to schedule some time in the great outdoors. Big cities are full of culture and adventure, but my favorite day of our trip was the only day we rented a car.
We drove to Mt. Rainier and hiked for hours, hitting four different locations I'd mapped ahead of time – the Sunrise Visitors Center, Naches Loop Trail, Grove of the Patriarchs and Reflection Lakes. Most of the day felt like I was drifting through my own Pinterest Travel board as we walked from alpine lakes through fields of wildflowers to snowcapped mountain ranges and ancient oak groves.
Total cost was an $80 car rental (which was upgraded at no charge to a Mercedez SUV because the vehicle we reserved wasn't there…I was NOT bummed about that) and a tank of gas (bonus points for buying Shell Gas cards at Staples using my Chase Ink – 5x's points).
Worth every penny.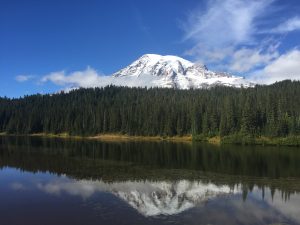 THE BOTTOM LINE
What our trip should have cost – cash:
Lodging              $1,950
Flights                $1,200
Transportation $ 300 (train, ferry, public transit, car rental, Uber)
TOTAL               $3,450
What our trip actually cost – cash:
Lodging              $ 0
Flights                $ 0
Transportation $ 300 (train, ferry, public transit, car rental, Uber)
TOTAL               $ 300
TOTAL SAVINGS: $3,150
That's an amazing number, but the real beauty of travel rewards for me is that it opens doors to destinations that I wouldn't otherwise visit. Let's be honest, I probably wouldn't fly across the country to see Seattle and Vancouver for 4 Grand.
The hubs and I would commit to a vacation budget of $1,000 and spend yet another week at the beach in an AirBnB, cooking in our condo every night and creating beautiful memories of long sunrise walks on the beach, grilling throw-downs, and Yahtzee tournaments. But there are plenty of those trips in my past, and I'm betting you've got a few of those in yours, too.
The adventures I'm looking for now are the unexpected ones. I want to spend a week in Seattle and never see a drop of rain, then sit in a breakfast joint and laugh with the locals that they've got the rest of the world fooled into thinking it rains all the time in Seattle.
I want to crest an unbearably steep mountain trail and swallow back tears at the beauty in front of me.
I want to sit in a comedy club in Vancouver and listen to local comics good-naturedly rib Americans over how cheap our cheese is in the States. Who knew we had cheap cheese? Apparently it's a real thing.
But I wouldn't know about those things sitting at home scrolling through Pinterest. Or by spending another week at the closest beach town.
And that's why Travel Miles 101 has been such a game-changer. The whole world is open now, not just the places I can reach in a 5-hour drive, for under $1,000.
And what a wonderful world it is.
Based in Tennessee, Christina spends her days helping clients tell their stories and add value to their customers' lives through her work at a marketing and communications firm. She and her husband hustle hard every day in their very grown-up, 8-5 jobs, while actively pursuing financial independence through joyful frugality, real estate investing and travel hacking.