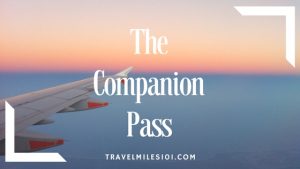 As I approach the 1st anniversary of my graduation from the Travel Miles 101 free travel rewards course, I stop to ponder an appropriate gift to commemorate the occasion.
An Egyptian cotton cover for my travel pillow?
A stainless steel travel water bottle?
A leather passport cover?
Wait a second. Paper. You're supposed to give paper on a first anniversary.
Well how about this little number?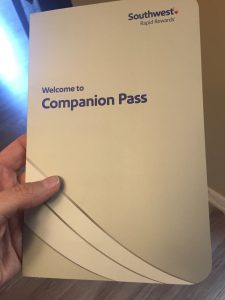 Yes, that will do nicely.
12 months into this amazing journey of rewards travel, I've secured the holy grail of the game, the Southwest Airlines Companion Pass, and I have over 110,000 Rapid Reward miles for travel, and a companion of my choice (the hubs) flies free on all my flights.
Because I reached the required 110,000 miles earned on February 1, 2017, we have the Companion Pass for 23 months – through December 31, 2018.
Here's how we did it.
In November 2016, I applied for the Southwest Plus and the Southwest Premier cards in one day. Both went pending.
Bummer.
That day, I called the Chase reconsideration line. The phone agent couldn't have been more accommodating. She immediately offered to move $15,000 from my existing Hyatt credit line to open the Southwest Plus card. I accepted.
When I asked about the Premier application, she checked and said the card she just approved was the only pending application in the system. She said not to worry, that there may have been a computer glitch, and to call back tomorrow.
The next day there still was still no record of my second application. So instead of re-applying for the Premier card, I decided to try for the Southwest Business card.
My husband and I own rental properties so we have an LLC, EIN and actual cash flow to show for it, so I thought this was the smartest move.
But when I hit "submit" on my application, I received a message saying, "Please call to discuss further" with a specific phone number between the hours of 8-5 Monday through Friday.
At 8:05 a.m. on Monday morning, I called the reconsideration number I had been given. Again, the phone agent was uber considerate and we spent 28 minutes chatting and then holding while she input new information.
I fielded numerous follow up questions, including:
What type of business?
How much revenue this year?
Overall profit or loss?
How much revenue projected next year?
How many business credit cards did I hold?
What kind of day job was I working?
How much income from that job?
After inputting all of the details I gave, she came back on the line and said I had been denied for too many recent applications. The agent calmly said that once I was officially denied, she could now go back through the reconsideration process.
Once again, I was put on hold. She came back and asked if she could move $9,000 from my Chase Ink to open the new Southwest Premier Business card. I tried to act super casual when I said, "I think that should work."
Two minutes later….Approved!
We were so excited when we got the approval because it felt like half the battle was won. But I had read enough stories to know that there were still plenty of opportunities for me to screw it up, so I remained on high alert.
Making Sure I Hit the Spending Requirements in 2017
I used the cards a couple of times in December to show activity, but waited until January 1 to begin the heavy spending.
Because we had several large business expenses, we were able to achieve the minimum spend quite easily. My statement close date was January 9. On January 7, I recalculated my spend and saw that I still needed around $1,500 on the business card. I had two additional purchases to make, which I did that day.
One of those purchases posted on January 9. The other took nearly 72 hours to post, which left me several hundred points shy of my target in January.
I called Chase to see if anything could be done, and they were very kind, but said they did not control when items posted to the account, that was the store's decision.
The agent was able to move my statement closing date to February 1, though. Guaranteeing that I would earn the coveted CP nine days earlier than my previous statement date. Since I had already spent the required amount, January was spent mostly strumming my fingers on my desk waiting for the month to close and my points to post.
On February 2 I received the glorious news: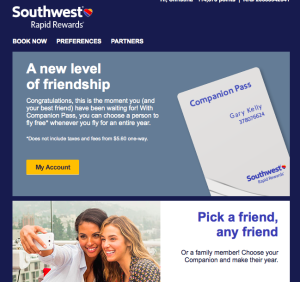 Sweet victory is mine!
Tips on Earning the Companion Pass
If you're working towards the Companion Pass, complete your spend at least four days early – I had read so many stories that warned against getting too close to the minimum spend before January 1, that I did the majority of my spending after January 1. But I had no idea it could take up to 72 hours for a vendor to post to my Chase account. Don't make the same mistake. Save yourself some gray hair and finish your spend early.
If a business card is plausible for you, I highly recommend going for one Southwest consumer card and one business card to earn the Companion Pass.
I'm 40 days into Companion Pass ownership and we've already taken an emergency trip to Chicago for a family health emergency (happy ending, no worries) and we've booked a second Chicago trip, a long weekend in Denver for a race, and July 4th in San Francisco.
Need Your Help
What's next? Tell me where I should go with my Companion Pass – your favorite long weekend, out-of-the-way, unforgettable place. I'm looking for adventure and I want your advice! Give me your ideas and I'll share all our escapades. Thanks, friends!
Based in Tennessee, Christina spends her days helping clients tell their stories and add value to their customers' lives through her work at a marketing and communications firm. She and her husband hustle hard every day in their very grown-up, 8-5 jobs, while actively pursuing financial independence through joyful frugality, real estate investing and travel hacking.