Here's a guest post from our Travel Miles 101 community member Frank Little about his trip to the Galapagos Islands using miles & points:
Frank's Tips for a Budget Trip to the Galapagos
I recently visited the Galapagos Islands in Ecuador and thought it would be helpful to share a few things I learned. Prior to my visit, I read blogs on budget traveling there. My experience updates the information you can find with Google.
Points wise, my spouse and I were fortunate to squeeze in our miles redemption on United Airlines before the rule changed last fall. We used 40,000 miles (20K each) to visit Belize, Ecuador, Peru and Puerto Rico. That's 40,000 miles total. We supplemented this with 20,000 British Avios for an intra-Peruvian flight, and Southwest points to get to and from Latin American. We used mostly flexible points (Chase UR, Amex MR) and travel cash reward cards (Cap One Spark Miles, BOA Travel Rewards) to book all of our hotel, airbnb and hostel/hotel stays.
I'm sharing details from the Galapagos stint of our travels because it is reputed to be a very expensive place to be a tourist. As a budget tourist it seemed intimidating to me based on what I read. Our experience, however, proved otherwise. My spouse and I are on a 6 month sabbatical that has us traveling on points/miles, and we have a very limited cash budget of $30 a day to meet our on-the- ground needs. Fully 2/3's of that $30 per day must come from cash card or checking account bonuses we've accrued.
Most of the information out there regarding traveling to Galapagos concerns booking a cruise to tour a variety of the islands. Second most popular are the island day tours. You'll find a wee bit of information on super-budget touring. If you are interested in the former two options, the following will only be a novelty to you.
For our 8-day visit we spent a total of $500 (not including hotels and flights, covered by miles). That included the $20 fee we each had to pay for a special Galapagos tourist card (you purchase in an Ecuadorian airport in advance), the $100 we each had to pay to the Galapagos Nat'l Park upon arrival in the Galapagos airport (one of two airports), $50 each we spent on a round trip ferry ride to a second island, and $10 each on snorkeling gear we rented. We spent only the remaining $70 each on food.
So how did we entertain ourselves for 8 days so cheaply?
We split our time on the two most human-populated islands of the Galapagos, Santa Cruz and San Cristobal. We like meeting local people, learning about their culture and eating food they eat. Of course we were attracted to the seemingly endless options to view wildlife but we also appreciate knowing who lives there.
Three of our seven nights lodging was in a hostel that provided a communal kitchen. One hotel provided a hearty free breakfast. Our first hostel didn't provide breakfast, so we went out two of the mornings to a local simple restaurant (called a "kiosco") on Binford Street. Each day we left well-fed after spliting a single desayuno (breakfast) of juice, coffee, fried egg, plantain ball and stewed beef. One morning, instead, we got some fresh fruit and yogurt and simply watched the comings and goings on the port.
For lunch we usually split an almuerzo or merienda (lunch special) that always included fresh fruit juice, a hearty bowl of soup (with fish, beef or chicken), and a plate with rice, beans and choice of fish, beef or chicken, prepared various ways, and sometimes including pureed yuca (a delight), or a small salad. These hearty feasts could be had for $5 each (that's $2.50 per person, if you're sharing) on Santa Cruz Island, or $4 each on San Cristobal. We also bought a large bag of plantain chips that was a nice snack. When we didn't have a kitchen, our dinners usually consisted of our each getting a $5 merienda again.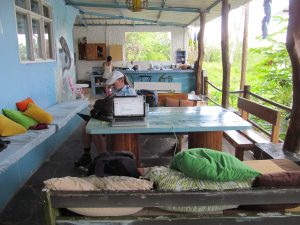 From our hostel on the island of San Cristobal in the capital town of Puerto Baquerizo Moreno, we walked six blocks beyond the tourist grocery store (very pricey) to the Mercado which had $4 lunch kioscos on the second floor and fresh produce on the first floor. After eating hearty lunches, we visited the local stores around the mercado to purchase fresh produce, fresh meat and fish, eggs, and other sundries, we spent less than $12 and provided 5 hearty meals for the two of us.
Activity wise, both islands we were on provided several free, walkable options to amazing beaches, snorkel spots, swimming holes, and visitor centers with wildlife viewing. We swam with sea lions, turtles, marine iguanas, sharks, saw amazing fish and various giant birds.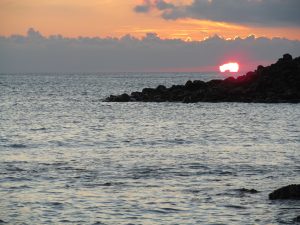 We enjoyed meeting locals and other travelers. We were surprised at how surprised Ecuadorians were to meet folks from the U.S. who speak any Spanish at all, and how much they appreciated it. If we met a local more than once, even in a commercial exchange, we were treated the second time as old friends. While we were there, a presidential election was about to happen and we got to learn about people's opinions, their history and some of their hopes.
Most people in the Galapagos earn very little money compared to people from the U.S. and they get by on so little. The political relationship between the U.S. and Ecuador is tumultuous at best and I highly recommend you read up on this before traveling to Ecuador. We look forward to returning and want to spend time on the mainland.
Some hot tips for a budget Galapagos vacation:
Ferry shop. Most of the ferries between Santa Cruz and San Cristobal, for example, charge 30 per person each way. By simply walking around a lot, we found one that offered the exact same quality of service for only $25 each way. For the two of us, that added up to an extra $20 in our pocket.
Get there early. If your ferry boat leaves at 2pm in Puerto Ayora, get there by 1pm if you want to get a seat choice (also, buy tickets as many days in advance as possible). If possible, get seats upstairs with the captain—the downstairs tends to be very poorly ventilated, super hot, and full of gas fumes.
You'll need to go through an(other) agricultural inspection between islands, so don't buy produce and try to take to another island.
Each town had at least one soft serve ice cream place – definitely go for it for the coconut and guava ice cream cones with chocolate sauce for a $1.
We found portions pretty large and part of the time we split a meal which was plenty for us (and we are big people–farmers for a living).
Near Puerto Ayora, the best snorkeling we had was at the west end of Tortuga Bay and Las Grietas. If you go to Las Grietas, go early or late because it's small and can get very crowded. Near Puerto Baquerizo Moreno, the best snorkeling we found was at Las Tijeretas, a beautiful 30 minute walk from town.
While we did split our time with two different islands, if we were to do it over again we'd only go to San Cristobal island because we liked the town better (less people, harbor was beautiful) and we could have easily soaked up a week with free nearby adventures. You will be tempted to take a day tour to another island or to the same island and we're sure that is fun, but we liked being on foot, relatively close to where we were staying and we found many people and animals worth visiting.
Returning to the airport. There is very little is online about how to cheaply get back to the airport on Santa Cruz. Upon arrival at the airport on Baltra island (next to Santa Cruz), to get to town, you'll board a free bus that goes a few miles to a strait where you'll board a ferry that costs a $1, and then you can either take a bus for $2 (25 miles) or a taxi for $15 to $25. The bus drops you off at the port downtown.
Upon departing Santa Cruz, most flights are mid day or afternoon, with one departure in the morning. While you have the same options, taxi or bus, to take you back to the airport, the last morning bus leaves at either 8 or 8:30am from the bus terminal 1.5 miles north of town (opinions about the last bus differ among locals). It's walkable to the bus terminal but it's uphill and likely hot. You could take a taxi for about $1 from town to the bus terminal. The bus is $2 to the ferry which is the same $1 and then the free airport bus. The taxi would have cost us $25, plus another $2 for the strait crossing; we spent $7 total.
Pack a lot of sunscreen you buy in the U.S. You do not want to go to a farmacia and spend $30 on a regular size tube of spf 50.
We got lucky. Because we took a 7:30am bus and got to the airport at 9am, nearly 4 hours before our flight, we were able to get easily rebooked on other flights when it turned out ours had been cancelled. Otherwise we would have been stranded for the night in either the Galapagos or Quayacuil or Quito.
If you have any questions be sure to ask in the comment section below!